everything you need to know about eloping in the sunshine coast…
Here's a fun guide on eloping in Southern California, San Diego area specifically. Why here? There's so many amazing locations here-from beaches to dessert, country and forests. You will find the perfect spot for elopement or wedding. Check out some of my favorite spots in San Diego, as well as some that require some travel, but totally worth it! I'm here to help you choose your perfect scenic location for your elopement.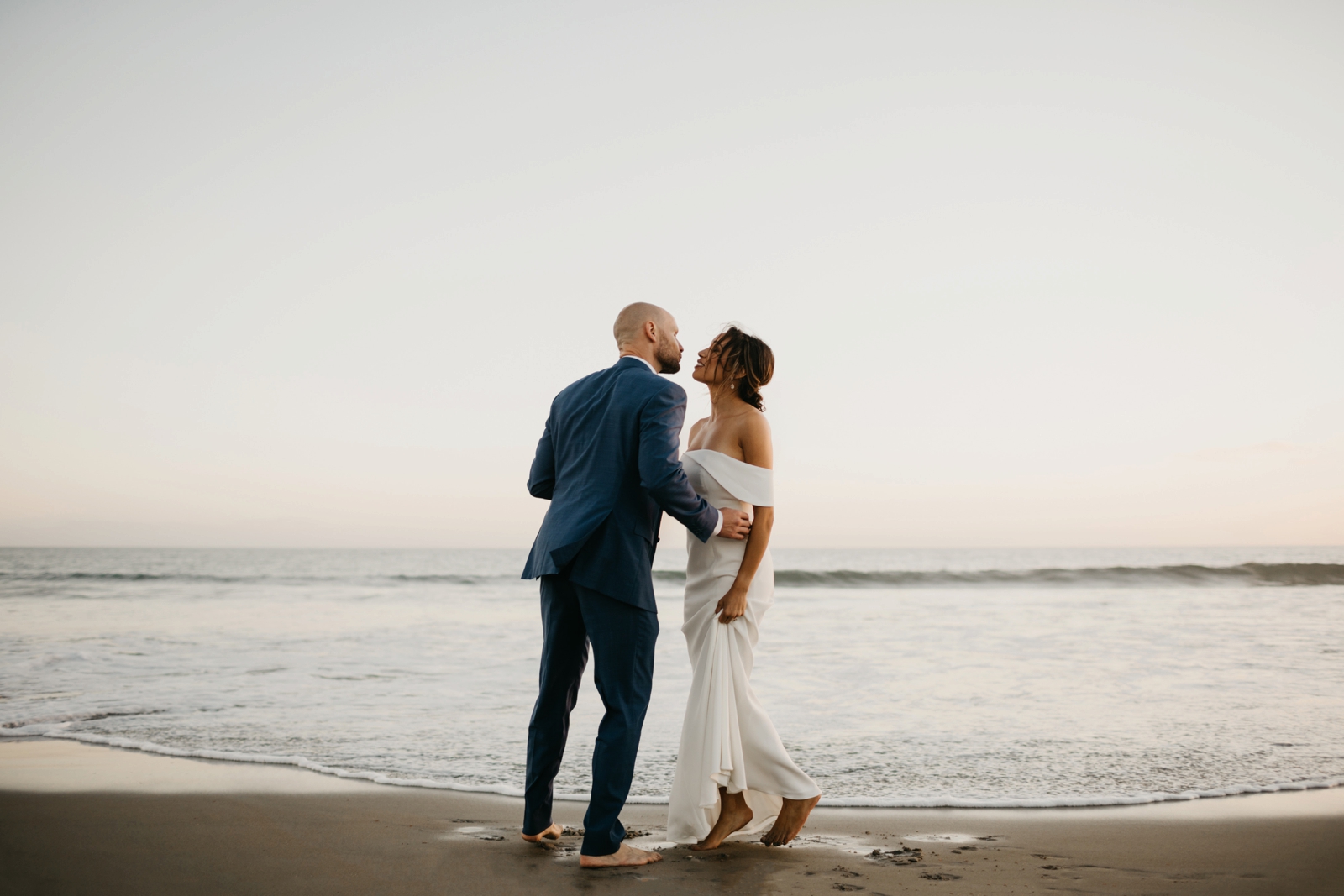 WHAT TO KNOW ABOUT ELOPING IN SAN DIEGO
|   Check out this FAQ to get started!   |
WHAT DAY OF THE WEEK WORKS BEST?
I usually recommend weekdays, so Monday – Thursday. The locations recommended usually have less people during the week, as opposed to weekend, which usually has tourist and visitors, especially in the summer months. Planning a weekday elopement is best for more privacy and to make the most of the scenery! Some of the locations listed below get quite a few hikers/tourists, especially in the summer months, so planning for a weekday is a good way to ensure the minimal amount of strangers around as you say your vows.
WHAT TIME OF DAY IS BEST?
The light is best 1-2 hours before sunset. I suggest planning the ceremony somewhere between 2-3 hours before sunset, so we have enough time for photos afterwards, just in time for golden hour! Later in the day can also be cooler, which is ideal in summer months. Another option, is waking up before everyone else does at sunrise. It can a magical experience as you two would be the only ones around most likely. Ask your photographer, they will pretty familiar with the locations and light.
WHAT SHOULD WE WEAR?
Wedding dress, of course, or your vision of it!  Not the traditional bride? No problem, I've seen lots of options- colored dresses, embroidered; there are many non-traditional wedding dress options out there. Feel free to bring whatever you'd like, and I can advise with styling. Some getting ready shots, details before hand are also fun, and can help tell the story of the day. Good walking shoes are ideal if we are hiking to a spot. (you can always change once we get there) Your favorite beer or champagne is always ideal to celebrate afterwards 🙂
WHAT ABOUT THE LEGAL STUFF?
Here is more information on marriage license, who can marry you and who can be a witness. Click here for all the info. Fun fact: your photographer can act as a witness. San Diego requires one witness, no more than two.
WHAT IS THE BEST TIME OF YEAR FOR ELOPEMENTS IN SAN DIEGO?
California is known for 360 days of sunshine out of 365 days. Most days are sunny and warm. If anything, it may be cloudy, but that isn't a problem for photos. The winter months can be a bit unpredictable with rain/ wind if its El Nino. I recommend spring and fall for best times, as its shoulder season in San Diego and will be less busy. Summer is warmer, but will have more people.
SAN DIEGO COAST

Coronado Beach, a personal favorite
San Diego is known for its sunny beaches. Sunsets are the perfect time to elope on the beach, there are plenty options to choose from. Here are some of my favorite beaches to shoot at in the area.
CORONADO BEACH
One of San Diego's iconic beaches, with its legendary Red Roofed Hotel Del Coronado in the background. Besides the hotel, the beach has gorgeous sunsets, as well as a rock jetty and sand dunes. If eloping with more people, there are also house rentals close by, that can be rented out for a small celebration afterwards, check on AirBnb and VRBO.
TORREY PINES
Hikers paradise! Located in south Del Mar, Torrey Pines Natural Reserve is a hiking trail with several options. The Beach Trail is the most scenic, as it descends to the beach view stunning views and greenery. If it's low tide, you can get to the beach and view some rock formations, as well as walk back along the beach.
LA JOLLA
A must visit while in San Diego. La Jolla usually has many visitors, but there are several spots where you can still get some privacy to elope. One of my favorite is the La Jolla Coastal Walk, its north of downtown La Jolla, and offers a nice walk on the coast, while enjoying the scenery. Another quieter options is Windansea Beach, located more south of La Jolla, it is known for its beach bluffs and tidepools.
SUNSET CLIFFS
Known for its breaktaking cliffside views. There is miles of cliffs here, so there are endless options. Sunset time would be best. Going all the way south at Sunset Cliffs would give us access to the beach and pretty views.
SAN DIEGO COUNTY CLERK
A classic and traditional option, but not your average 'City Hall'; San Diego's County Clerk is pretty scenic. With views of the bay and pretty foliage out front, it is not just any city hall. For cemenory, couples have the option of saying vows inside or outside. Afterwards, we can go to your location of choice for portraits, Coronado Beach is close by.
BALBOA PARK
Hidden gem of San Diego. Balboa Park is located in central San Diego, and is easily accessible. It features spanish architecture and beautiful gardens. There is also a botanical greenhouse that is open during the day. Walk deeper into the park and you will also find a cactus garden (desert vibes!) as well as a rose garden.
LAGUNA BEACH
Drive up the coast to SoCal's iconic beach cities- Laguna Beach; just a bit over an hour's drive from San Diego. Laguna is known for its stunning Pacific views and beach charm, perfect for a intimate elopement. Newest addition is Laguna Beach Hotel Joaquin, a boutique hotel on the beach that has a modern, classy charm. The hotel also has a restaurant.  Live the dream by walking to the beach, Shaw's Cove just a two-minute walk from the hotel's garden.
SANTA CATALINA ISLAND
Off the coast of Newport Beach lies a island- Santa Catalina Island. The town of Avalon can be reached via ferry. It's a perfect destination for a local destination wedding. Take a look at Descanso Beach Club, which is perfect for a Catalina wedding. The island has lots of charm, which reminds you of a small italian island. Catalina is full of vast greenery and hiking trails, the options for the perfect ceremony are endless!
Click on the map to view photos of locations.
HEADING WEST - DESERT - Joshua Tree & Palm Springs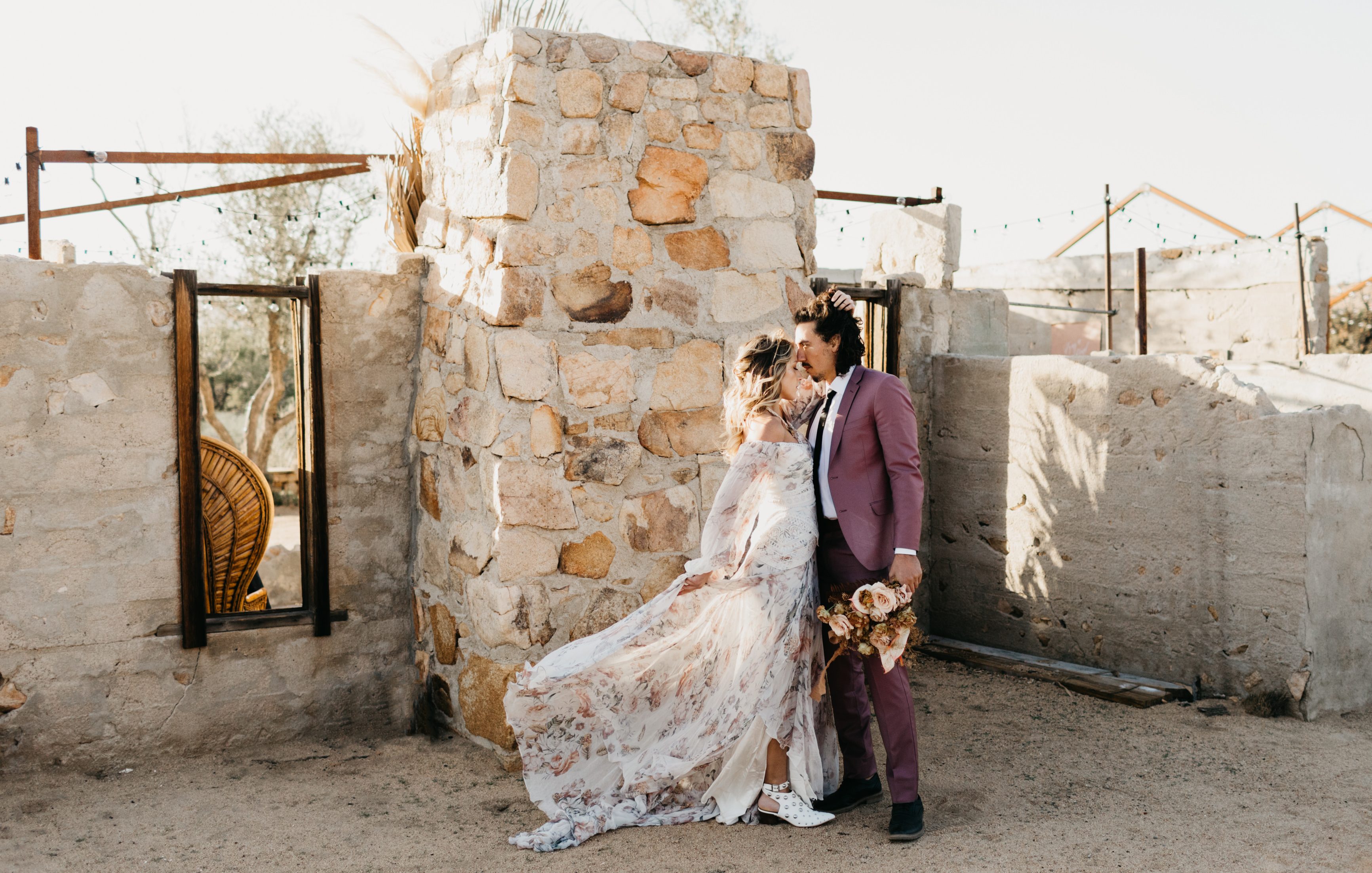 The Ruin Venue, Pioneertown
Going west to the desert; Joshua Tree area is about a 2 hour drive from San Diego. Driving through valleys and desert, you will feel as you were in a different state, but you're still in California!
JOSHUA TREE NATIONAL PARK
Known for its natural rock formations and joshua 'trees', there is something magical about the sun setting over the rocks. There is no place like Joshua Tree; the national park has a small fee to enter, but it's totally worth it. There are also designated spots you can park your car and elope, or you can go off the beaten path and choose your own location for ceremony and celebration.
PIONEERTOWN
Located before Joshua Tree, this small town offers the appearance of being in the middle of nowhere. Yet, there are few venues here to give you that desert style. Even though this is away from the Joshua Tree National Park, there are still some cool rock formations and trees. Some venues here are Ruin the Venue and Rimrock Ranch. For a fun celebration head to Pappy and Harriet's in Pioneertown. It is a well-known desert destination for good barbecue and great live music, popular by the locals; an ideal space for couples that is looking for a laid back wedding with a fun, bohemian style; dancing under the endless sky of stars is a must!
KORAKIA PENSIONE
For those wanting a classic touch to the desert scene, head over to Palm Springs Korakia Pensione. A historic, Moroccan Villa will take you away to Morocco for the weekend.  The 1.5 lush acres, consists of bungalows, guest houses, gardens and pools; which can be exclusively rented out for weddings. The property features gorgeous Moroccan fountains and a stone waterfall spread across the main courtyard area; a memorable mediterranean experience for a small elopement.
GLAMIS SAND DUNES + IMPERIAL SAND DUNES
About 2 hours east of San Diego, you can find actual sand dunes that look like Morocco, its pretty amazing! You can view a elopement style shoot I shot there here. For those seeking a intimate location for just the two of them or a small group, this is perfect!
Click on the map to view photos of locations.
SAN DIEGO WEDDING AND ELOPEMENT PHOTOGRAPHER