Two very special people got married- Kalia & Joe! This wedding was also featured on Green Wedding Shoes! Their day was about the guests that were there, and they focused on them having a great time. The wedding took place at Big Daddys Antiques in LA, an antique warehouse with unique details on every corner. The gown- The 'Edie' by Grace Loves Lace, was a show stopper. Happy to work with Sweet Emilia Jane again, who killed it at decor design!
Here is what inspired Kalia & Joe while planning their wedding…
Our inspiration was modern-LA dinner party-chic (I made it up). We wanted the whole event to feel authentic to our life in LA and how we spend our time with the people, food, drinks and music we love. As I'm sure the readers know, there are a million and one themes and identities that a wedding can take on from rustic, to glam, to rustic glam. Planning a wedding can feel like your first time at Starbucks and overhearing everyone else ordering a venti, half-café, two-pump splash of whatever (I'll discuss our decision-making process later).
The more research we did, the more able to cut out the noise and focus on what was most important to us – for the event to feel like an intimate dinner party that we would throw in our home surrounded by all of the treats that we love and cherish – tacos, cheese, good wine and margaritas!
Most memorable moments of the day?
Tie between our vows and walking down the aisle to see all of my closest friends and family giving us their support and blessings.
Vows: We both love to laugh and don't take ourselves too seriously, so there was never a question about writing our own vows. We've dated for 6 years so know each other really well, but don't really do the sentimental thing too often. These vows were our chance to poke fun at each other and say the thing we've always wanted to in front of everyone we love. We got mushy but kept it light, referencing our favorite shows like Insecure, GOT and the Unbreakable Kimmy Schmidt. The vows were uniquely us and there wasn't a dry eye or unsmiling mouth in the house.
Seeing all of my friends as I walked down the aisle: As the bride, you're kept away from a lot of the action before the ceremony starts. We had invited 95 family and friends, and although I personally managed the RSVP list, I didn't really think about what it would feel like to see them all at once. The moment I walked down the aisle and saw our mix of friends and family sitting next to each other, smiling and giving me the "you got this, girl" look, my heart basically exploded. This wedding was as much about our network as it was about our relationship and I felt overwhelmed by our tribe who had come from near and far and during LA rush hour!
Any advice for those planning now?
Create and stick to a simple decision-making process. Weddings are all about decisions. We only had a 6 month window to plan so we had to get good at sifting through the myriad of options. There are a million options for every decision you could possibly ever make and the selections can feel daunting at times. And thanks to the miracle of Pinterest, we are now tapped into every possibility out there. But you only have one day and most of us don't have unlimited funds or time to debate napkin colors or candle scents.
My advice is to find a way to focus on the styles, prices and options that are best for your day. My process was pick three options by price and style and then choose one from there.For example, I decided that I wanted to have personalized coasters as our favors and place cards but when I started shopping around there were thousands of styles, fonts, colors, etc. To keep me focused, I remembered that I wanted neutral designs to counter-balance the dynamic décor of our venue. I stuck with the kraft color and mimicked the hexagon and K X J logo from our invitation. I mocked up three options with slight variations and then had my fiancé and friends help narrow it down to the final look.
Pay for a good month-of coordinator. We planned our wedding ourselves, but were required to get at least a day-of coordinator to oversee the final event. We went with Sweet Emilia Jane who came highly recommended by our venue and was super sweet to us over email. Although I was apprehensive about this expense at first, she turned out to be one of the best uses of our money!
During the final month of planning, tons of little items pop-up and at that point you're likely to be in a state of analysis paralysis. Our coordinator became our spirit guide in the home stretch to ensure we were focused on the right areas and spending our time and money in the right places. She got all of our vendors in alignment and verified details that I would have never thought of. When we ended up missing a few rentals during the day-of, she sprang into action and found some make-shift replacements. She was magic and really allowed me to stay calm during the final month and enjoy 100% of our special day.
Remember that this is your wedding. I can't emphasize enough how important it is to be authentic to yourself during this process. There are so many opportunities to get swept away in the madness and excitement and wake up to a wedding that might not represent your life or relationship OR ends up unnecessarily stressing you out. I remember looking at a hilltop venue that would have been stunning in photos and given our friends some Insta-worth photo-ops, but it was entirely outdoors and I would have worried about rain and wind.
Once I told friends that we were no longer looking at that venue, they seemed bummed but I had to remember how I really needed to NOT worry about the elements especially with my hair. Big Daddy's was perfect for us and although it wasn't as picturesque as a hilltop ceremony, it was uniquely suited for our priorities. And yes, we did compromise on some areas to satisfy a few friends and family, but the big focal points for us – dress, venue, tacos, drinks – were off limits to outside influence.
And the dress?
I wanted something sexy but also comfortable and lacy. The nude lining gave this mysterious illusion of nakedness while the lace added a wonderful softness. It was like no other dress I had seen and combined classic lace, with a modern silhouette and the fun of tassels. Who gets to wear tassels on their wedding day? That element added so much movement, sass and playfulness. It also fit like a glove and hugged in all the right places. And because it was so stretchy it made it easy to dance, laugh, hug and eat in – all the top tasks for a bride. It kept with our unconventional vibe and had so many wonderful accents like the low keyhole back and the soft accents on the trim. This dress was everything I wanted. I purchased the Edie wedding dress from the Venice Showroom.
P.s. Shopping with Grace Loves Lace is an experience all on its own. The showroom is stunning and non-frilly for us less traditional brides.
The Gown Grace Loves Lace // The Groom wore John Varvatos // Venue Big Daddy's Antiques // Florist Oldvine Florals // Stylist / Coordinator Sweet Emilia Jane // Hair Dry Bar, Culver City and my sister // Makeup Felicia La Tour // Catering Guerrilla Tacos; Taste of Pace; Donut Friend
More details can be found on Kalia & Joe's featured post on LoveFind. Take a look at my recent weddings I've shot here.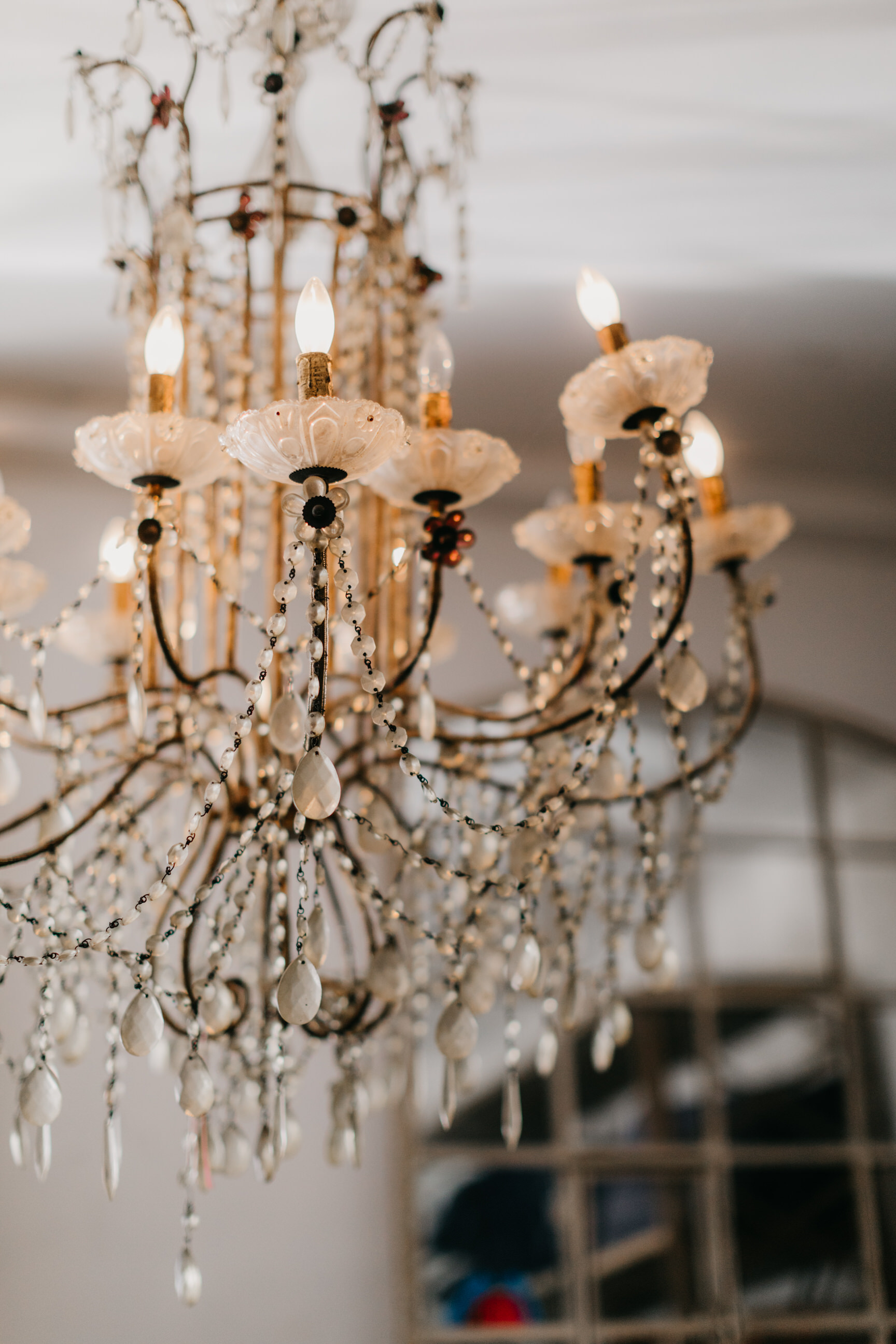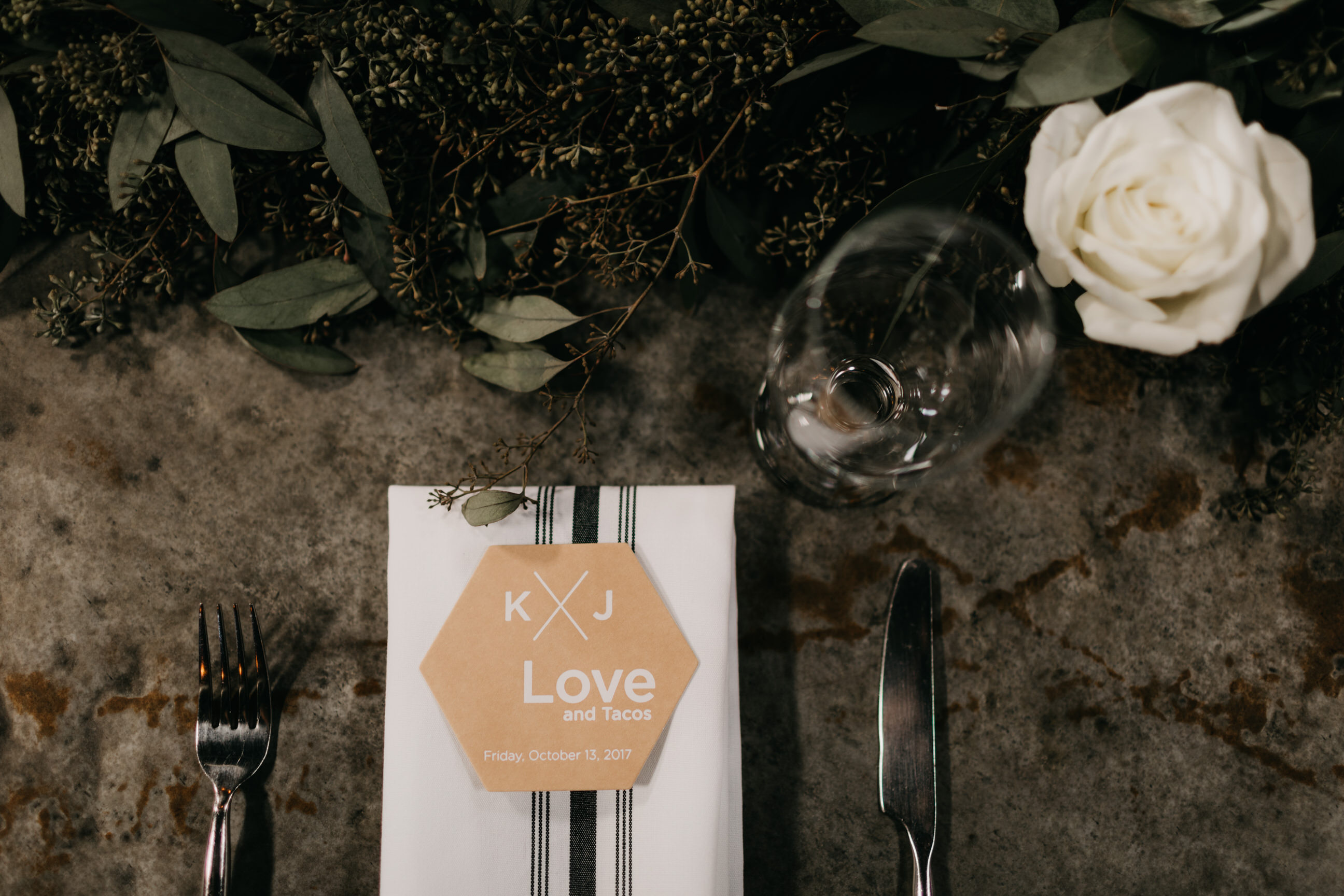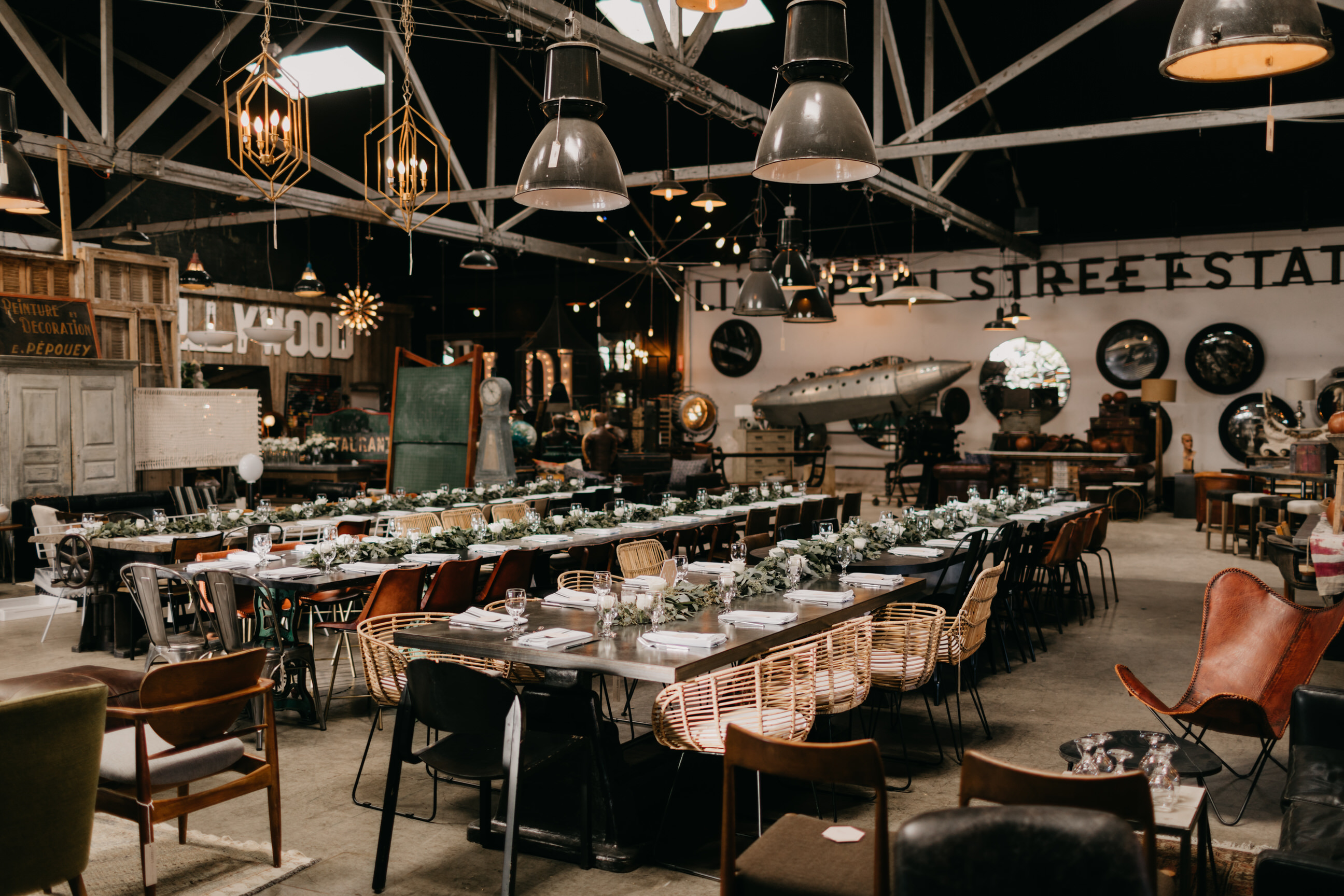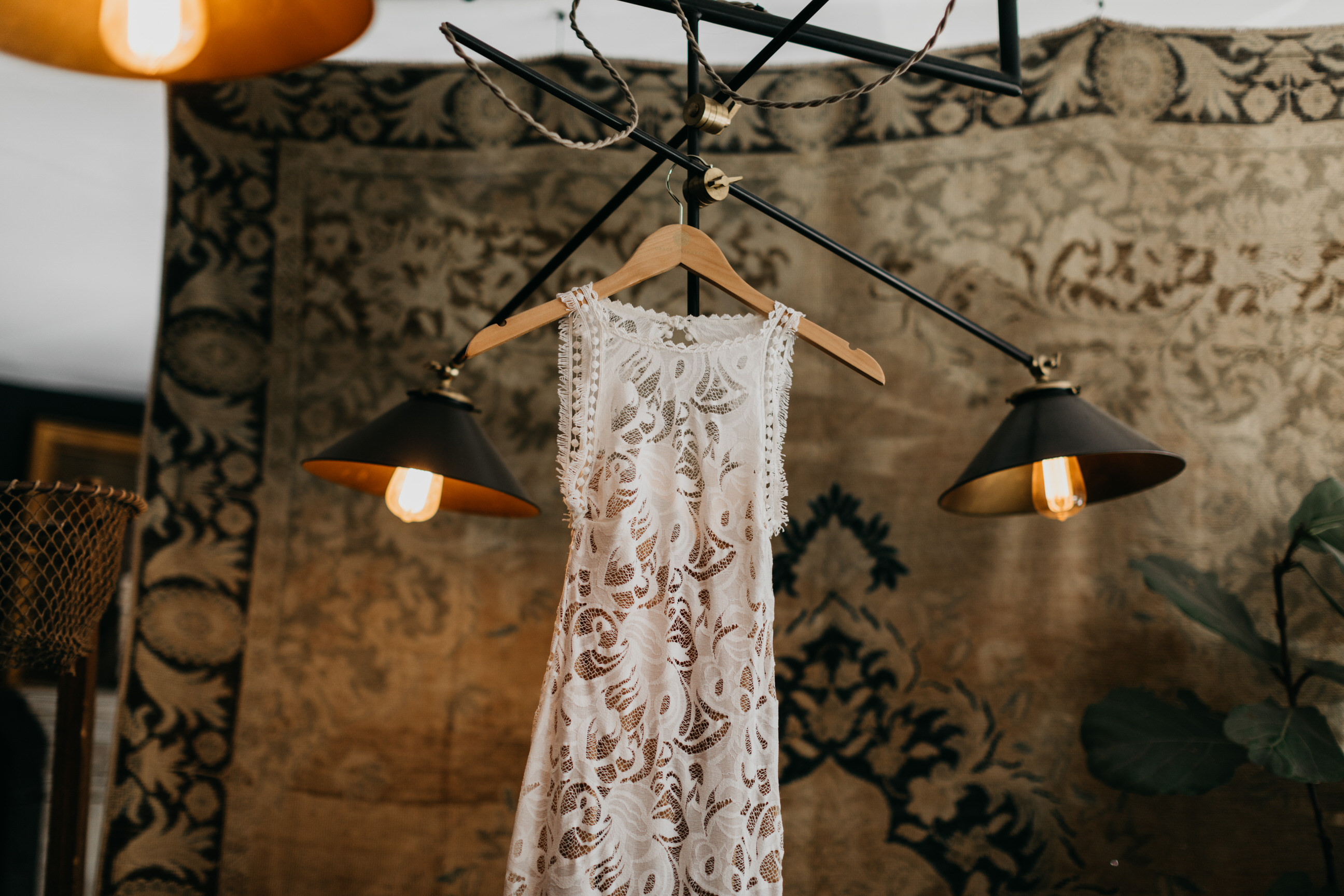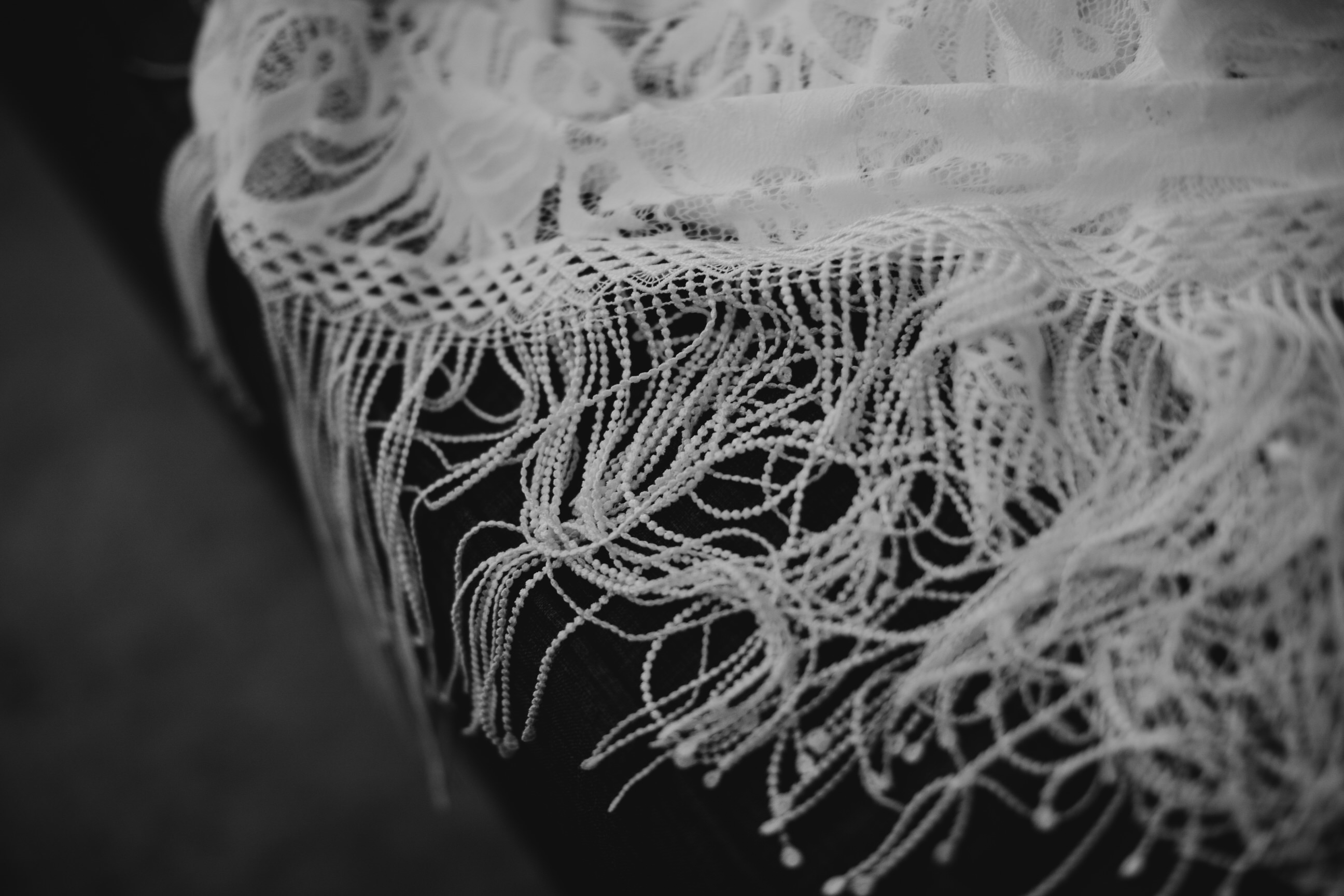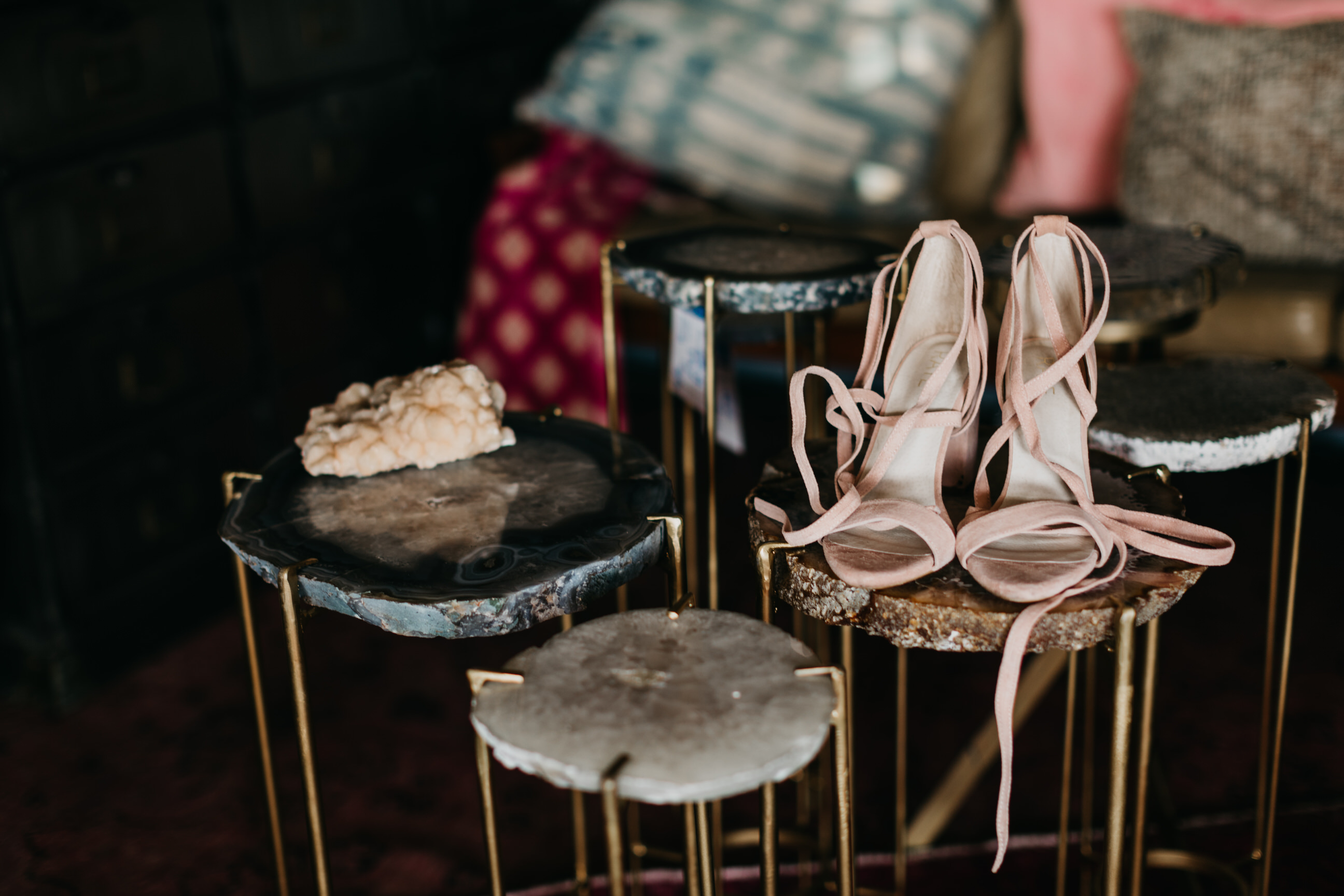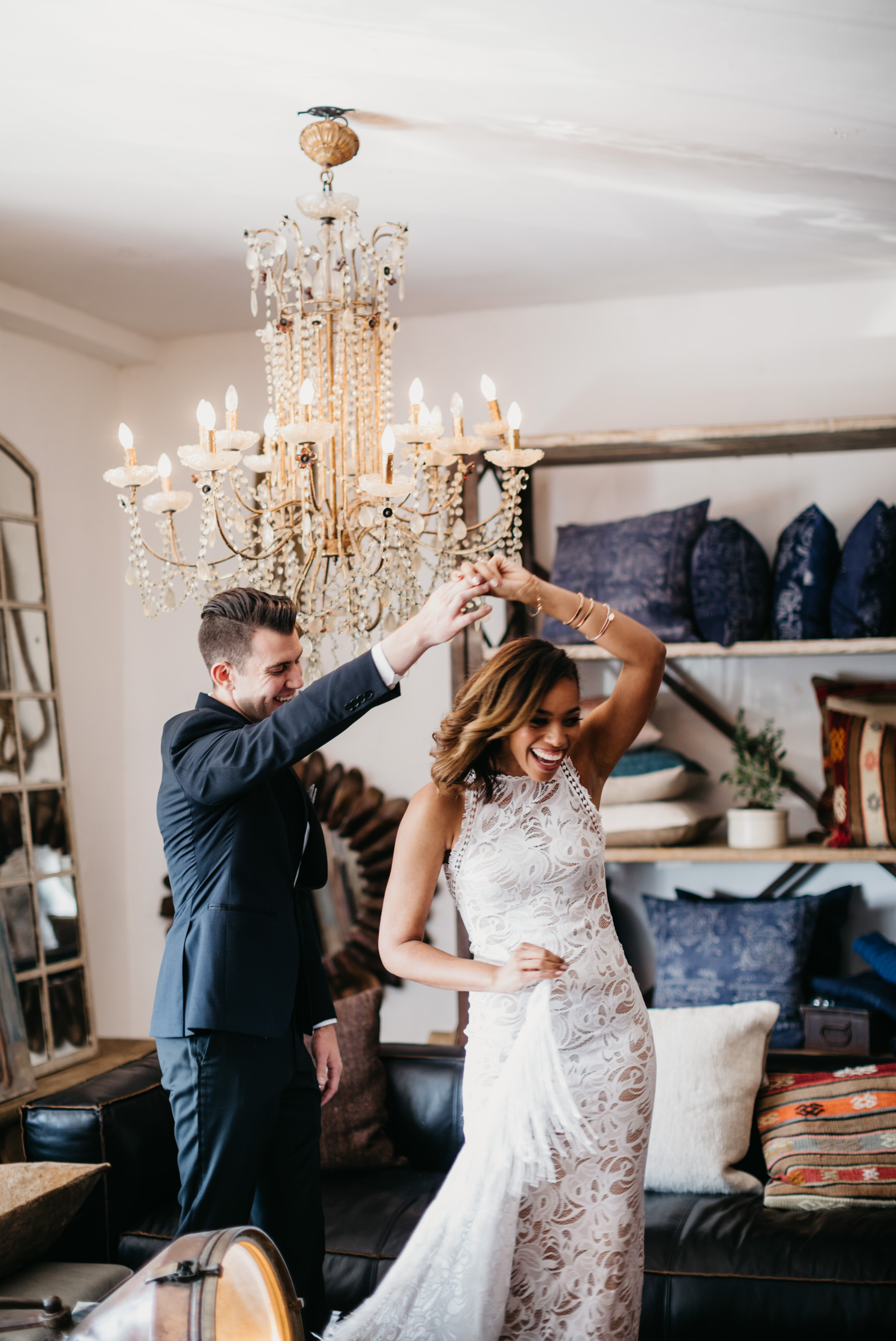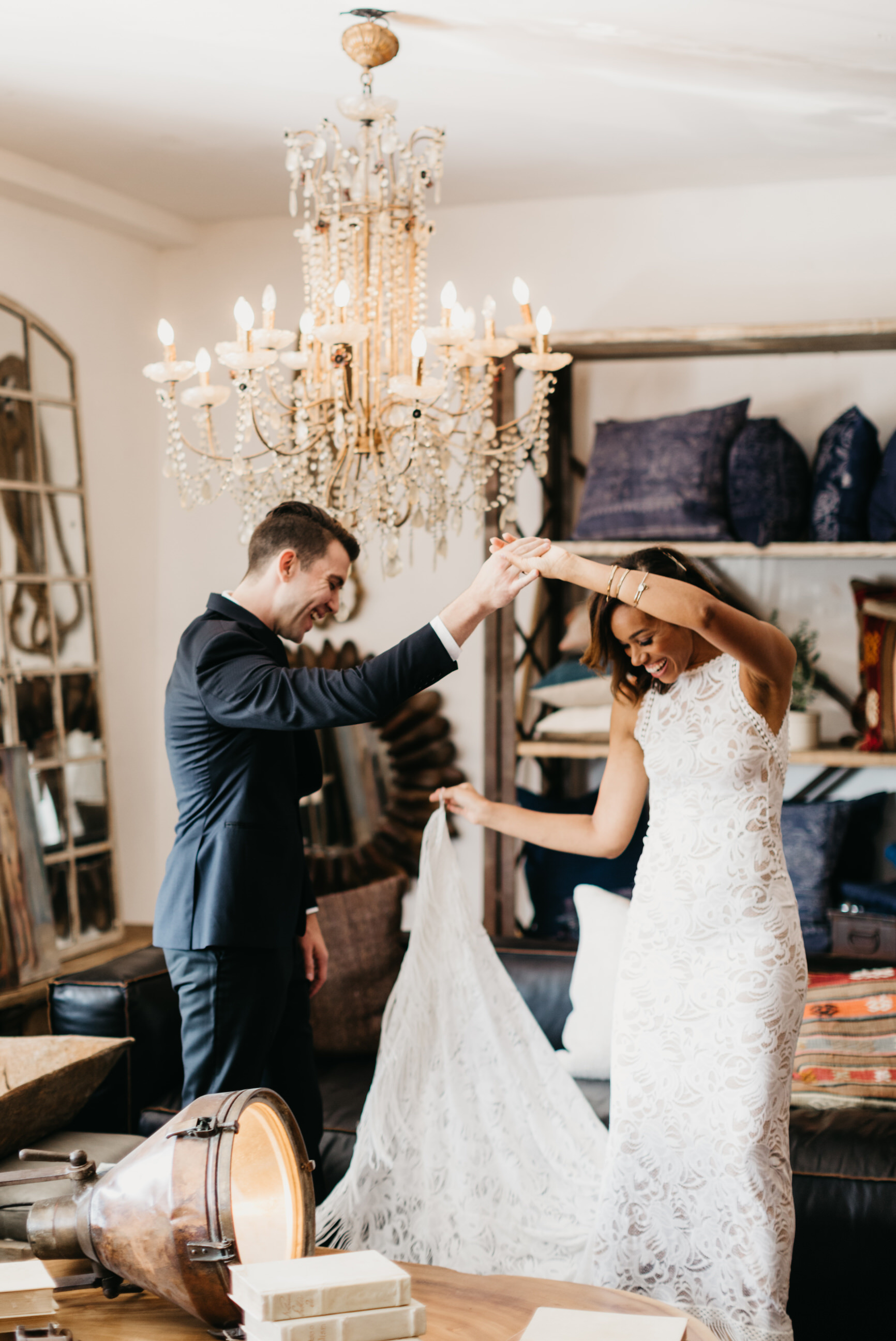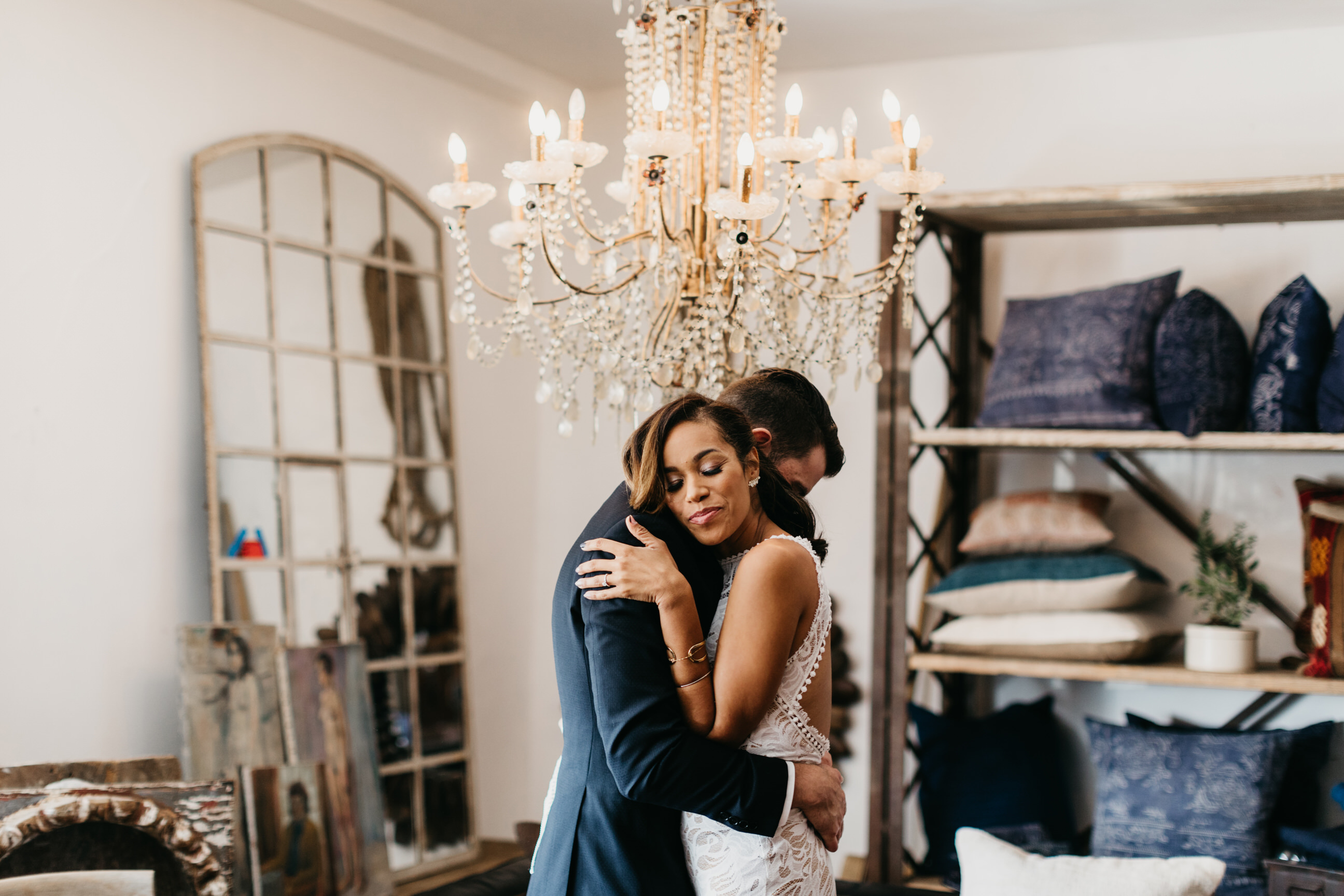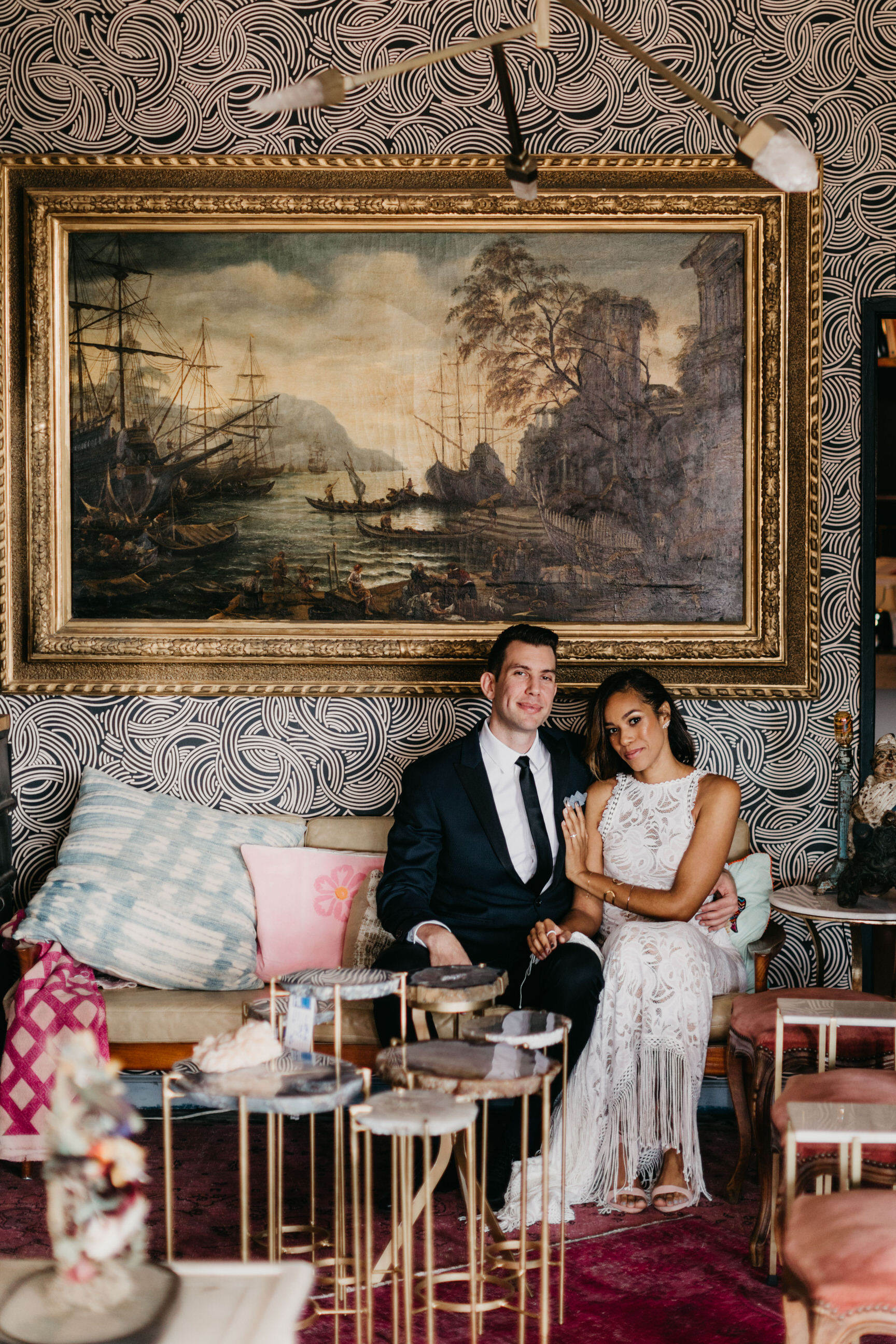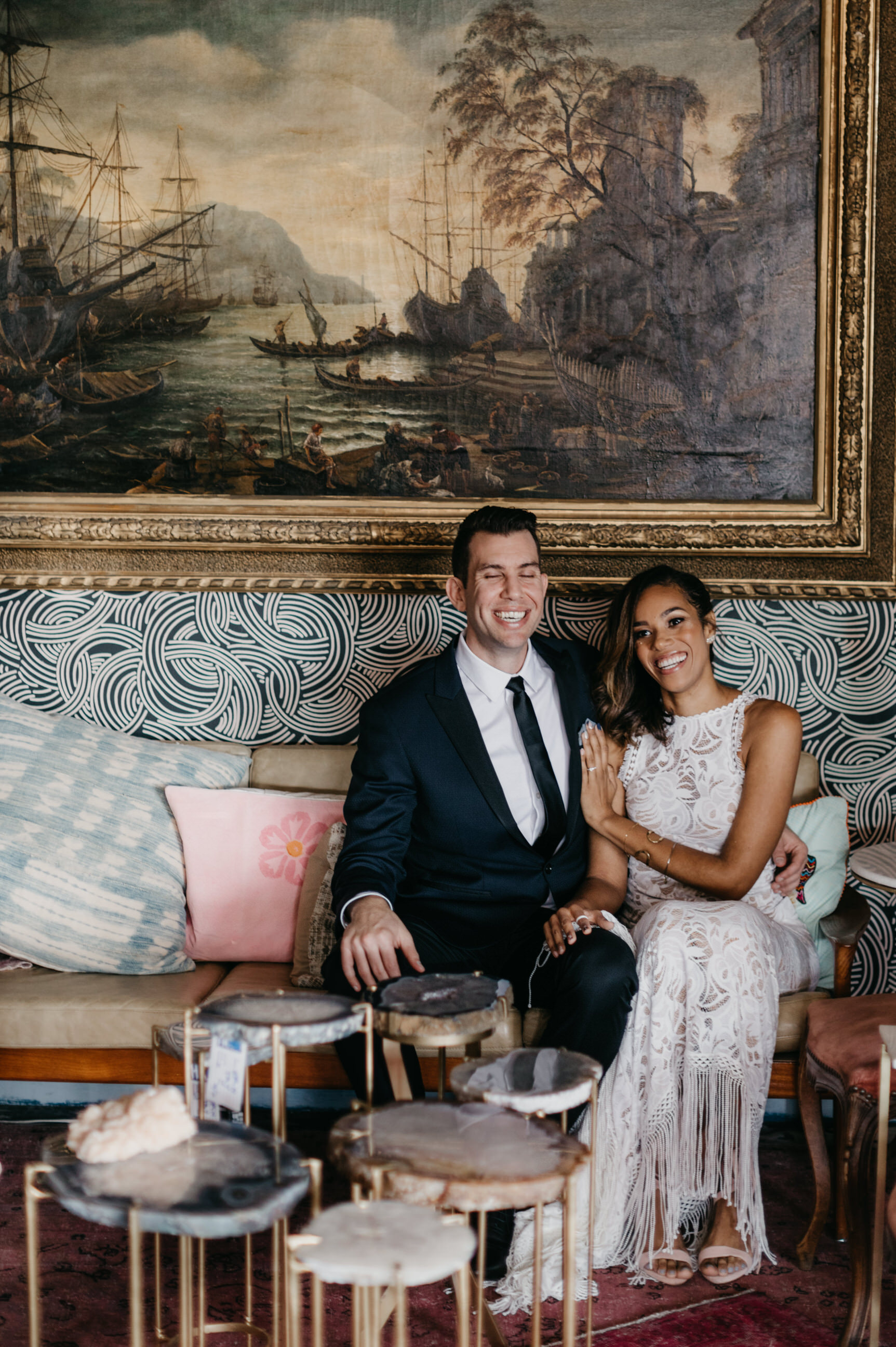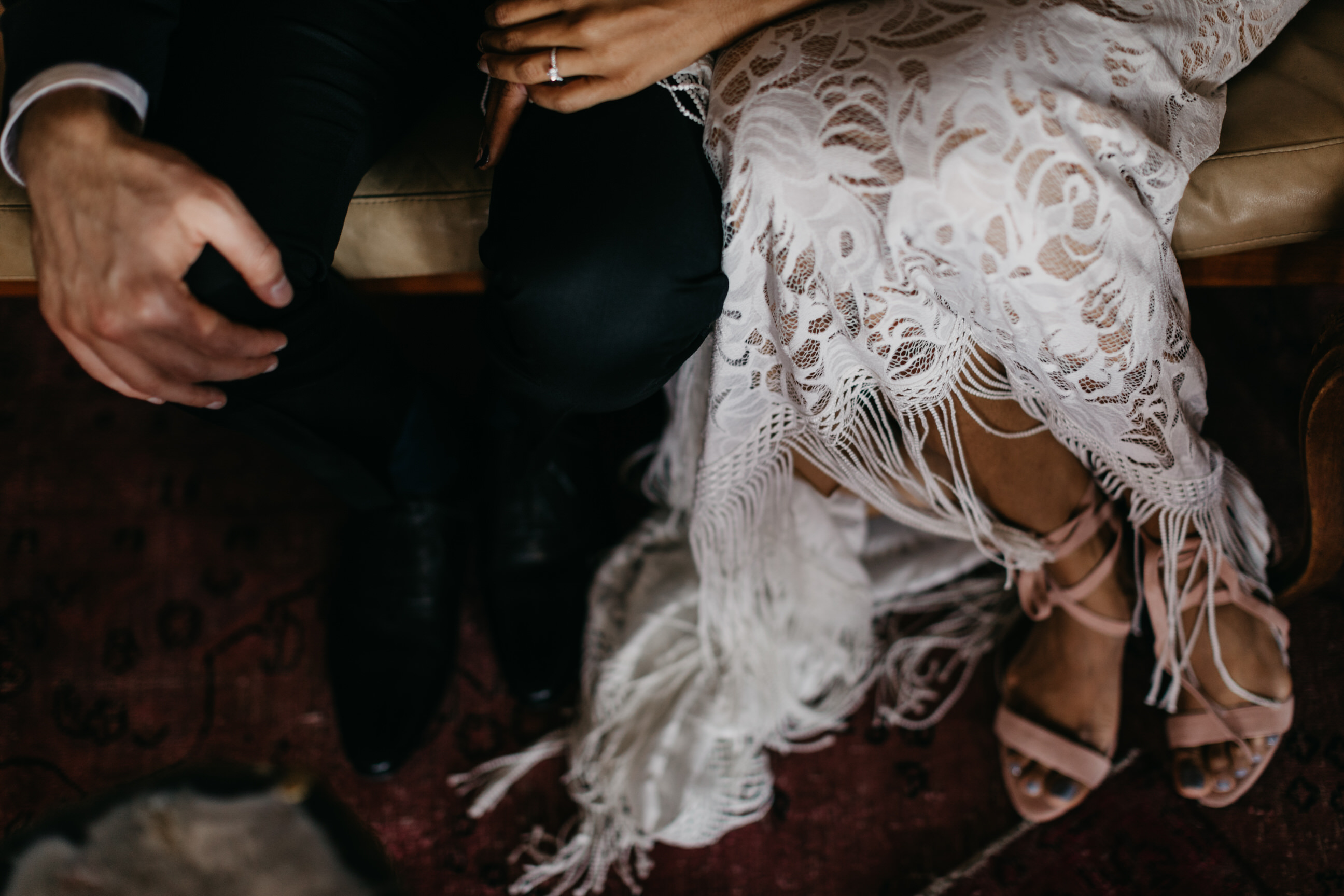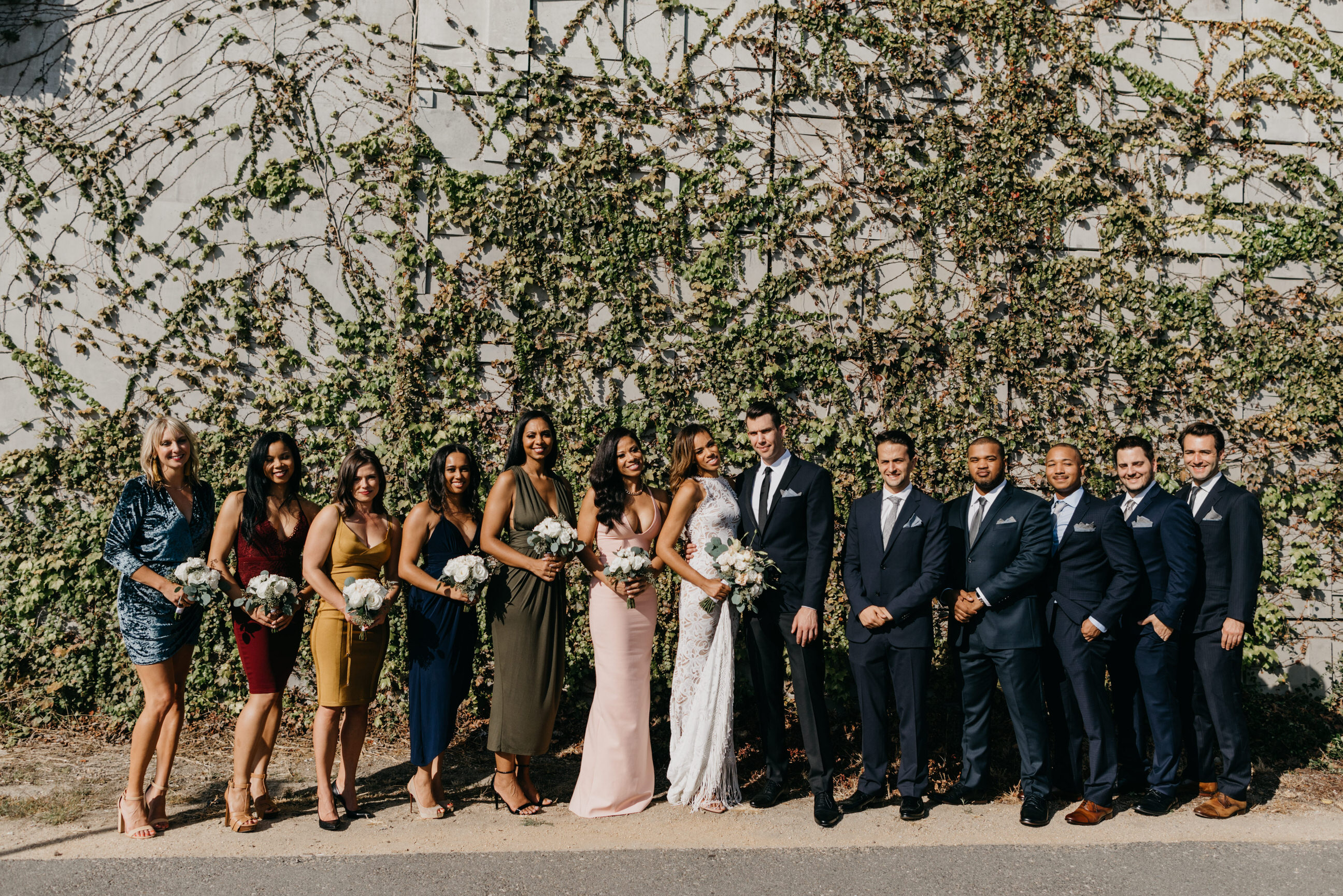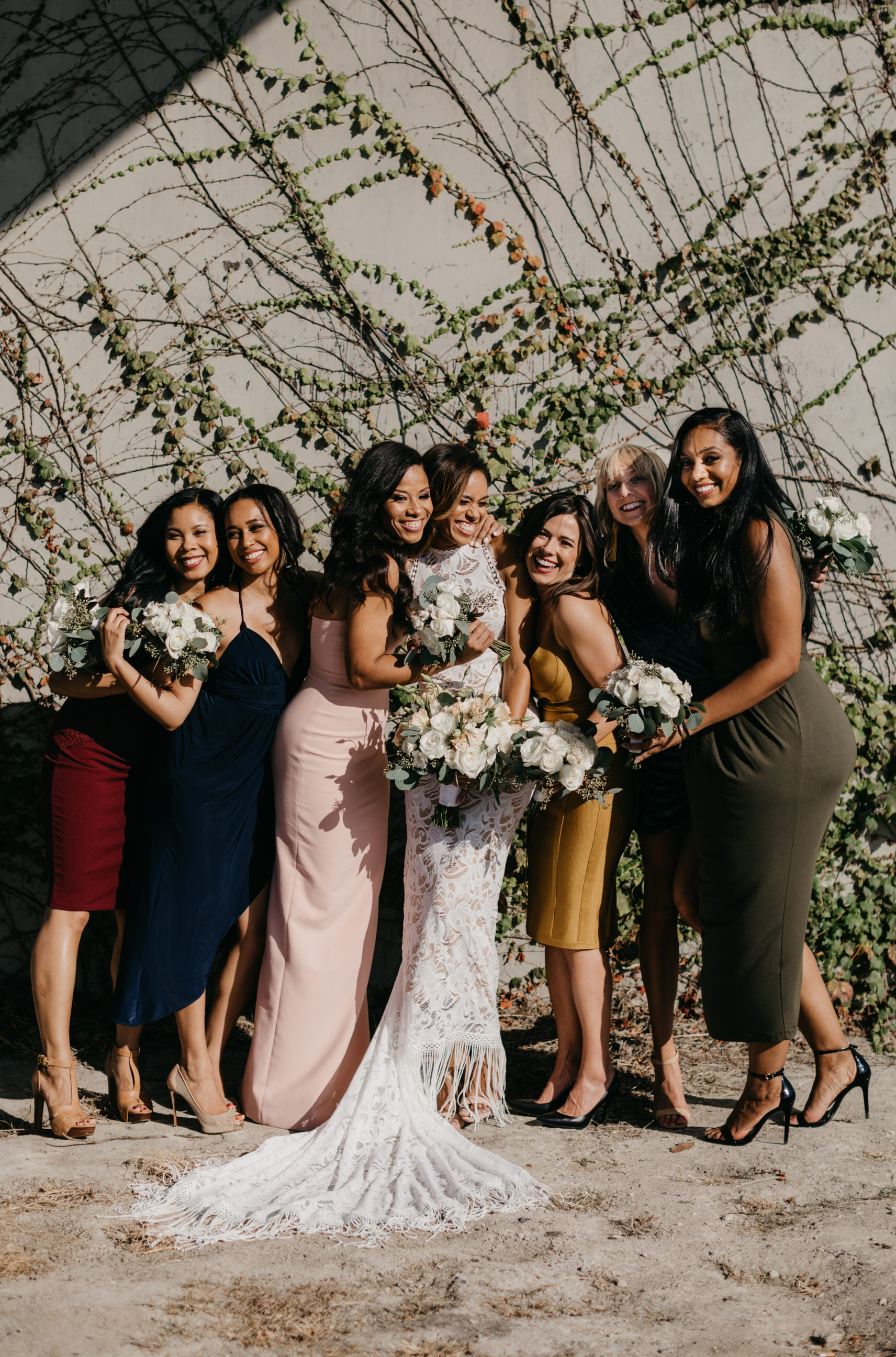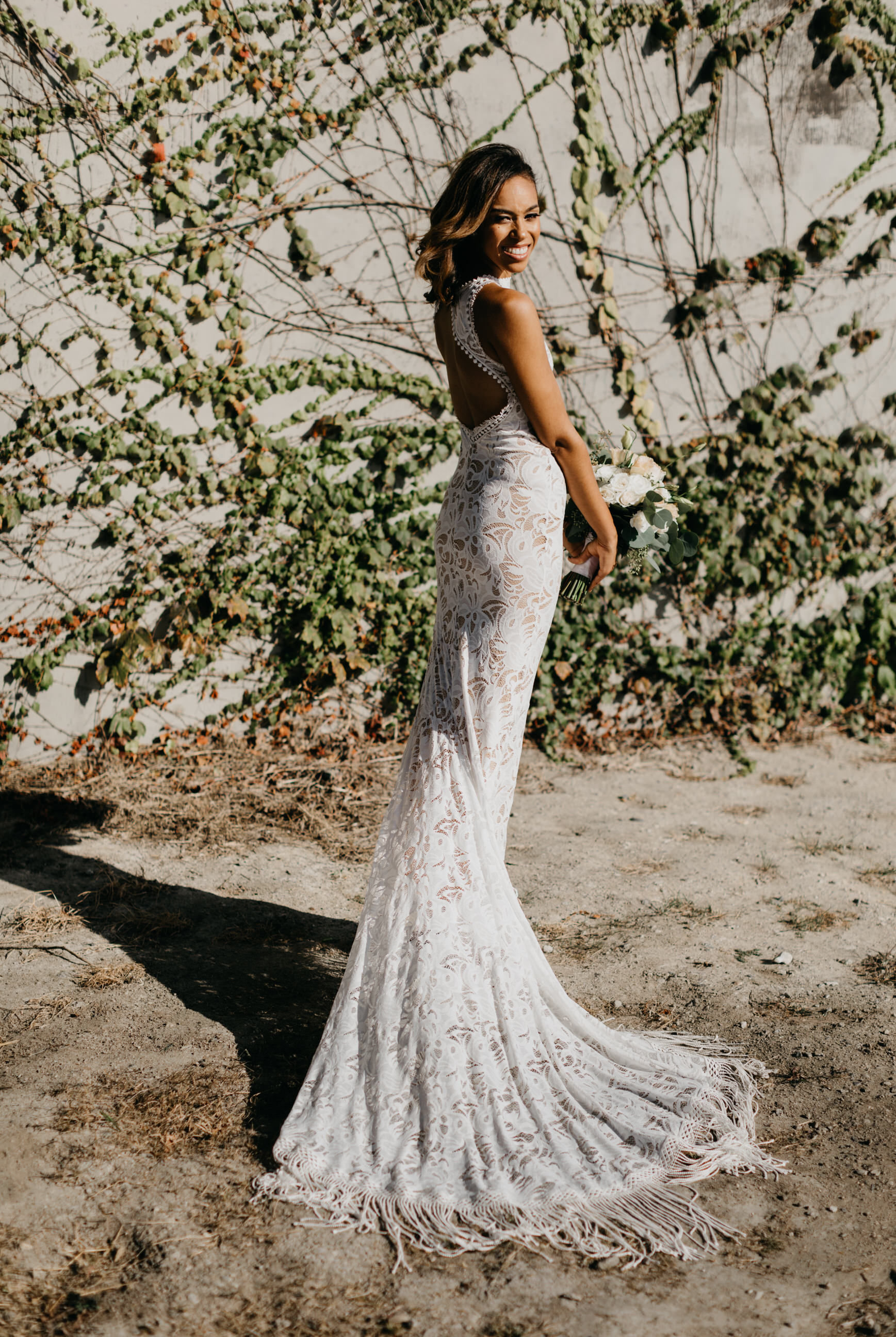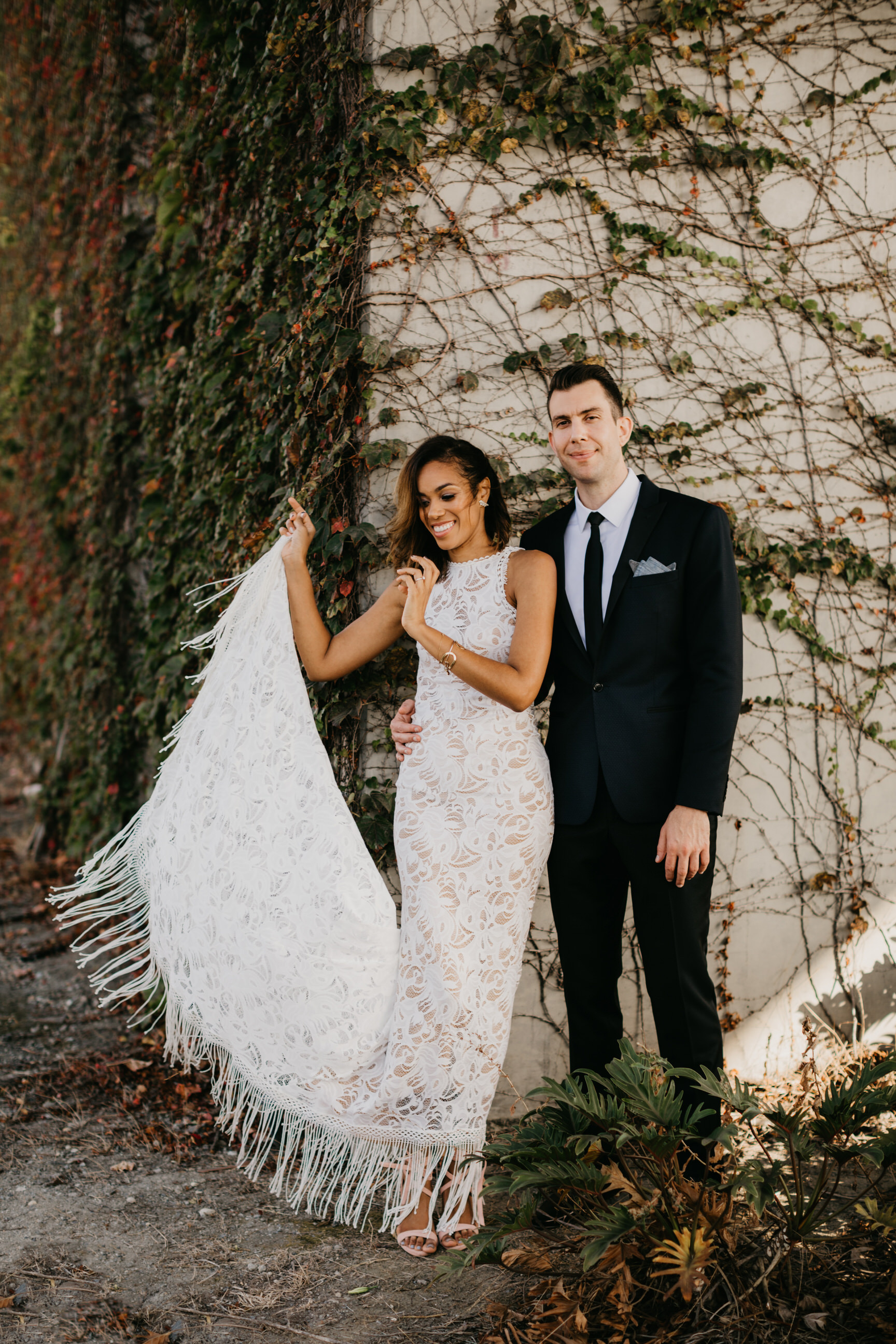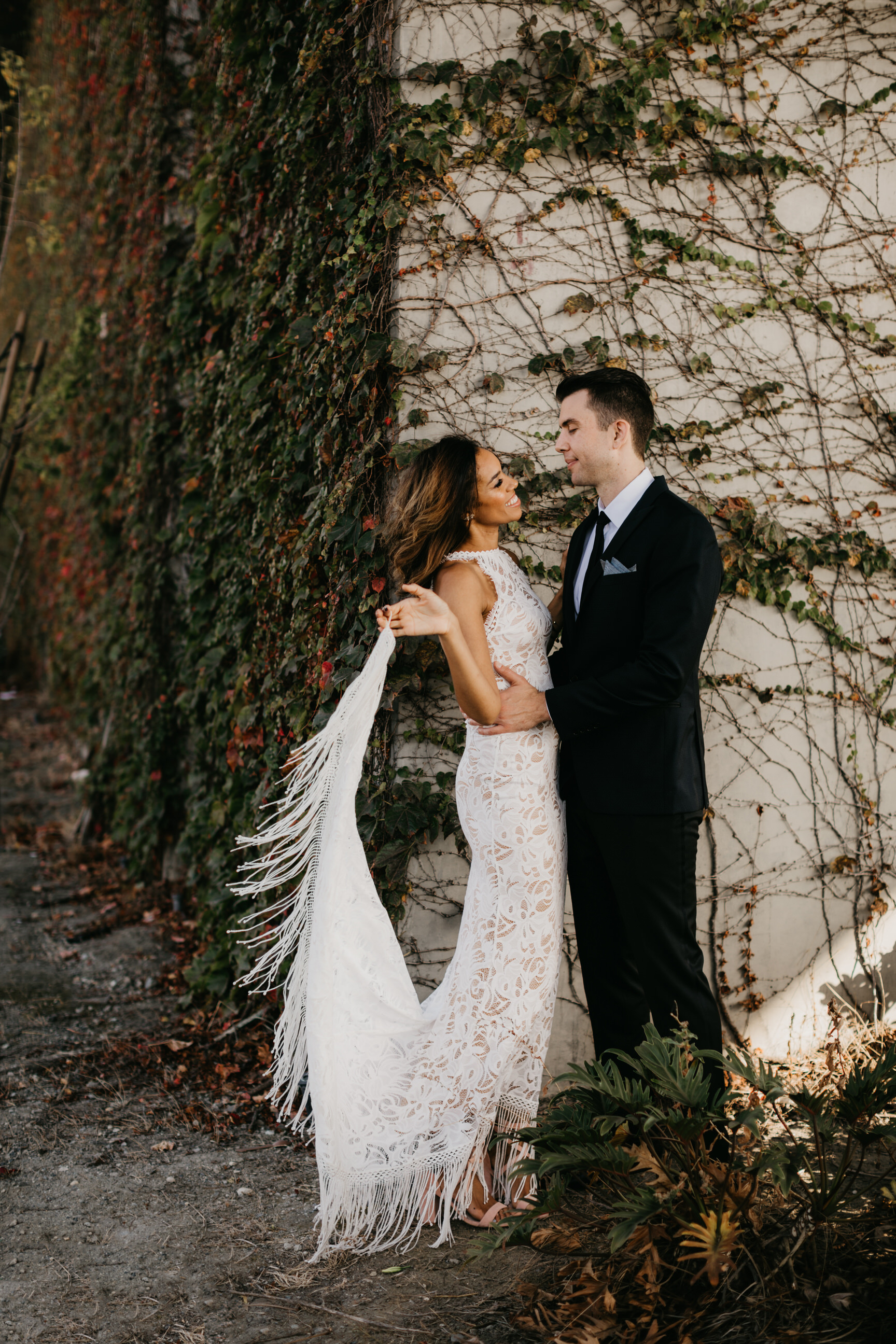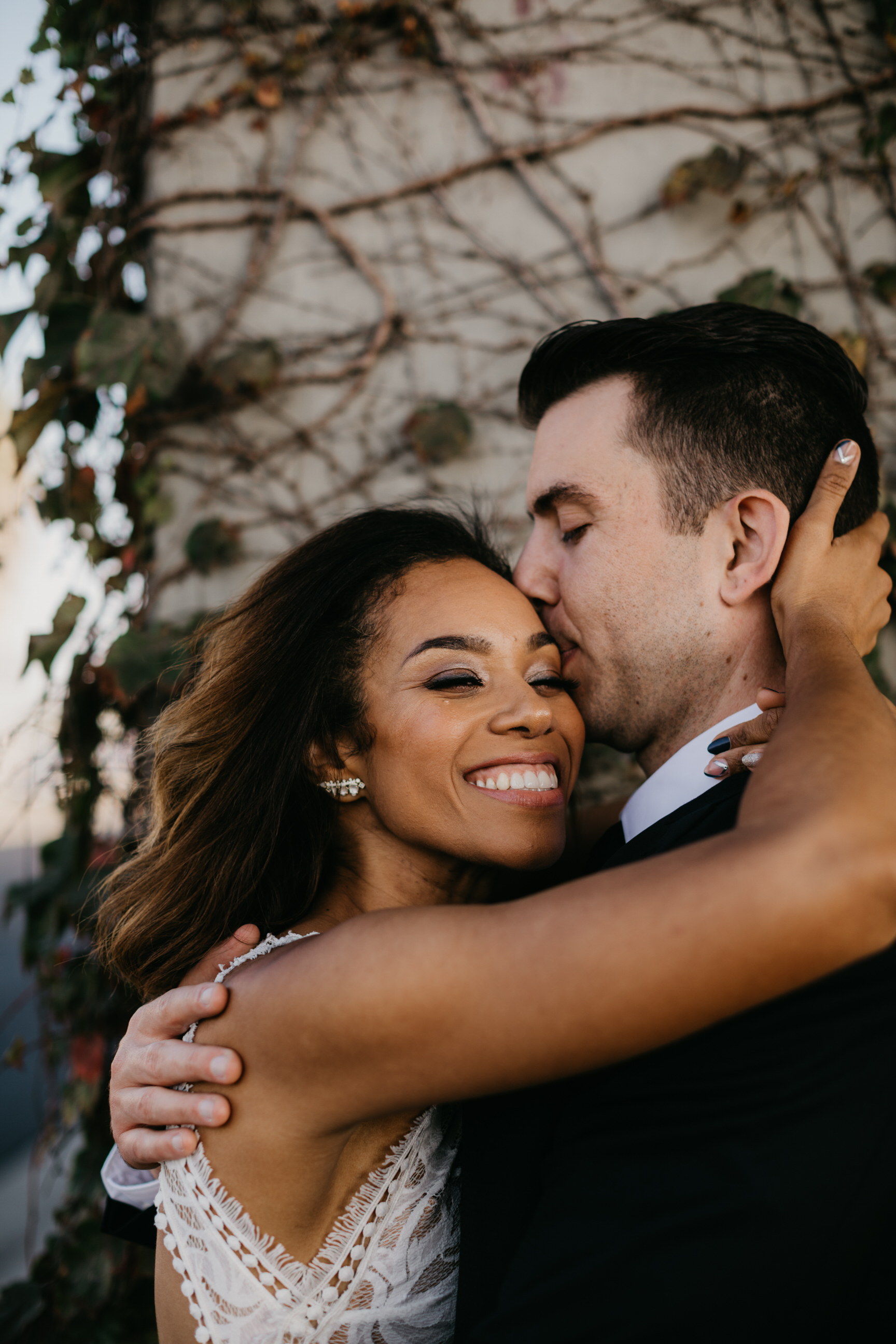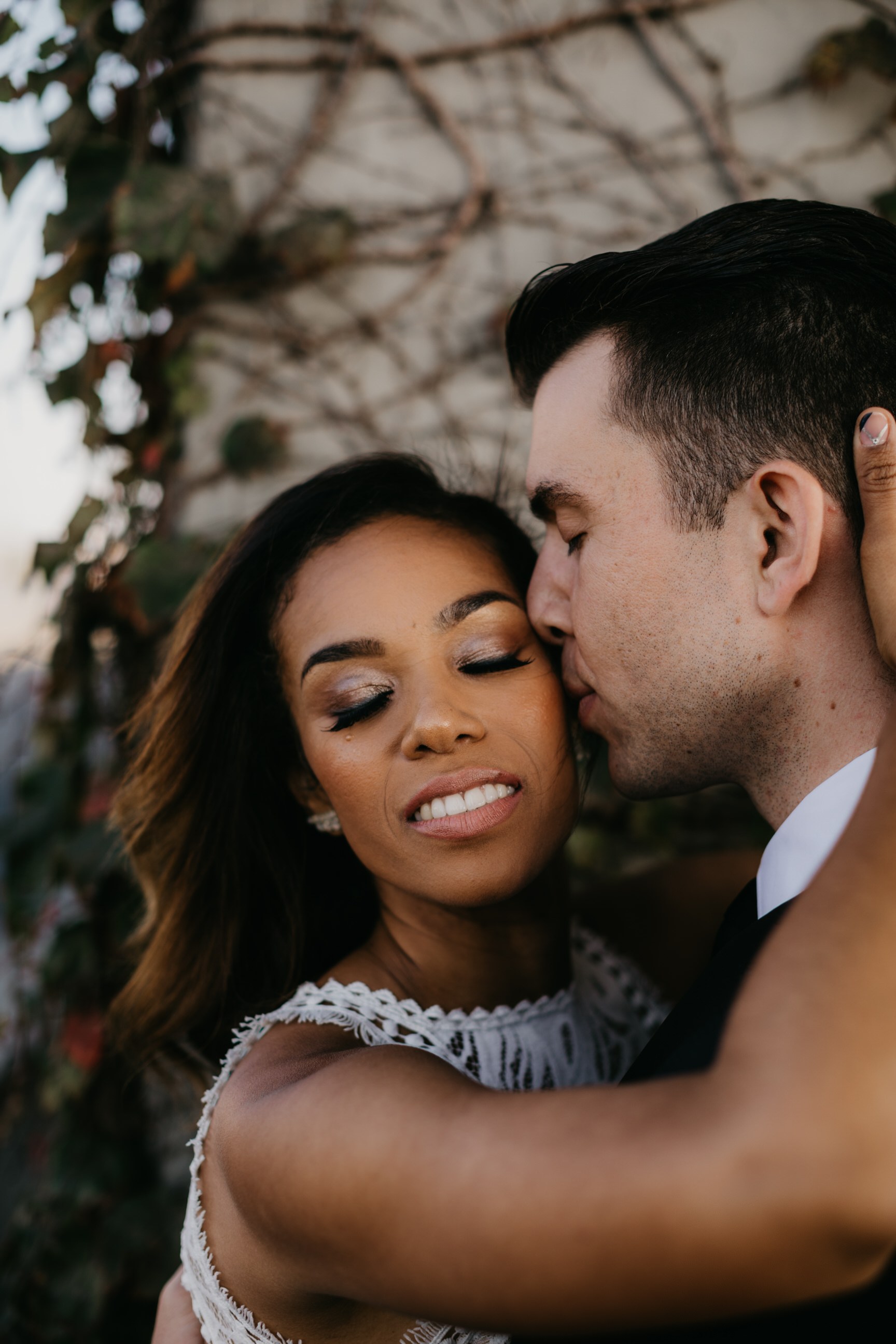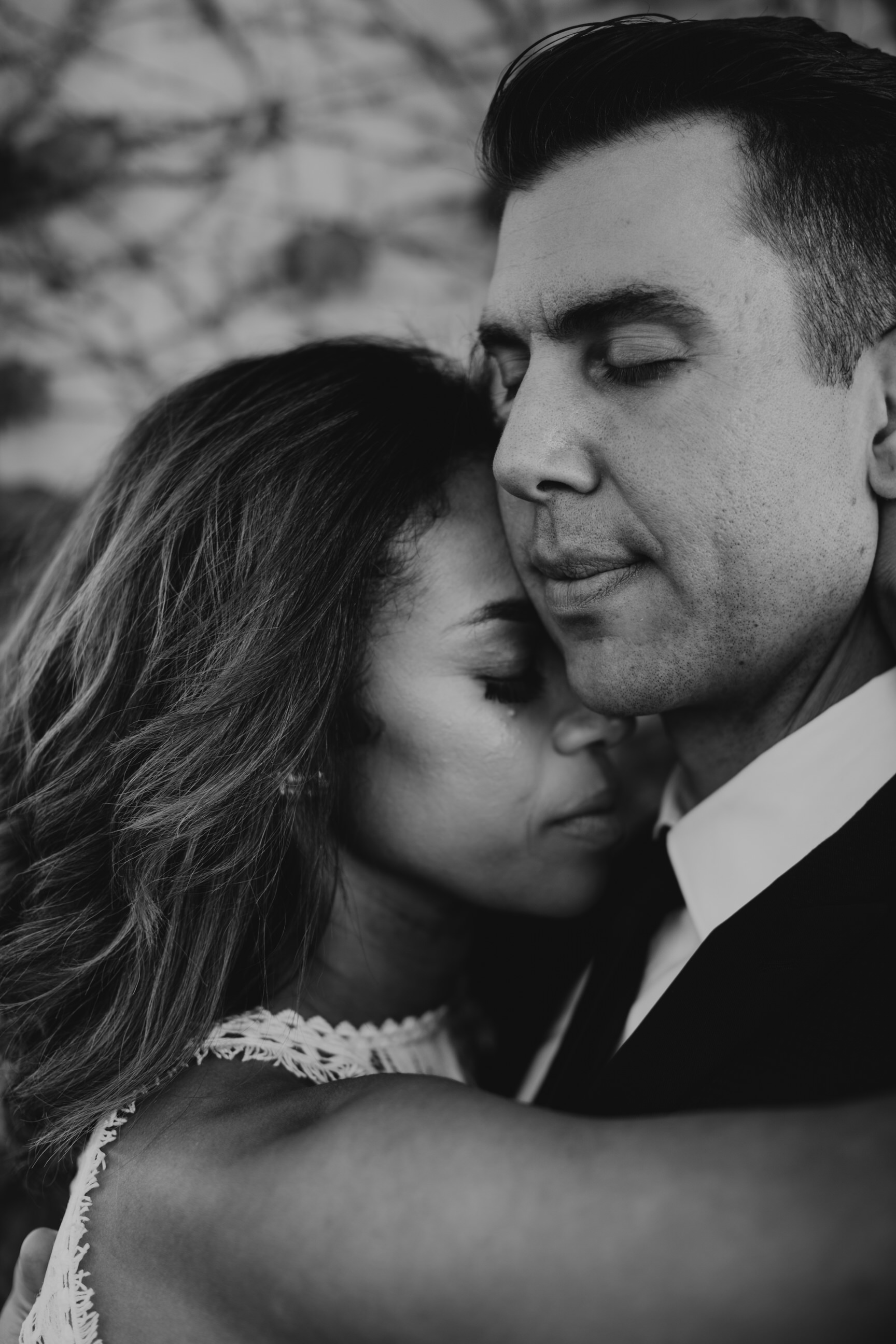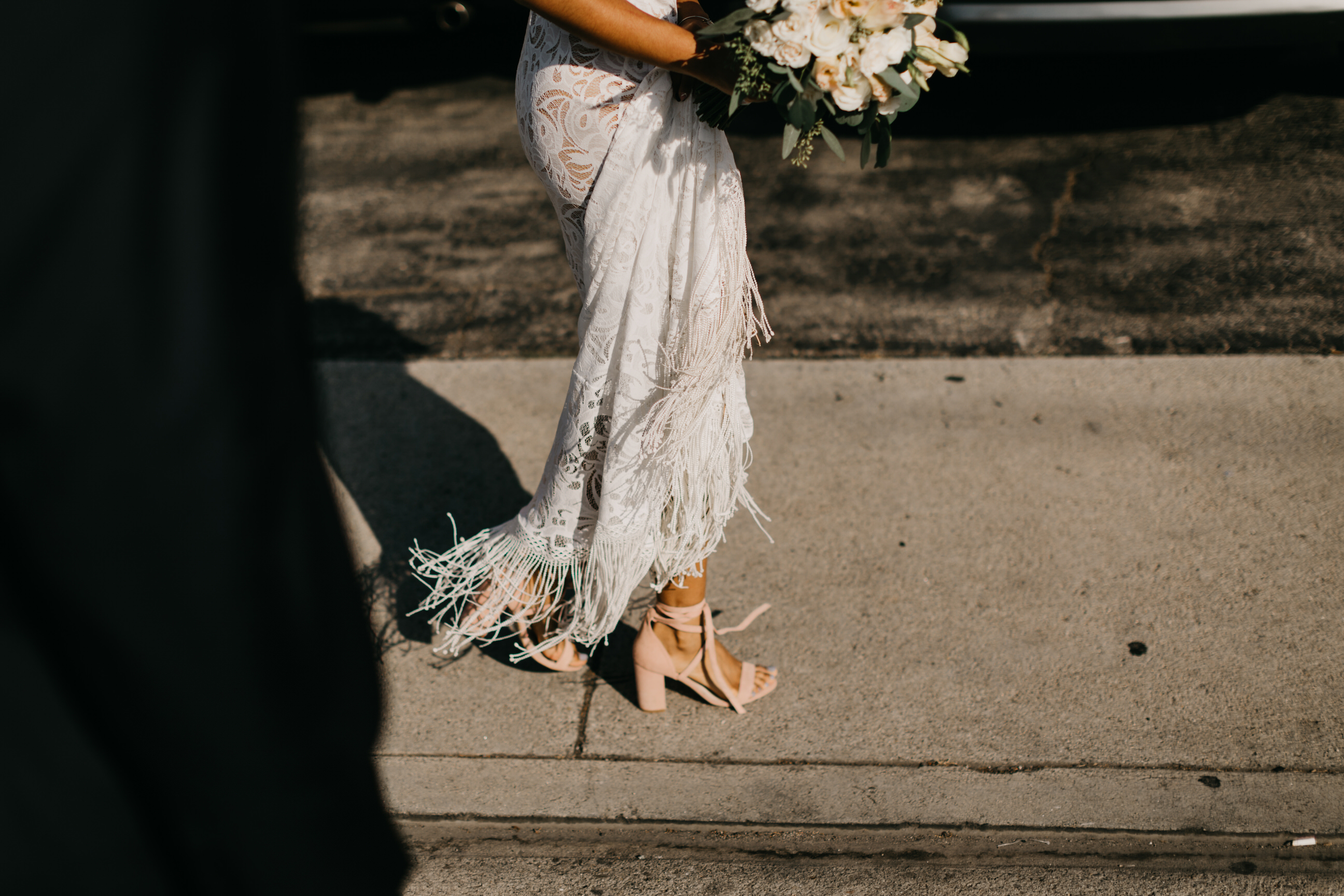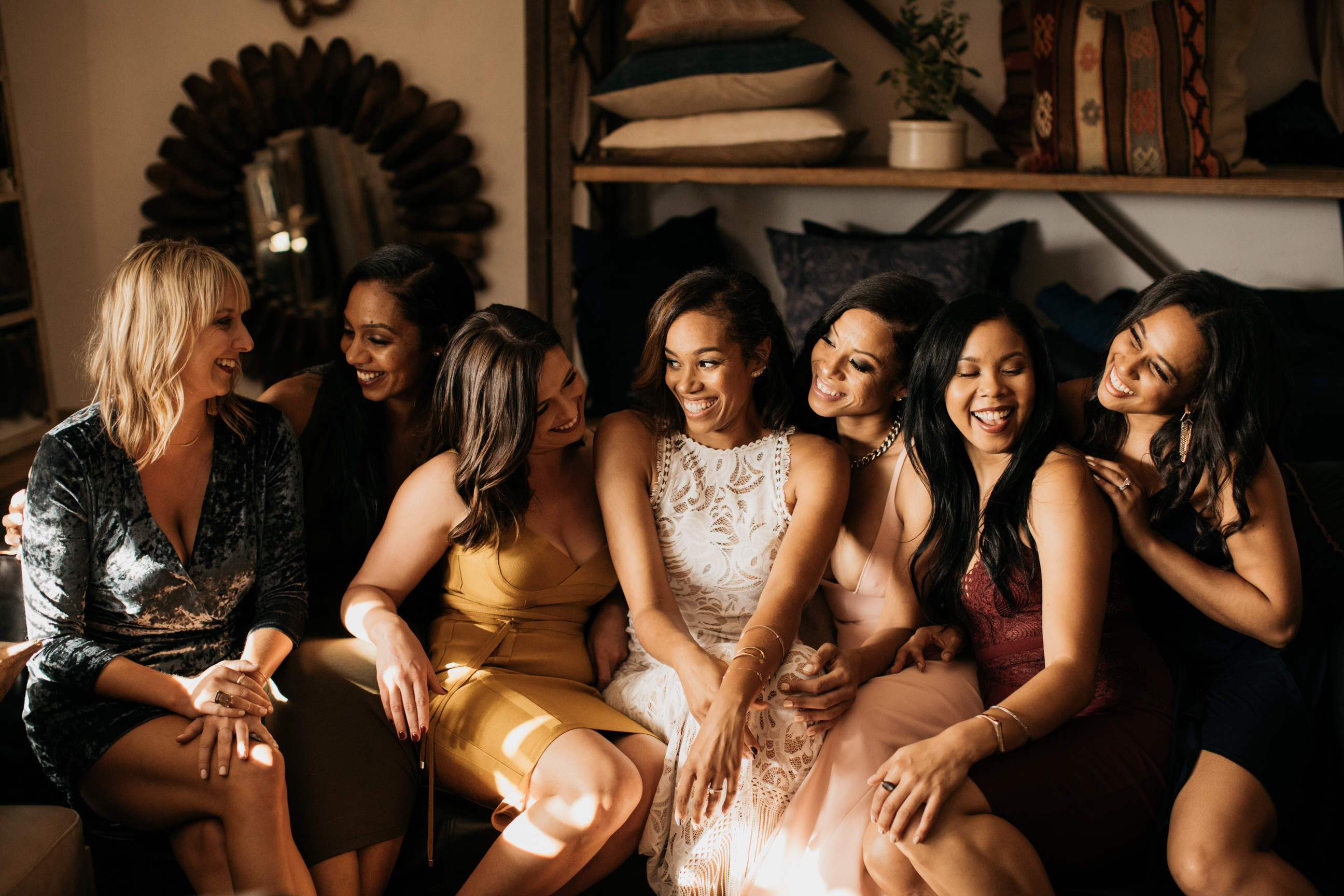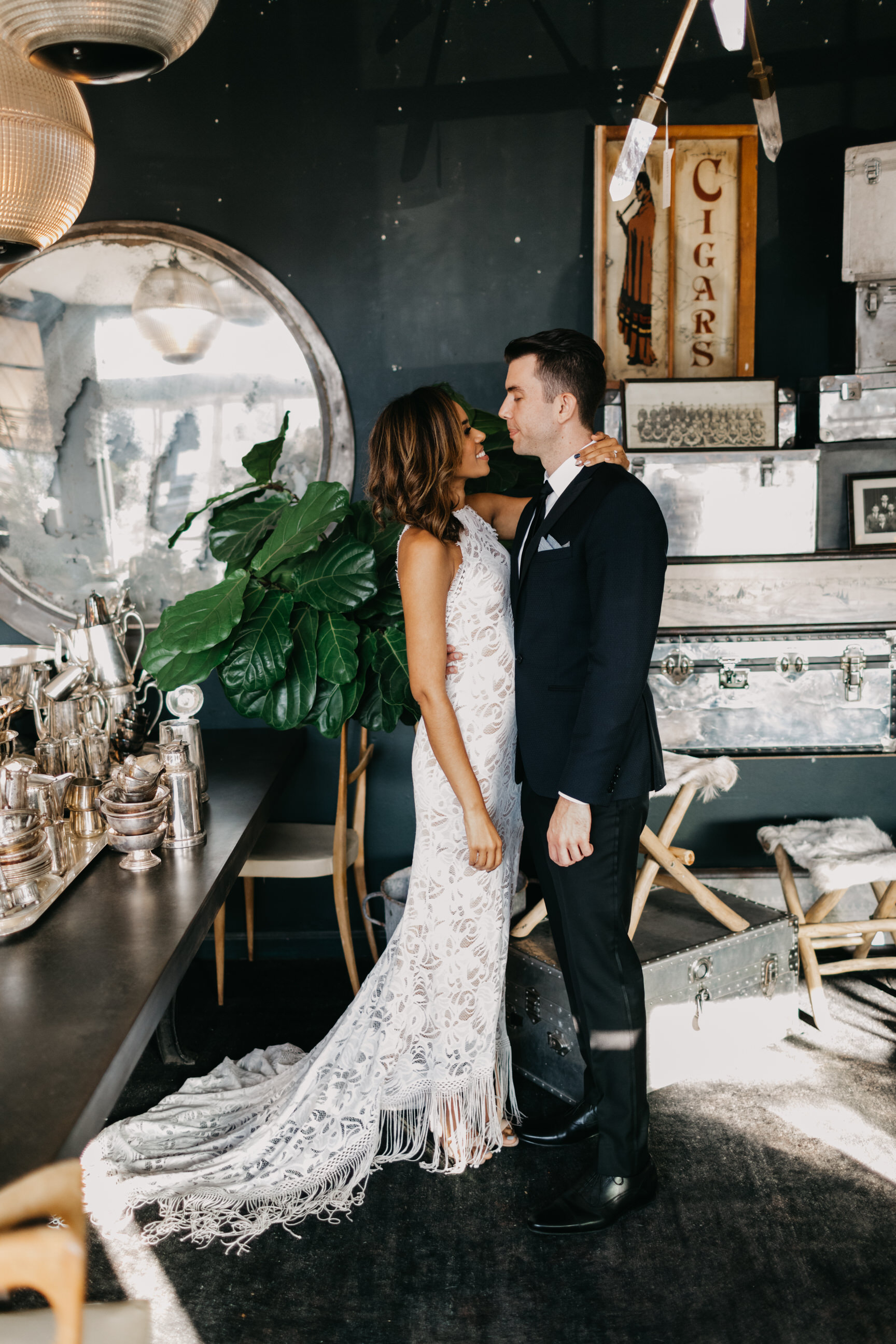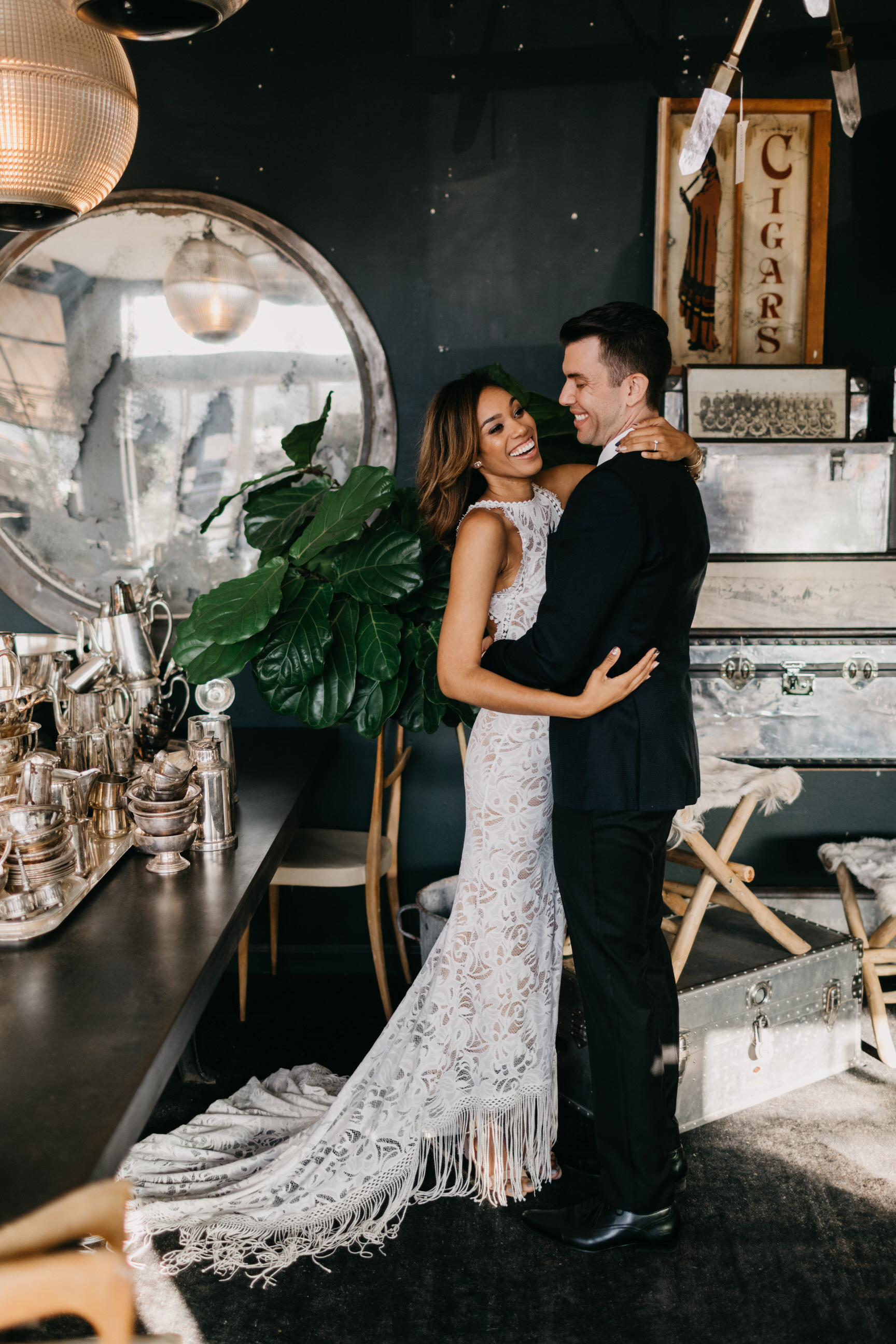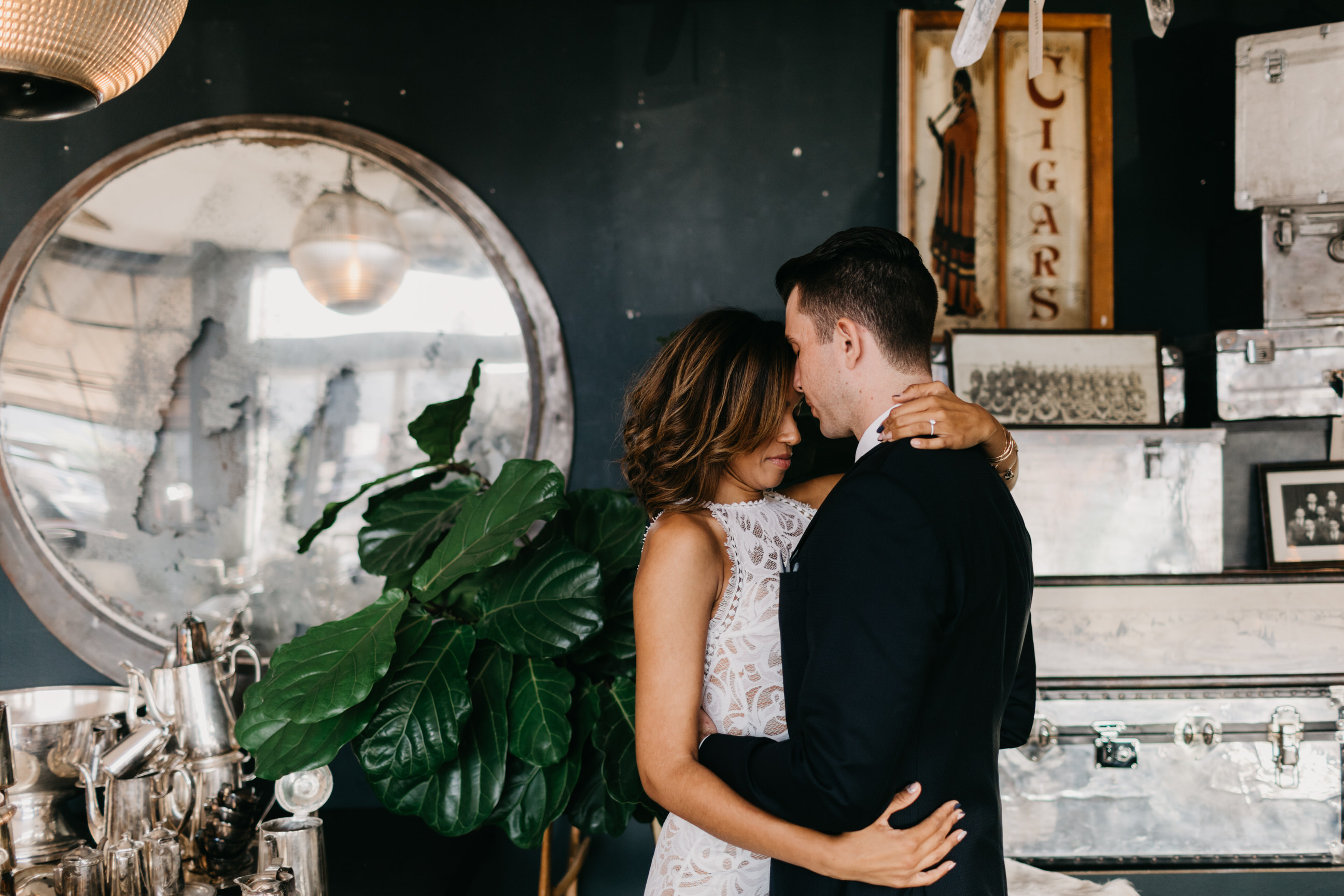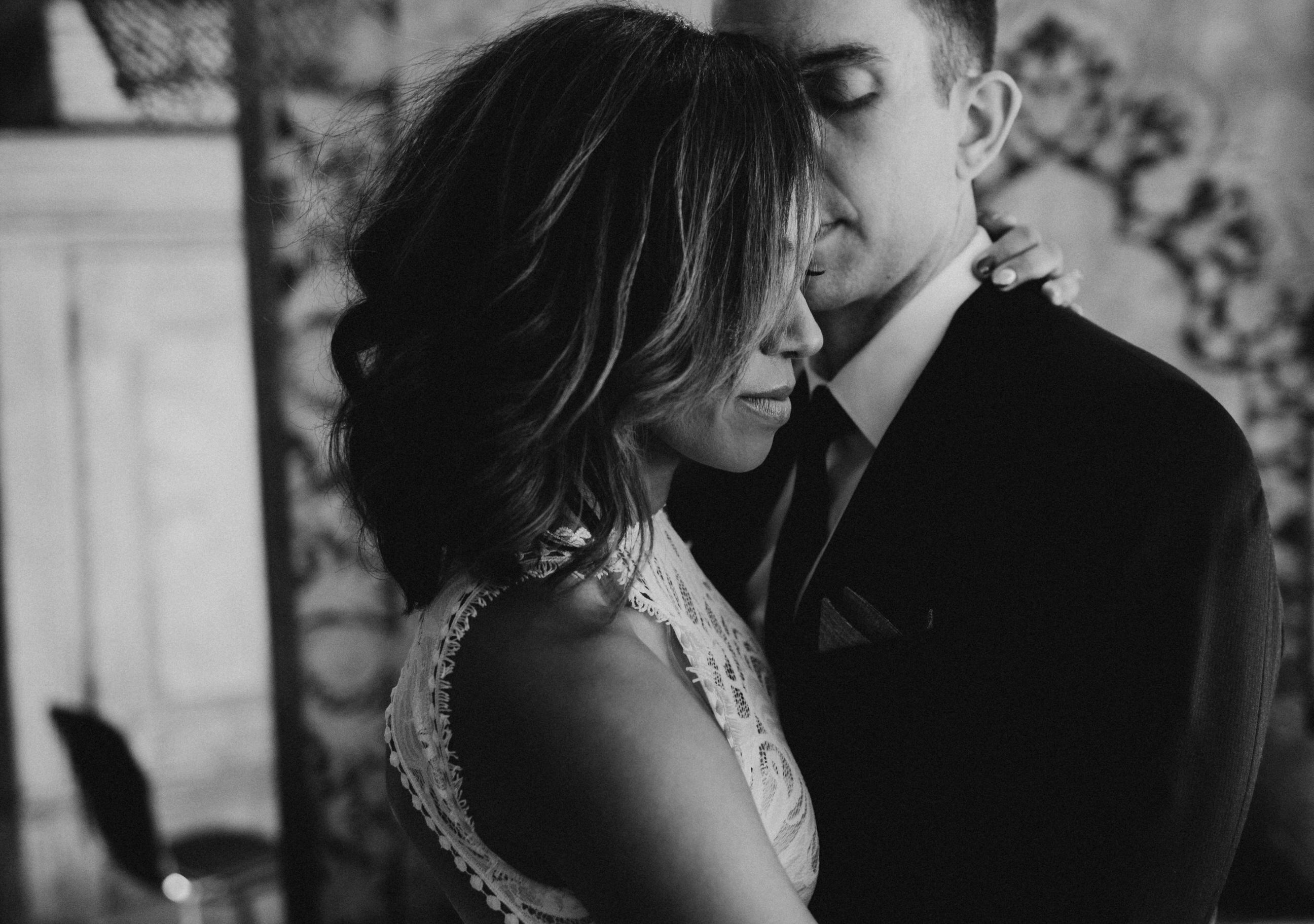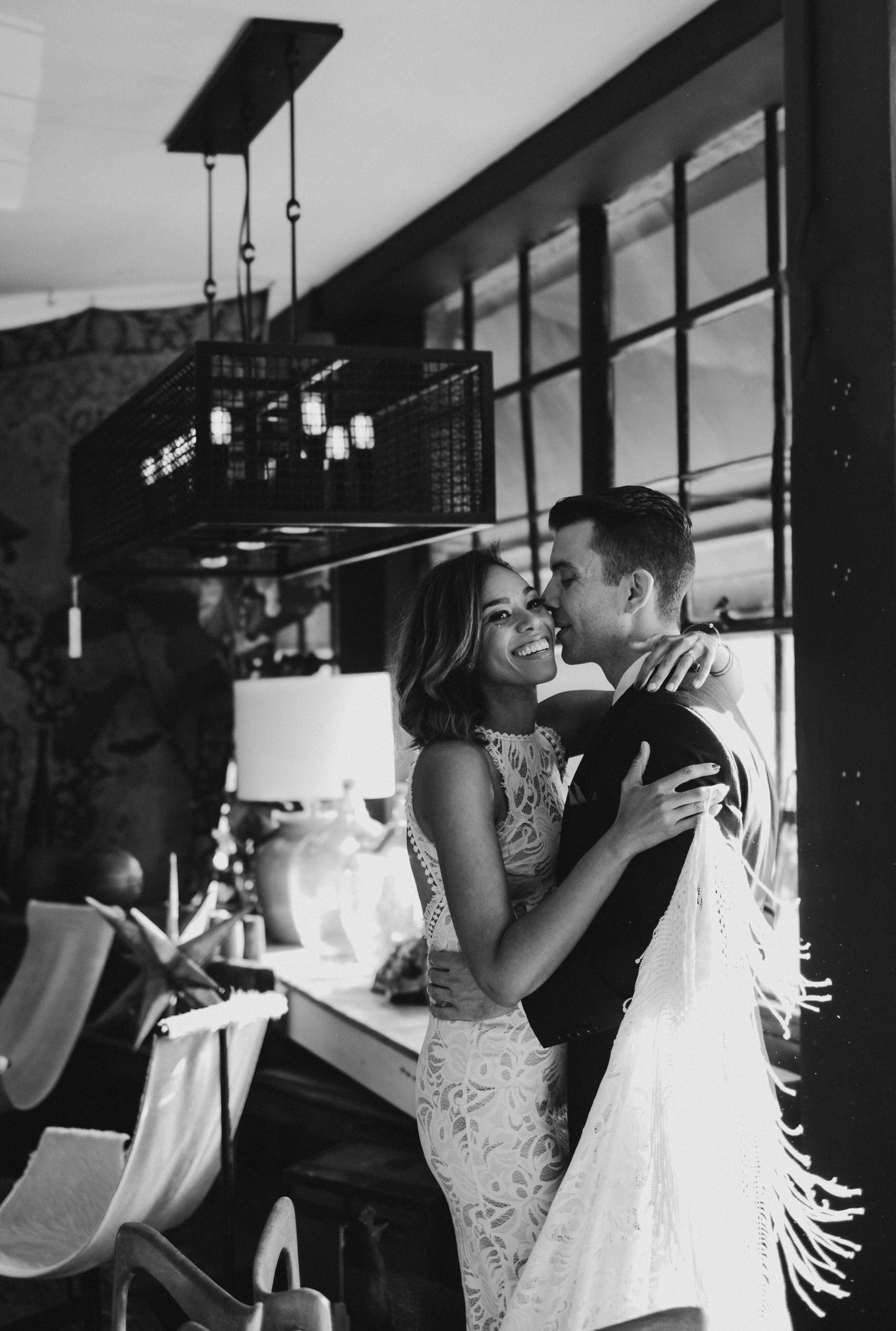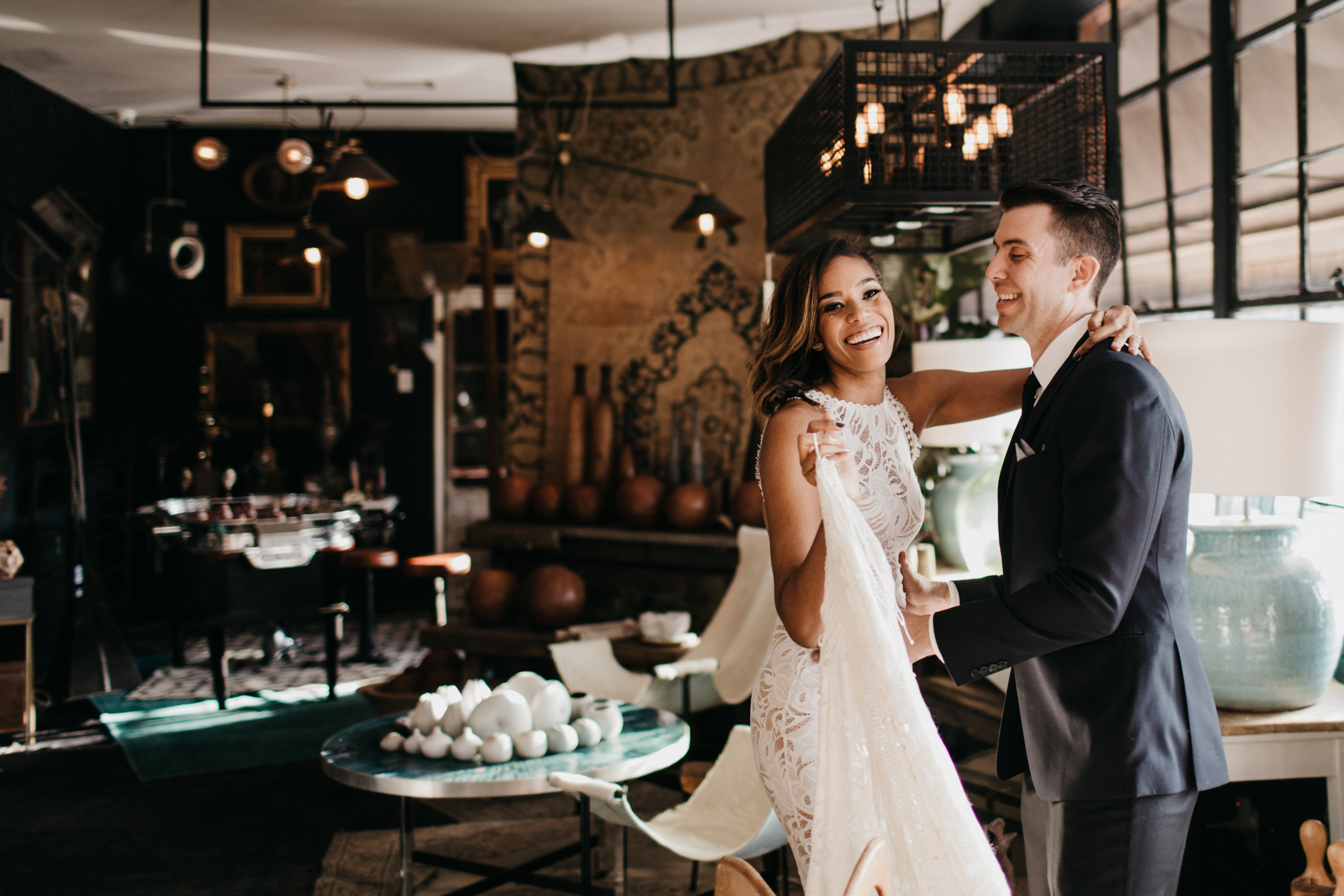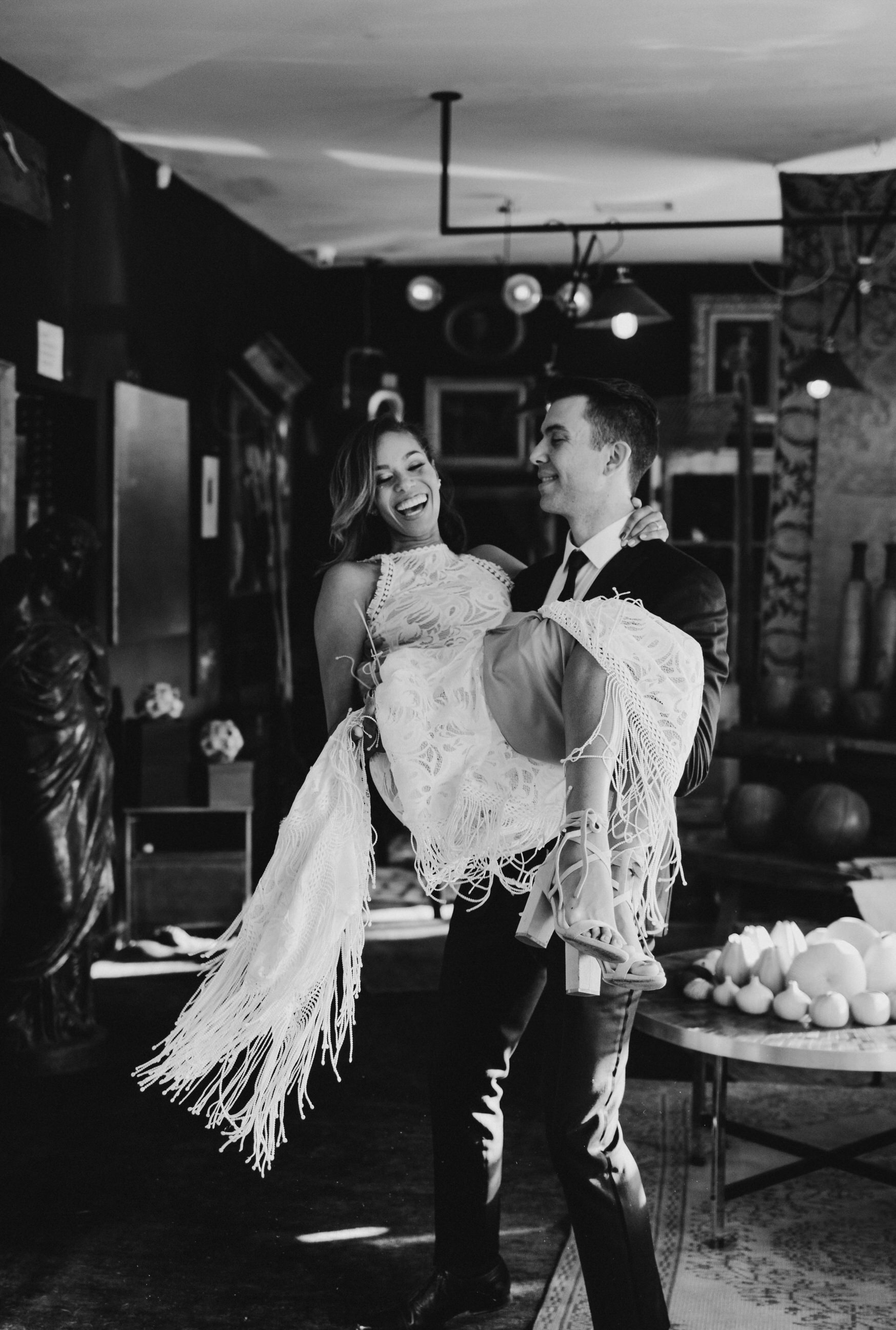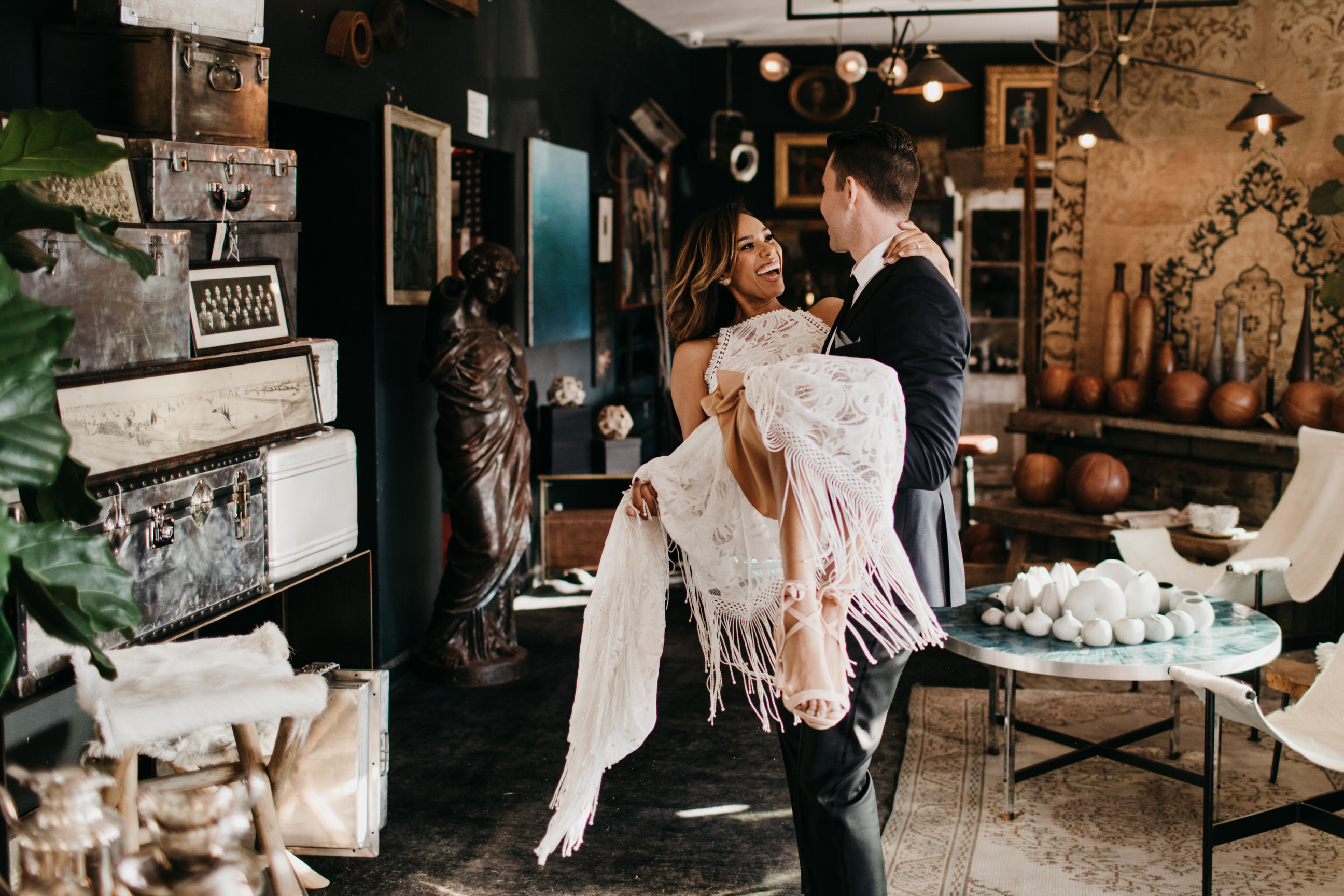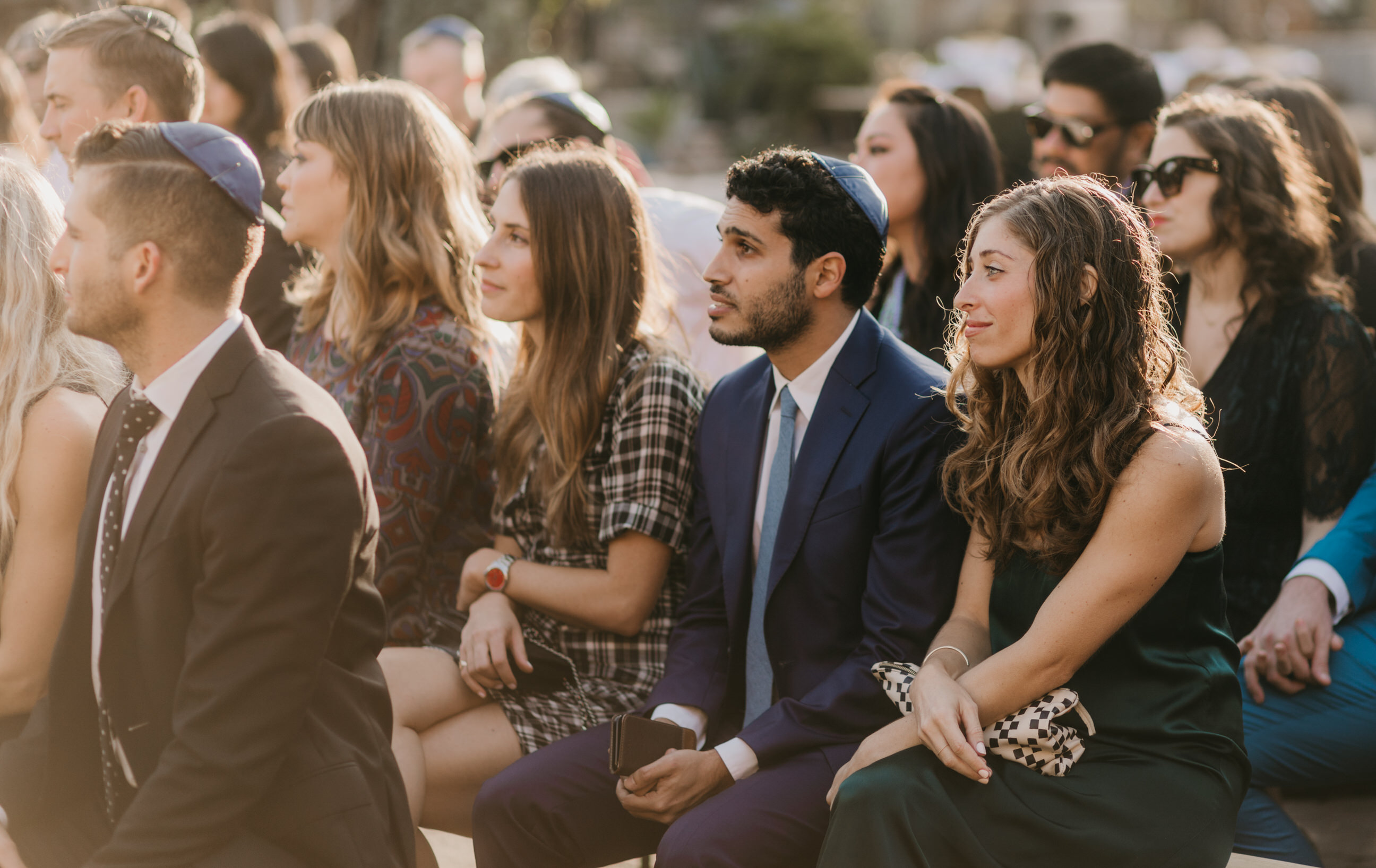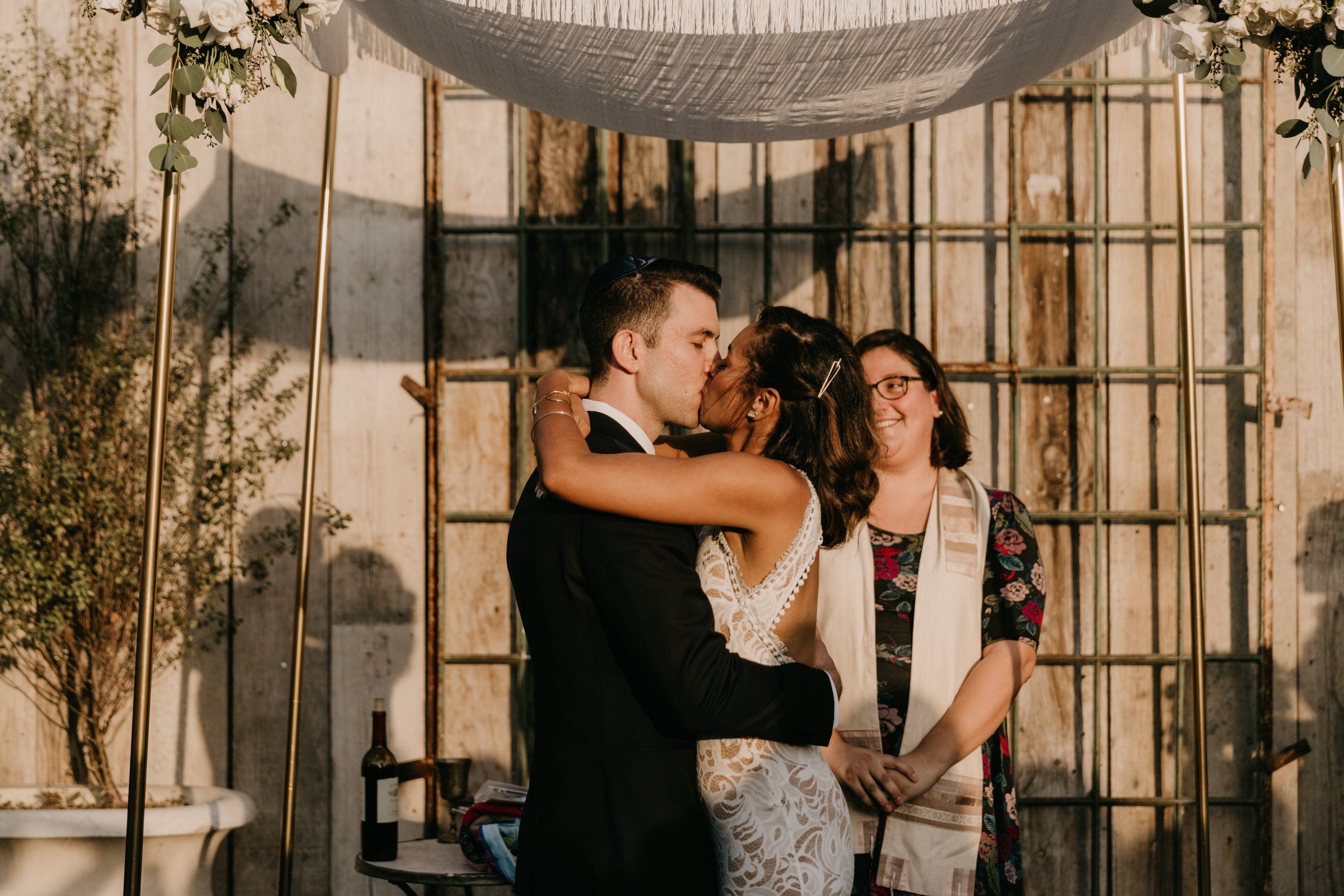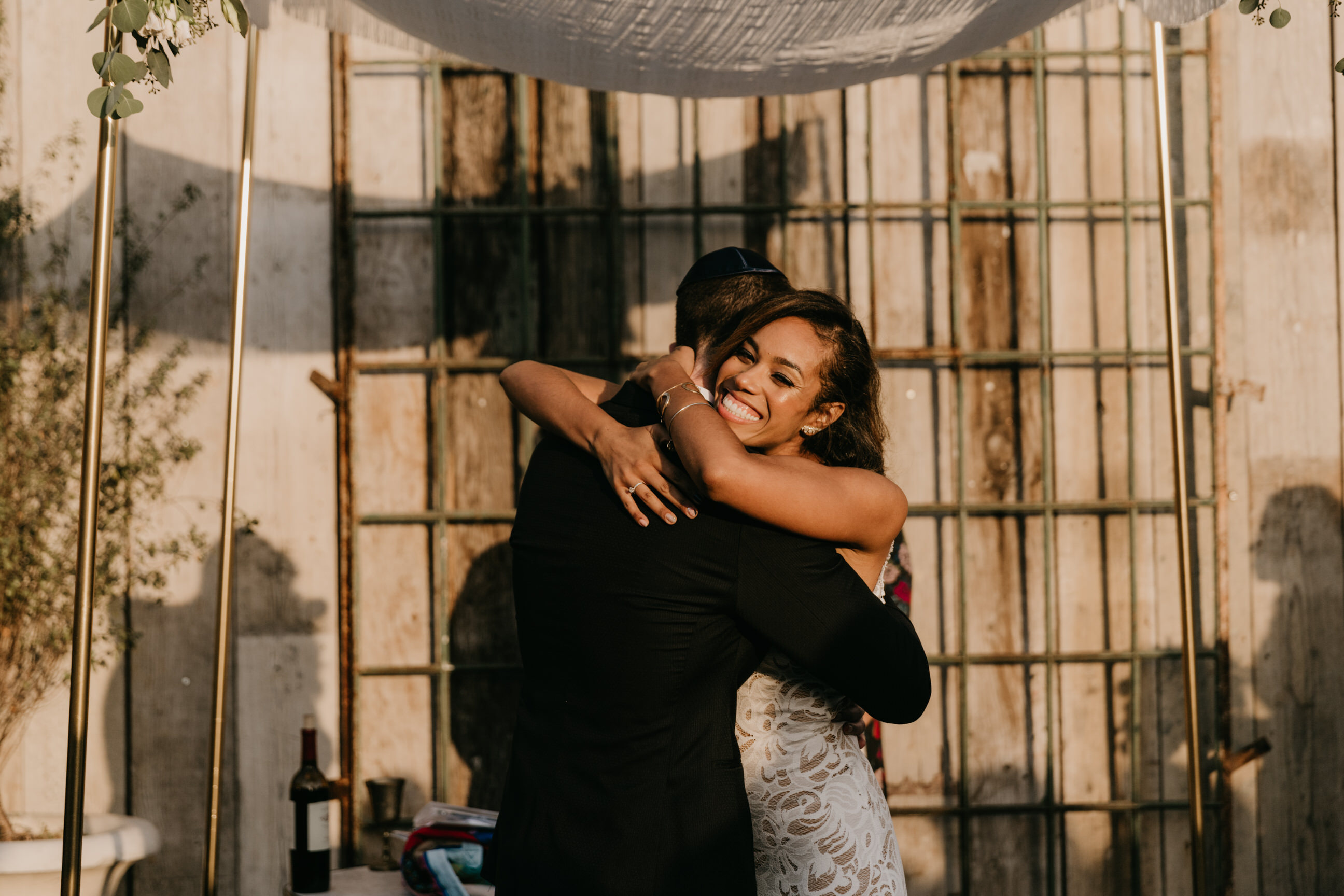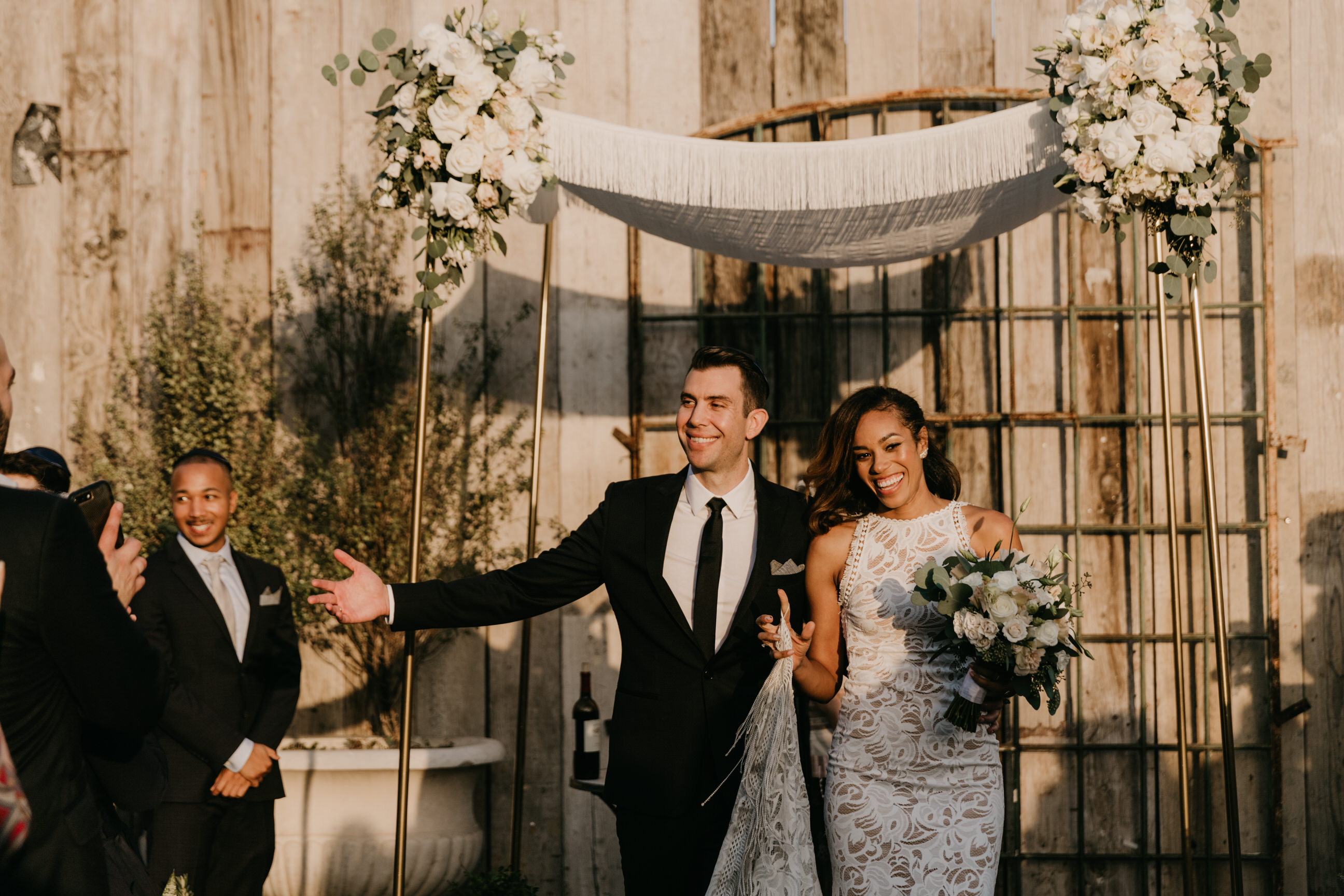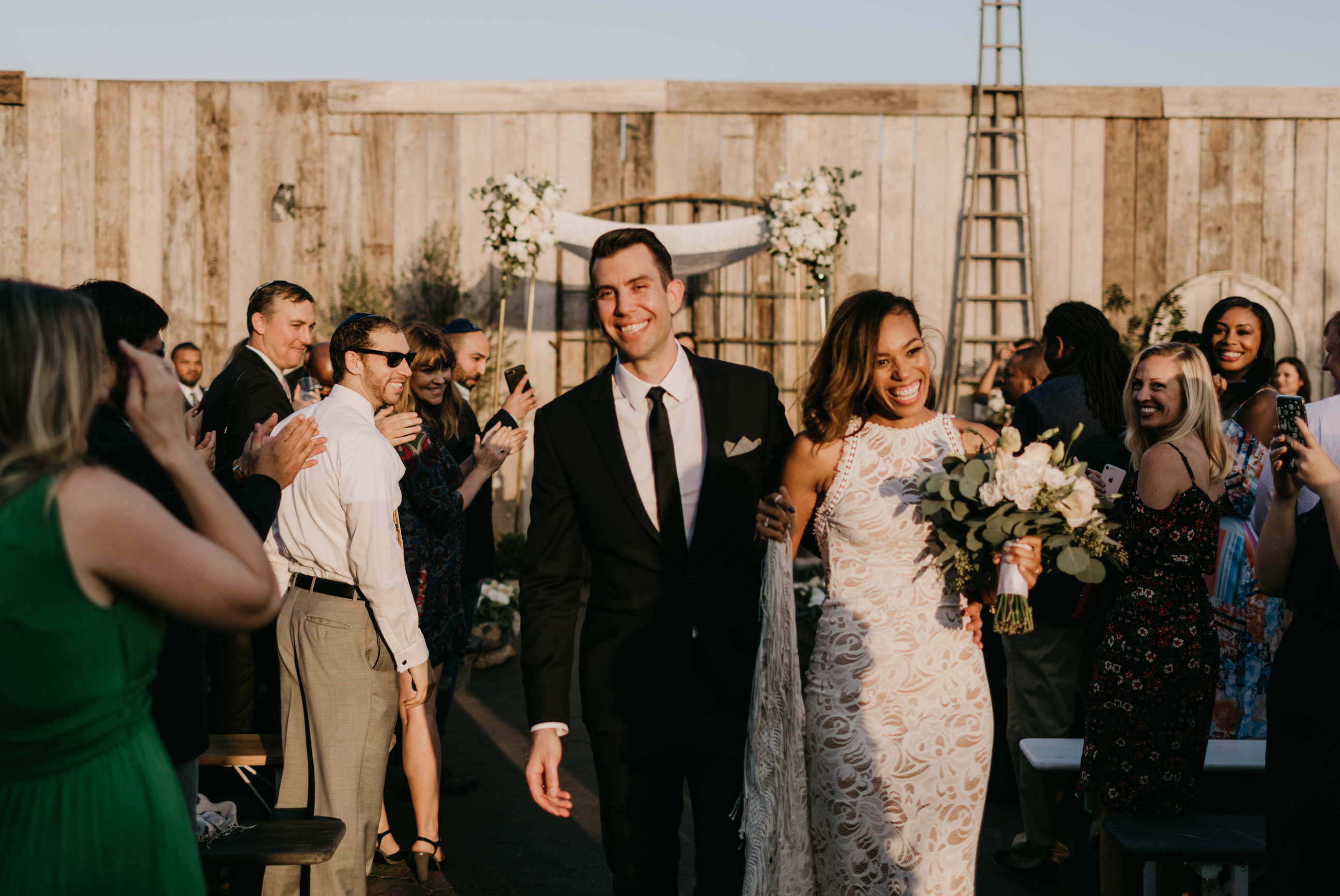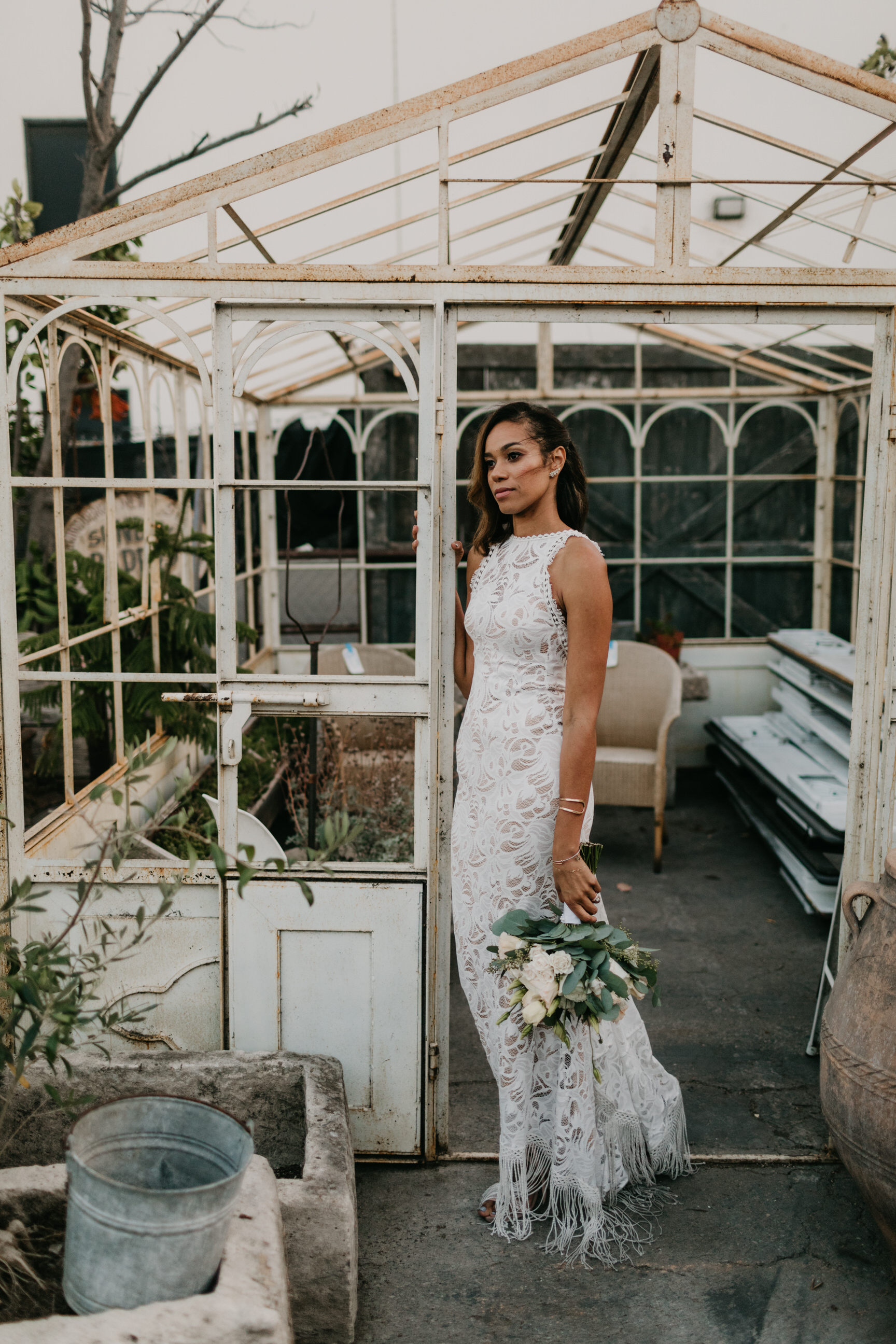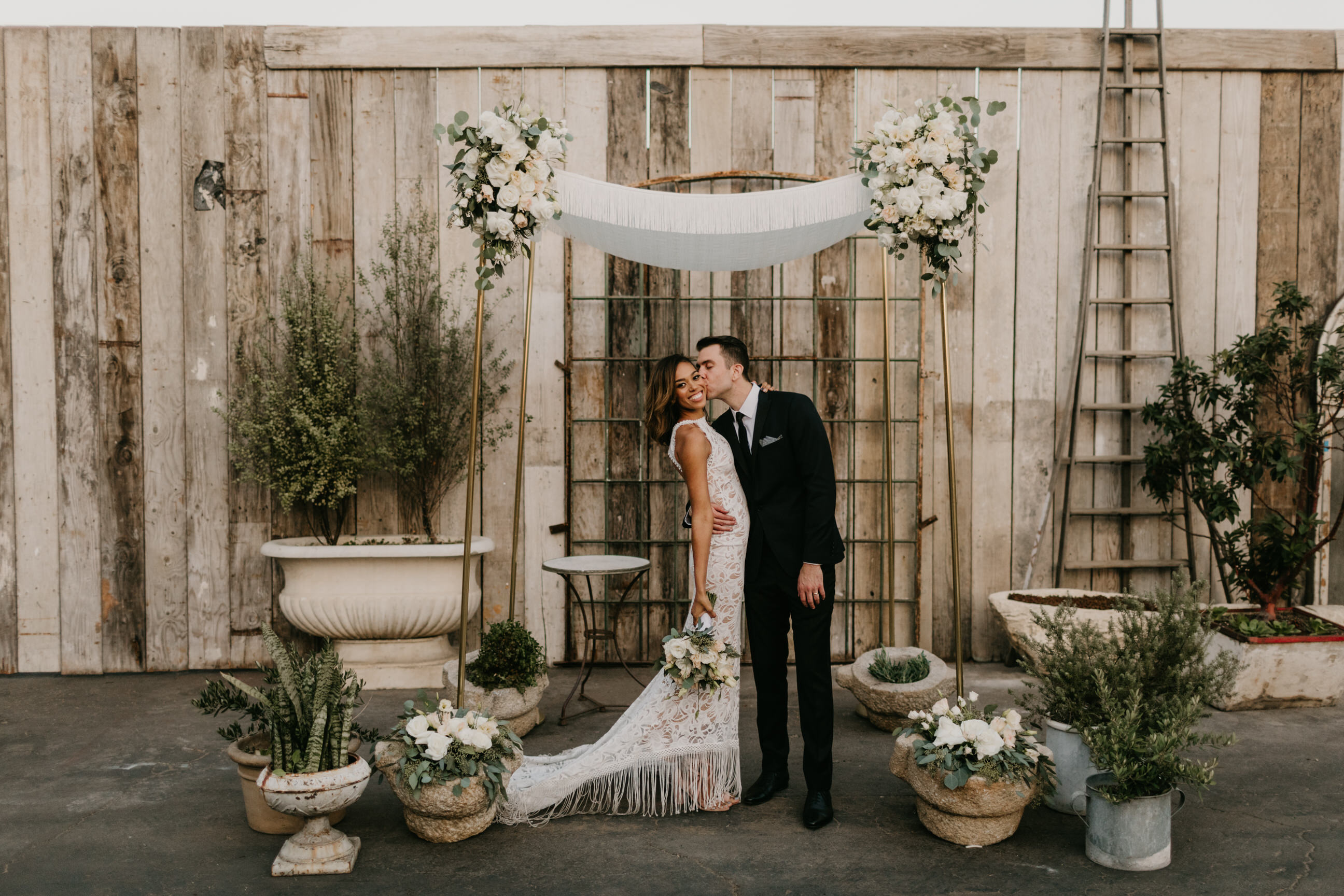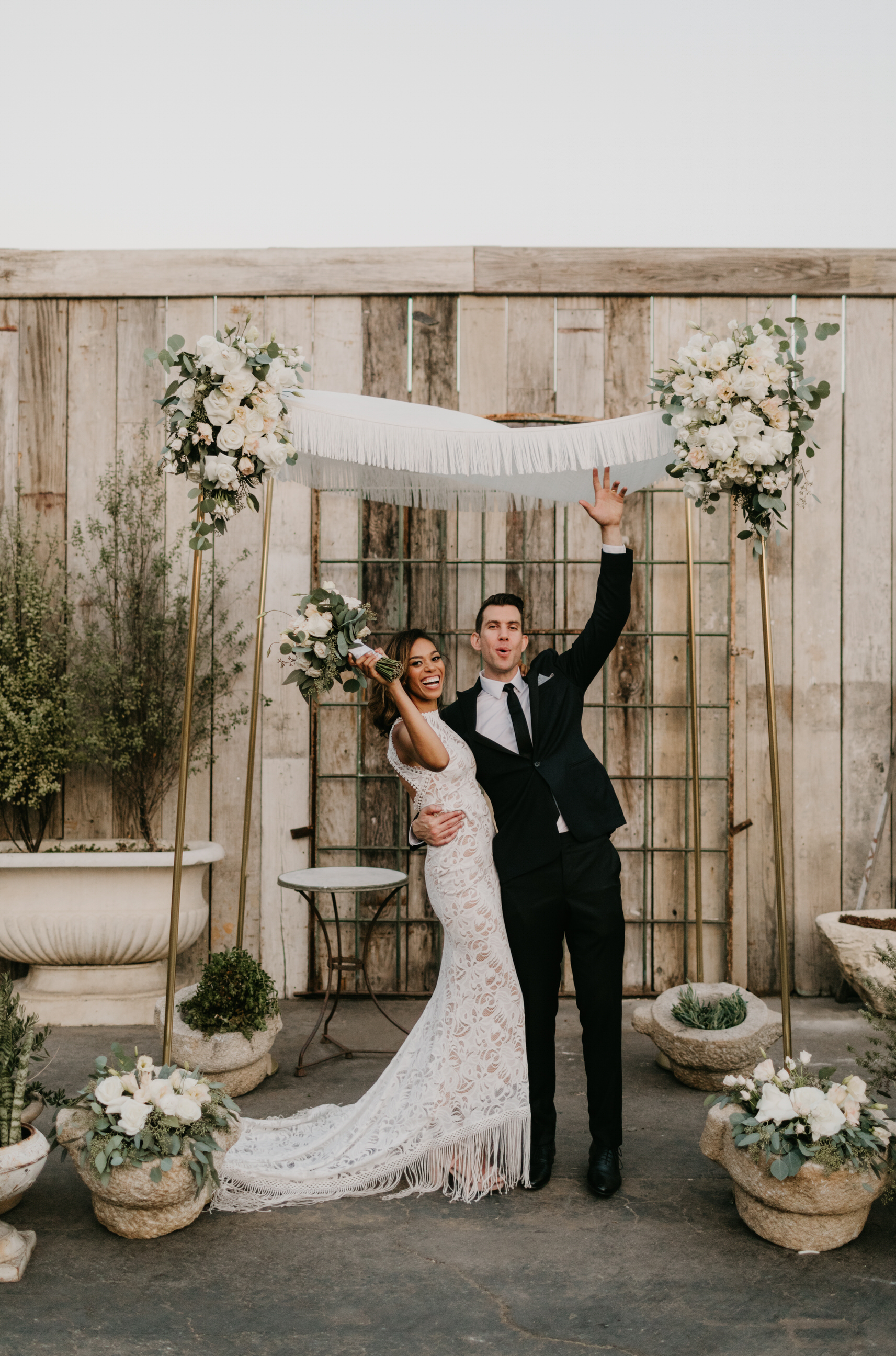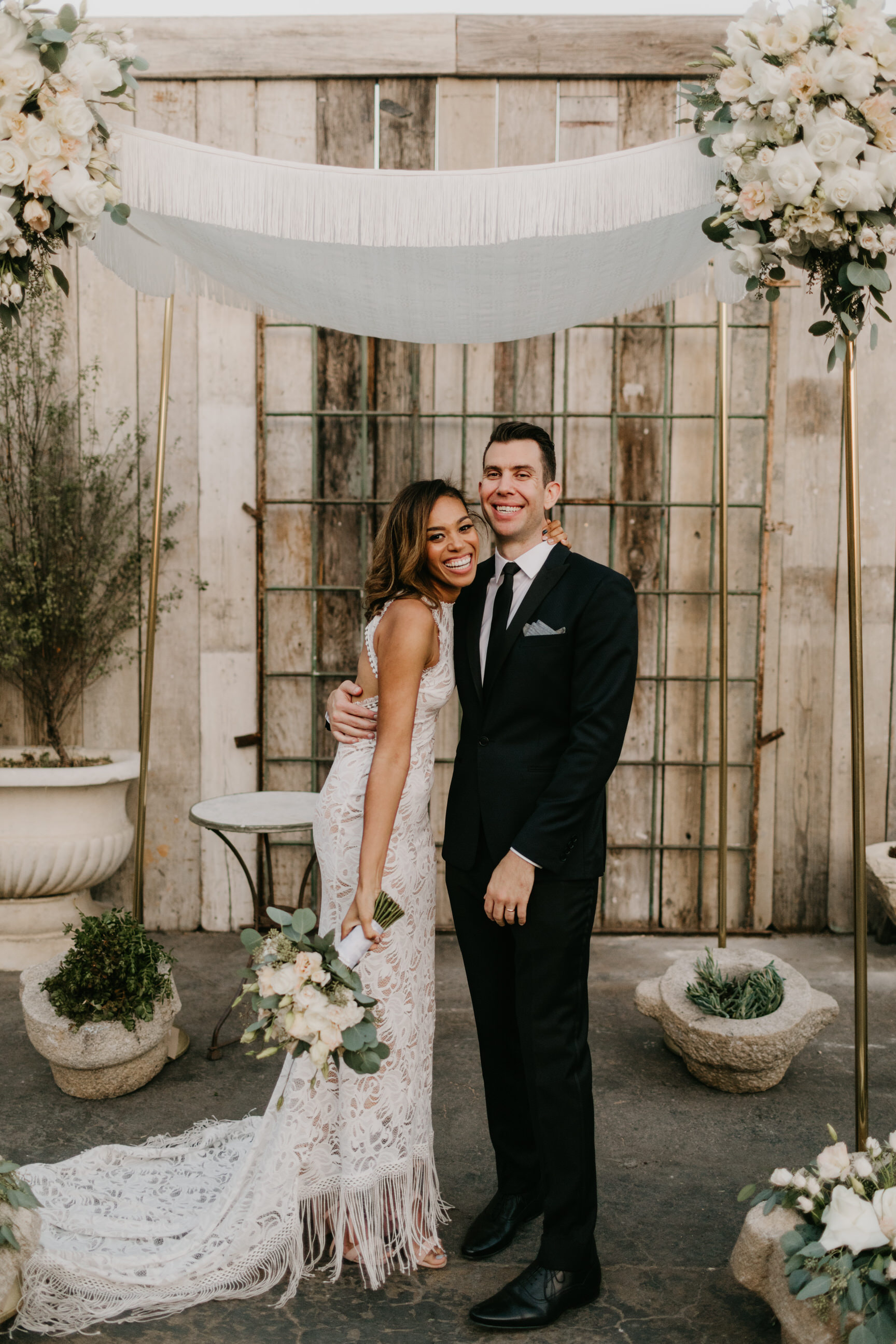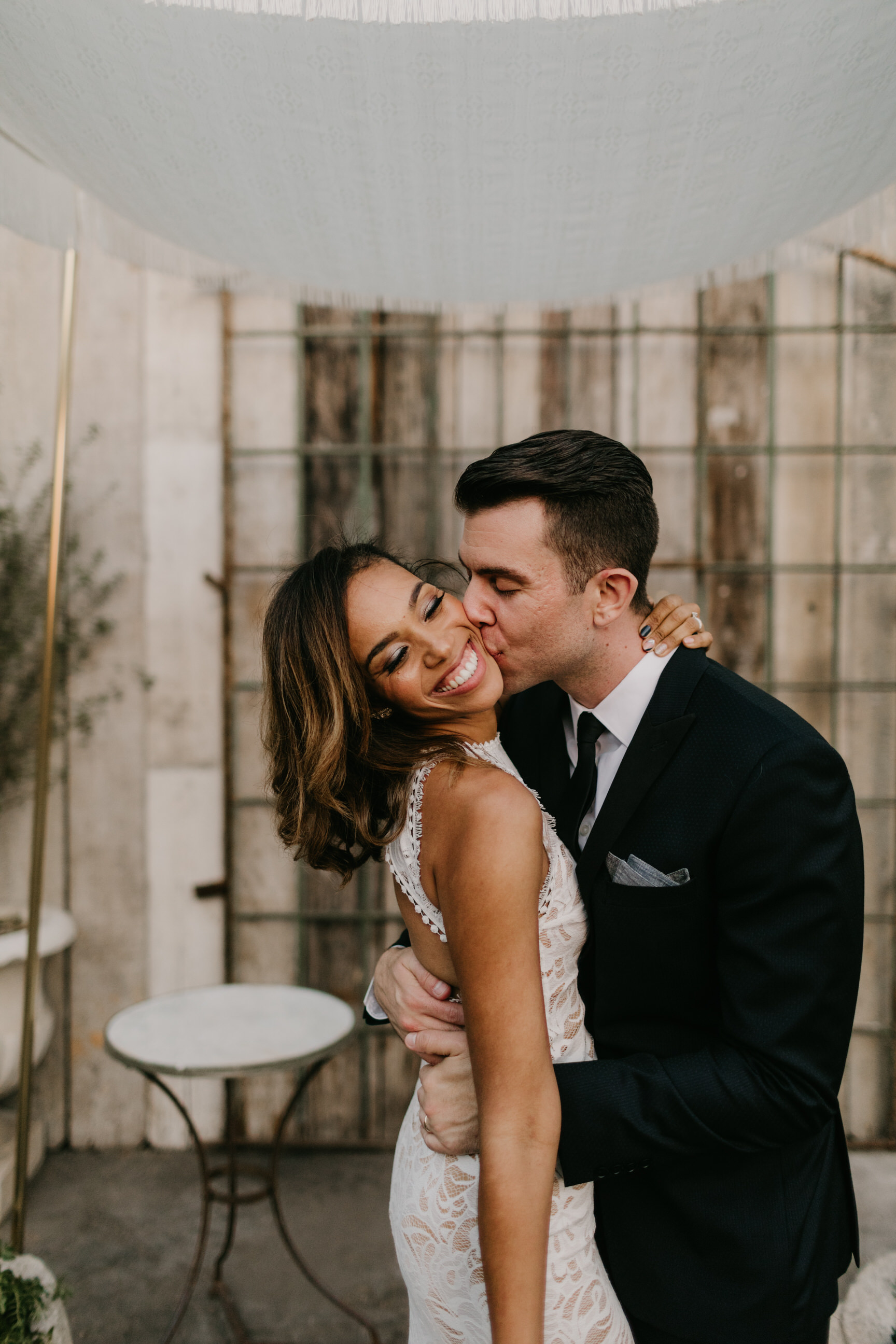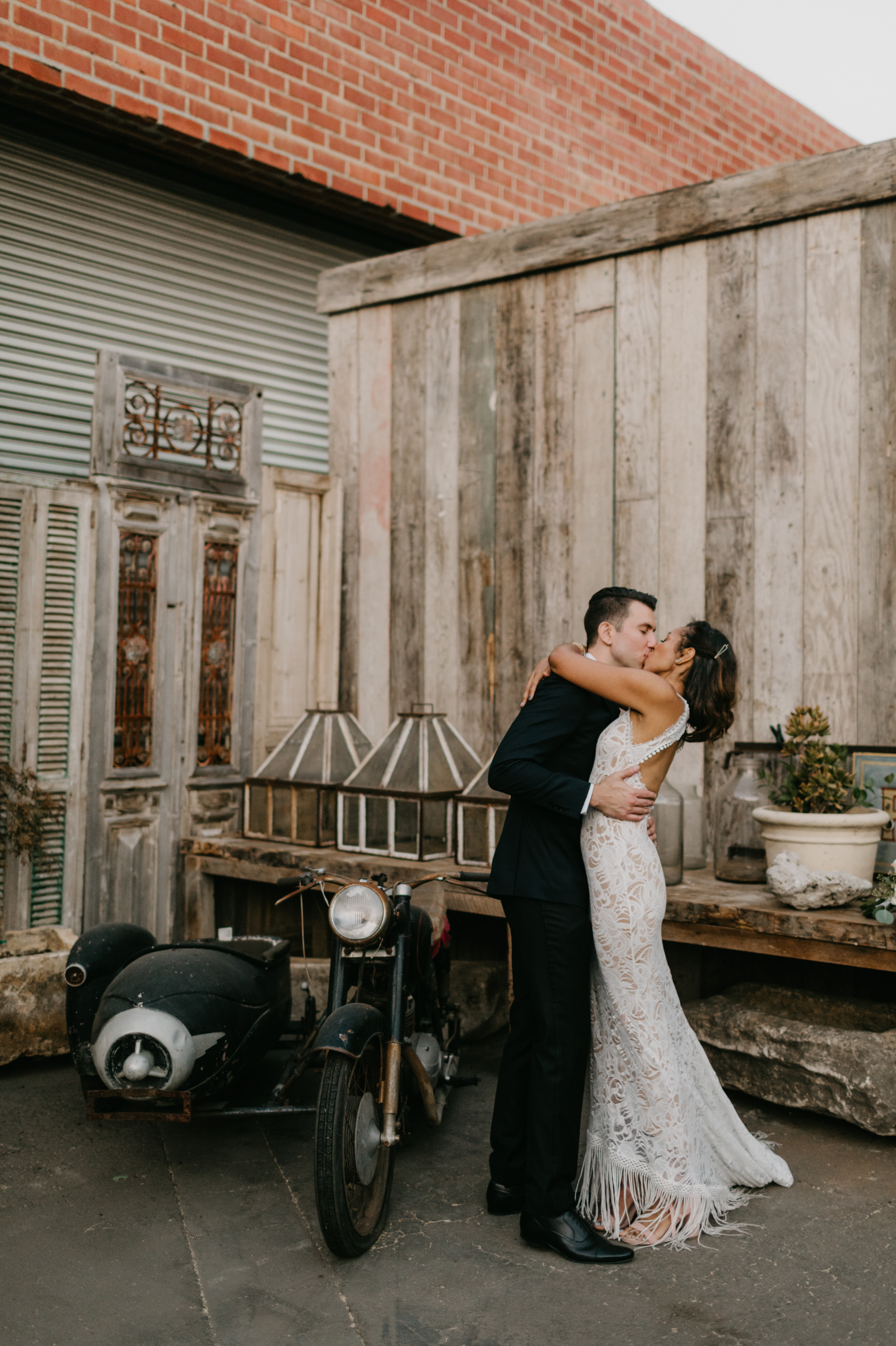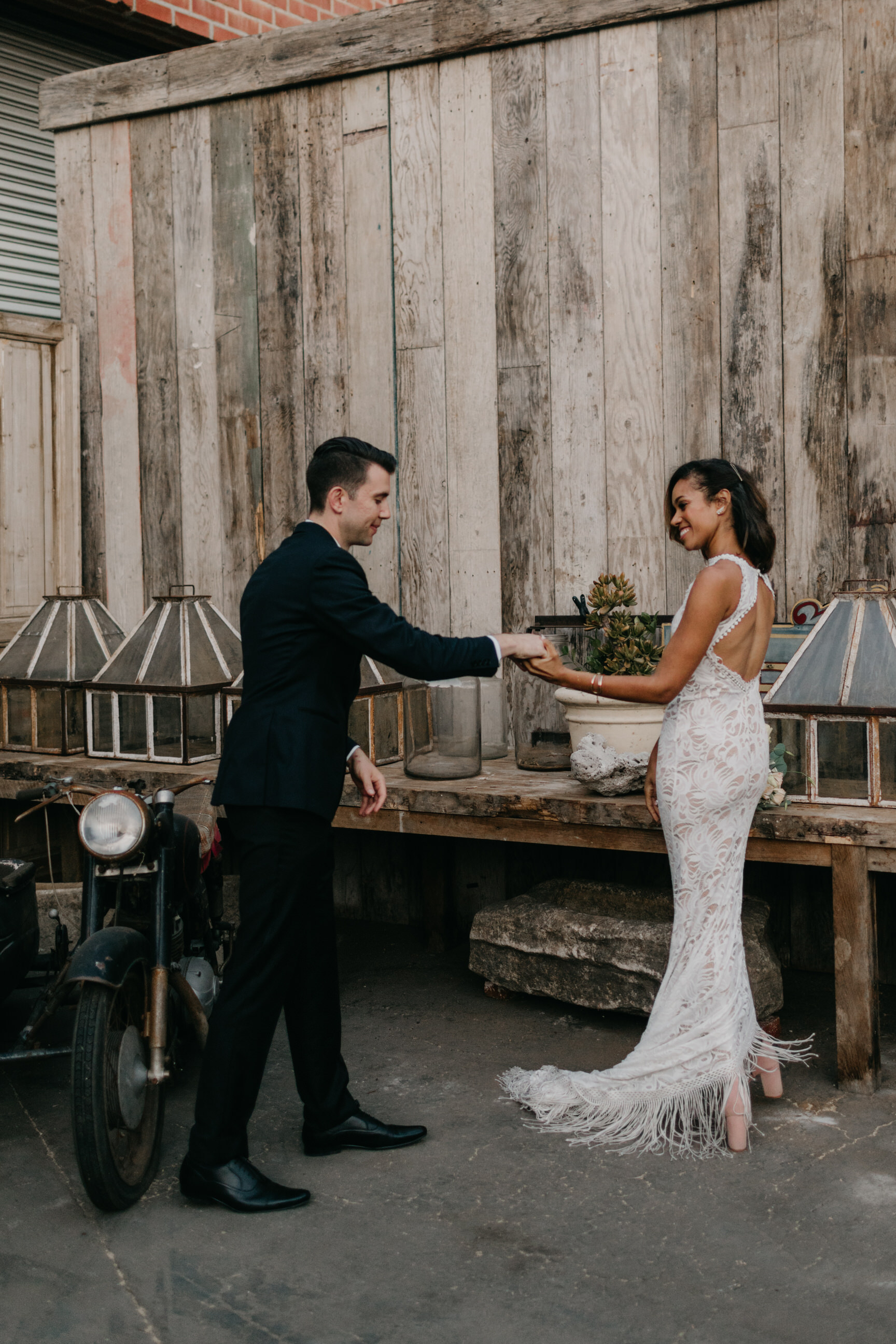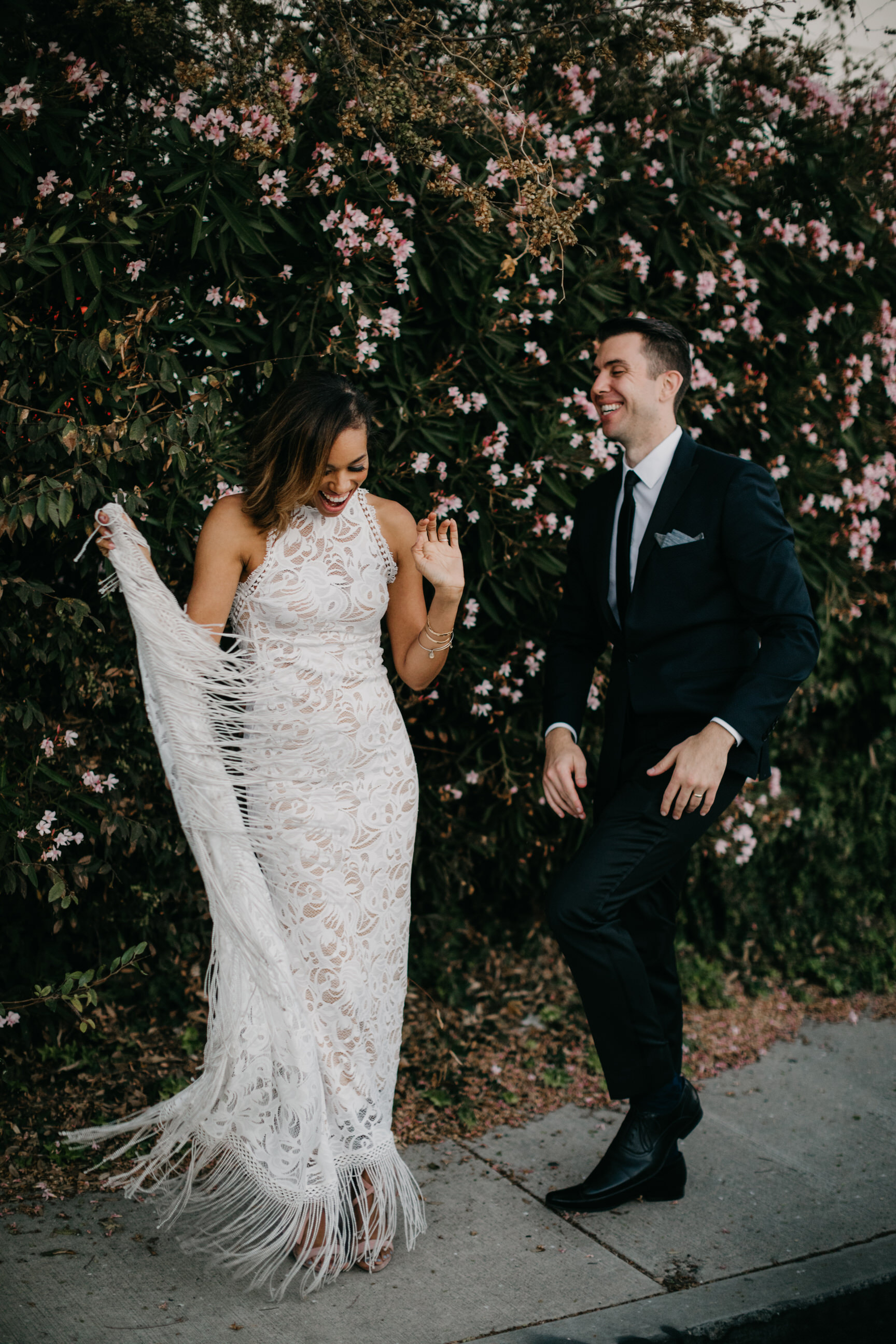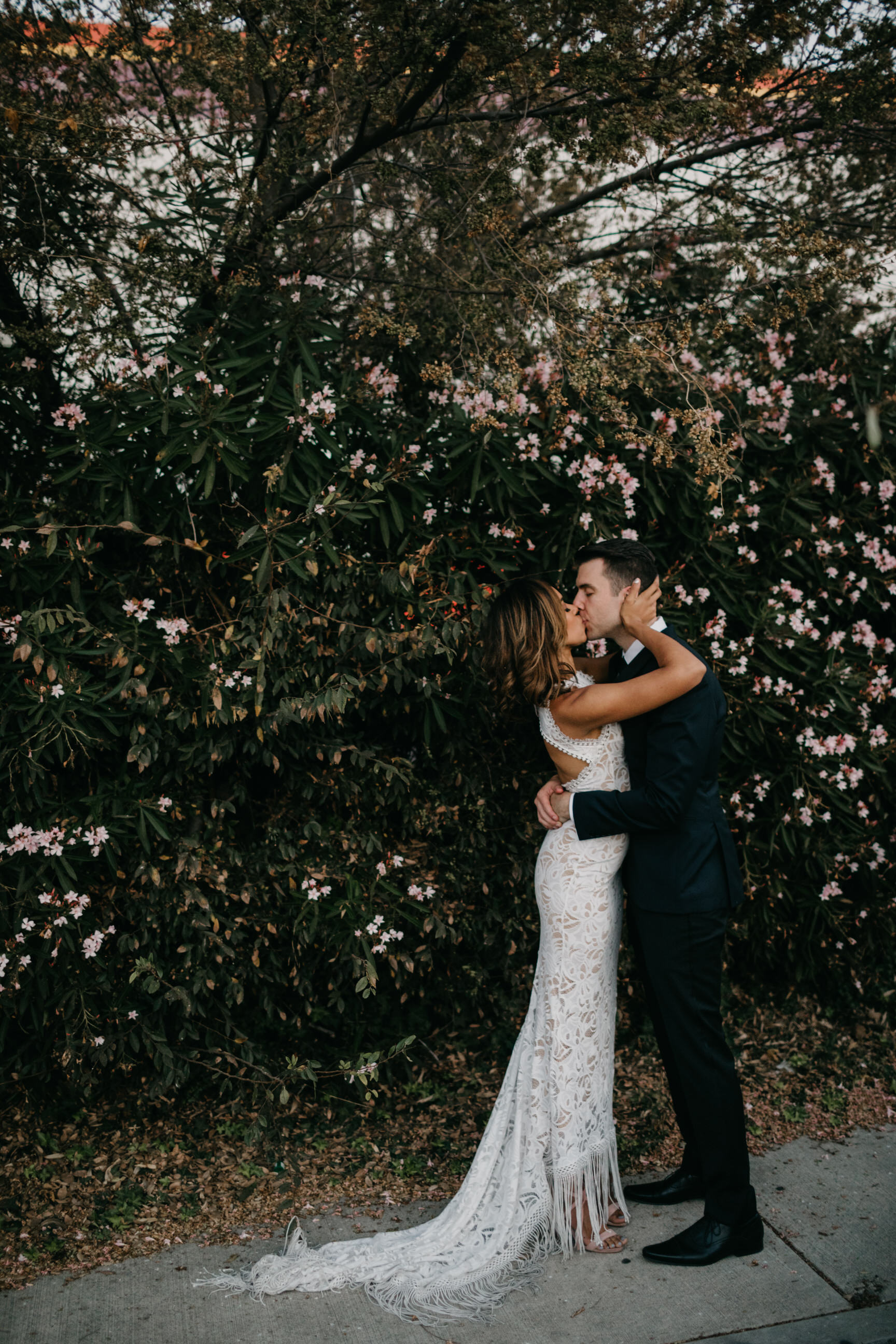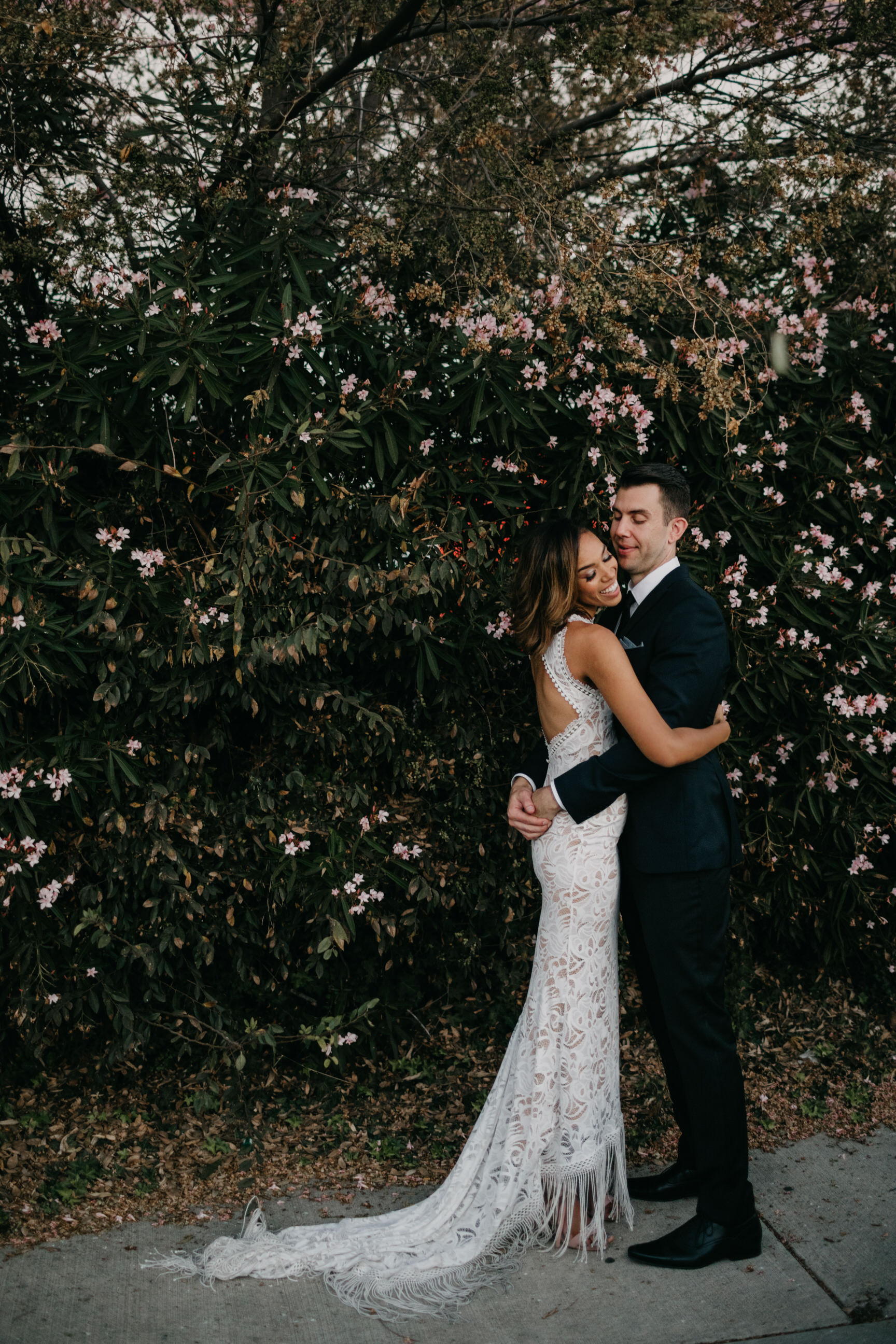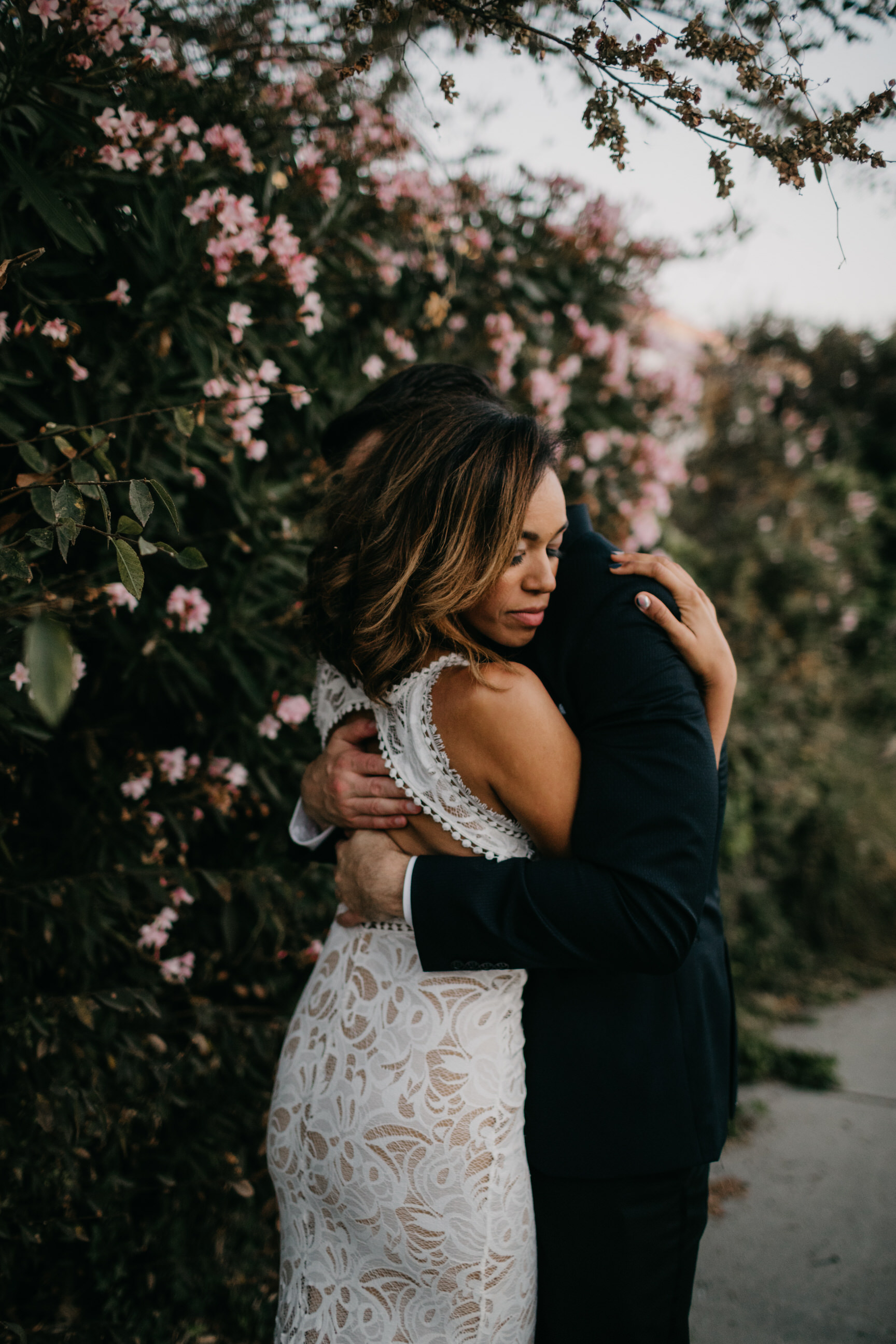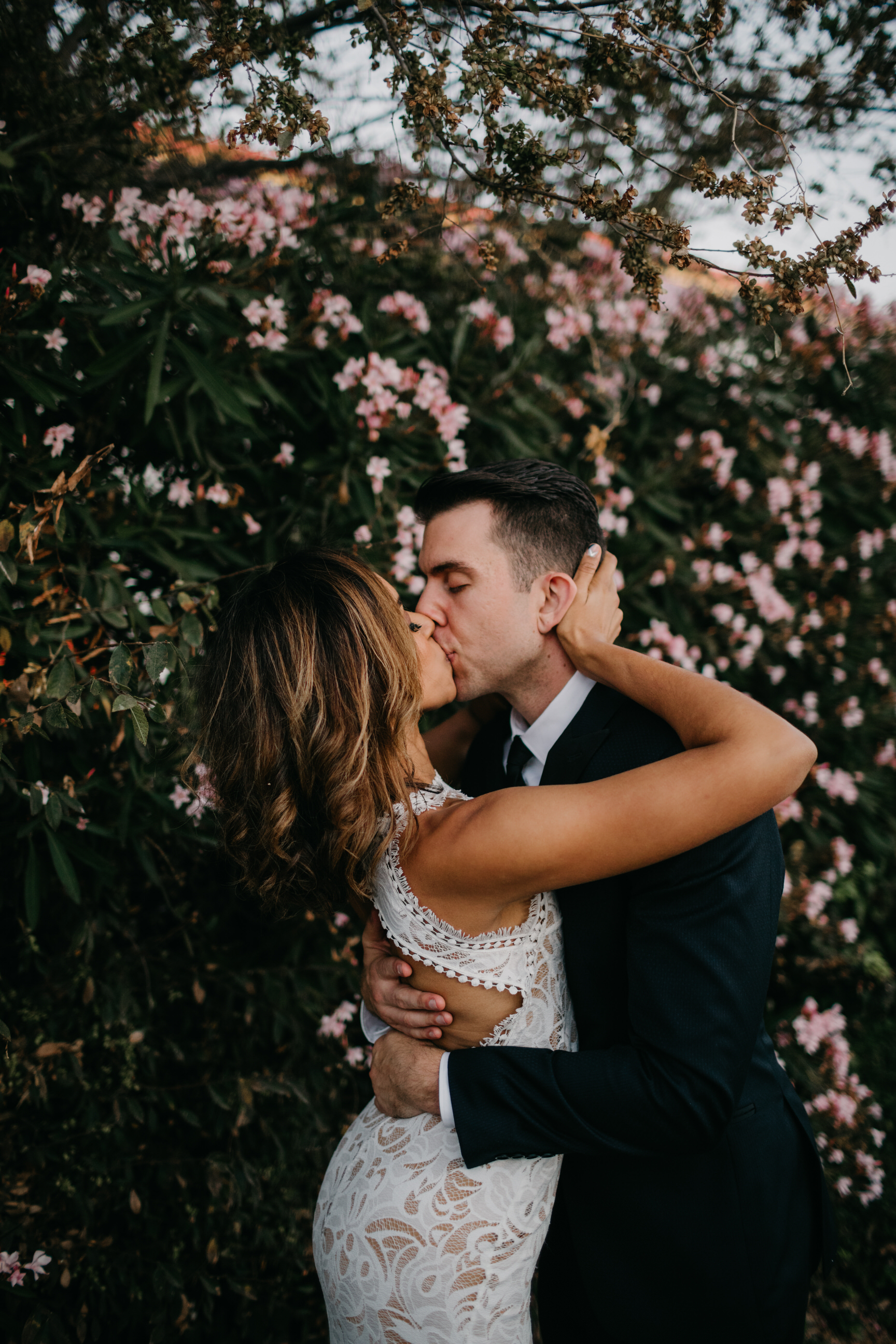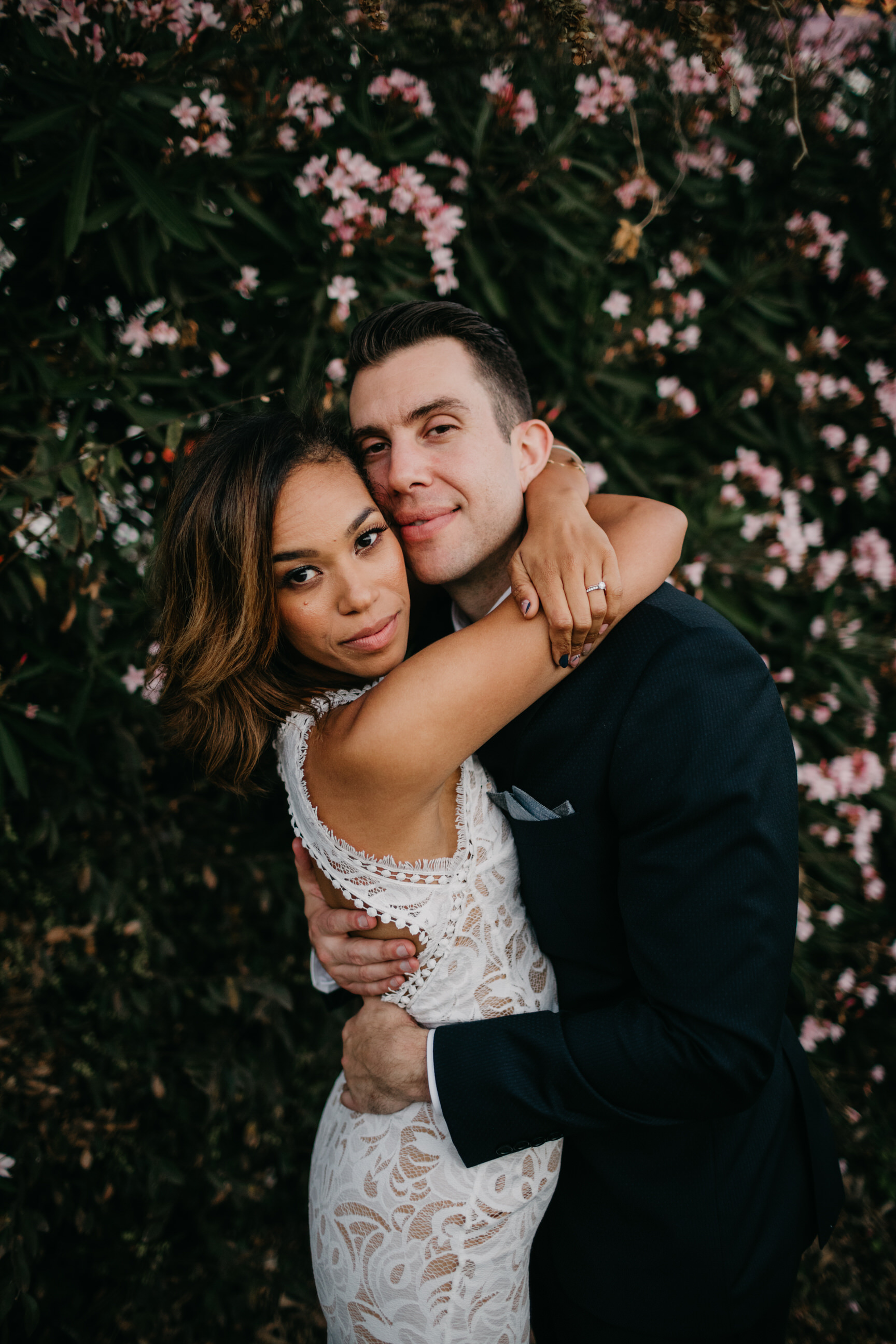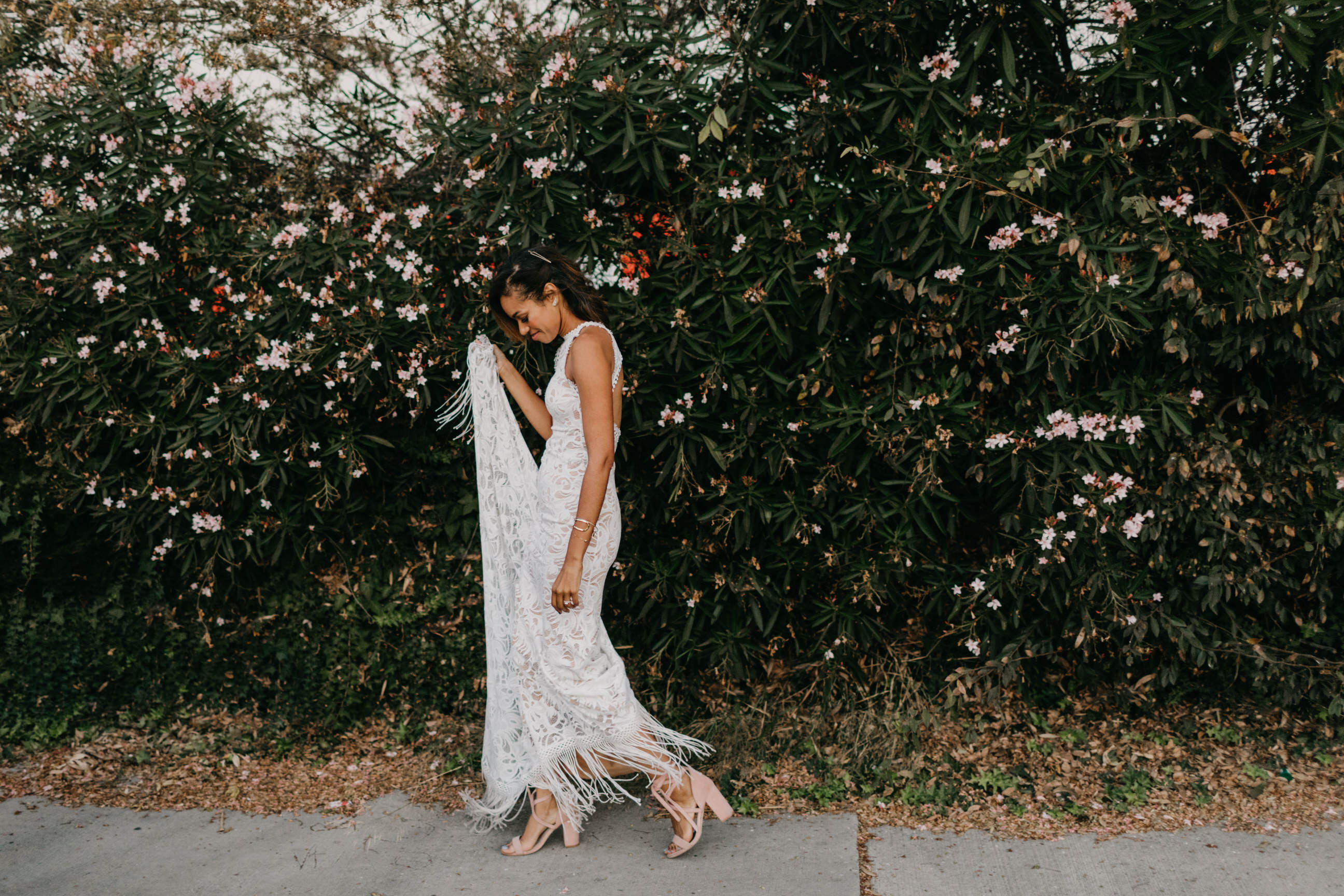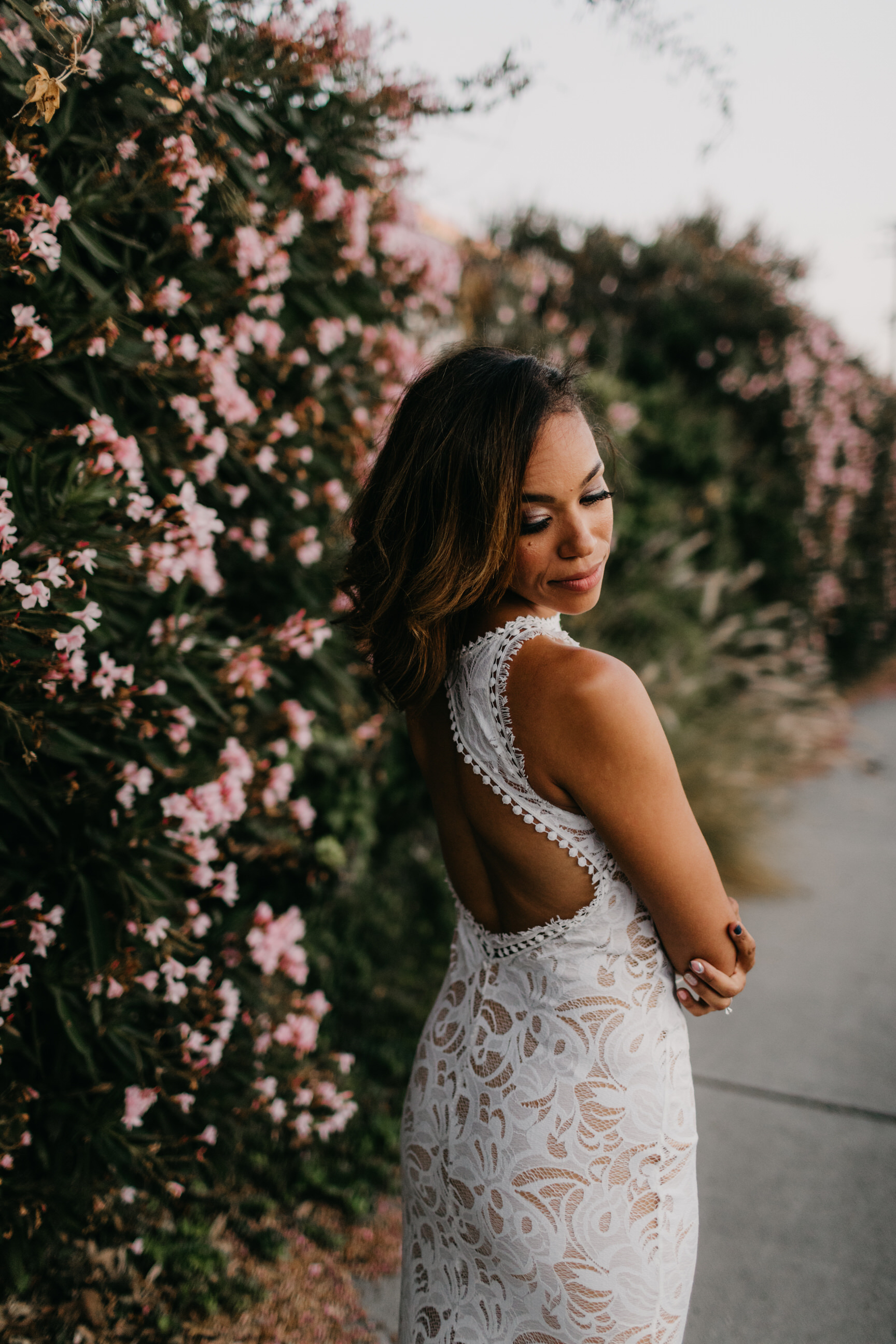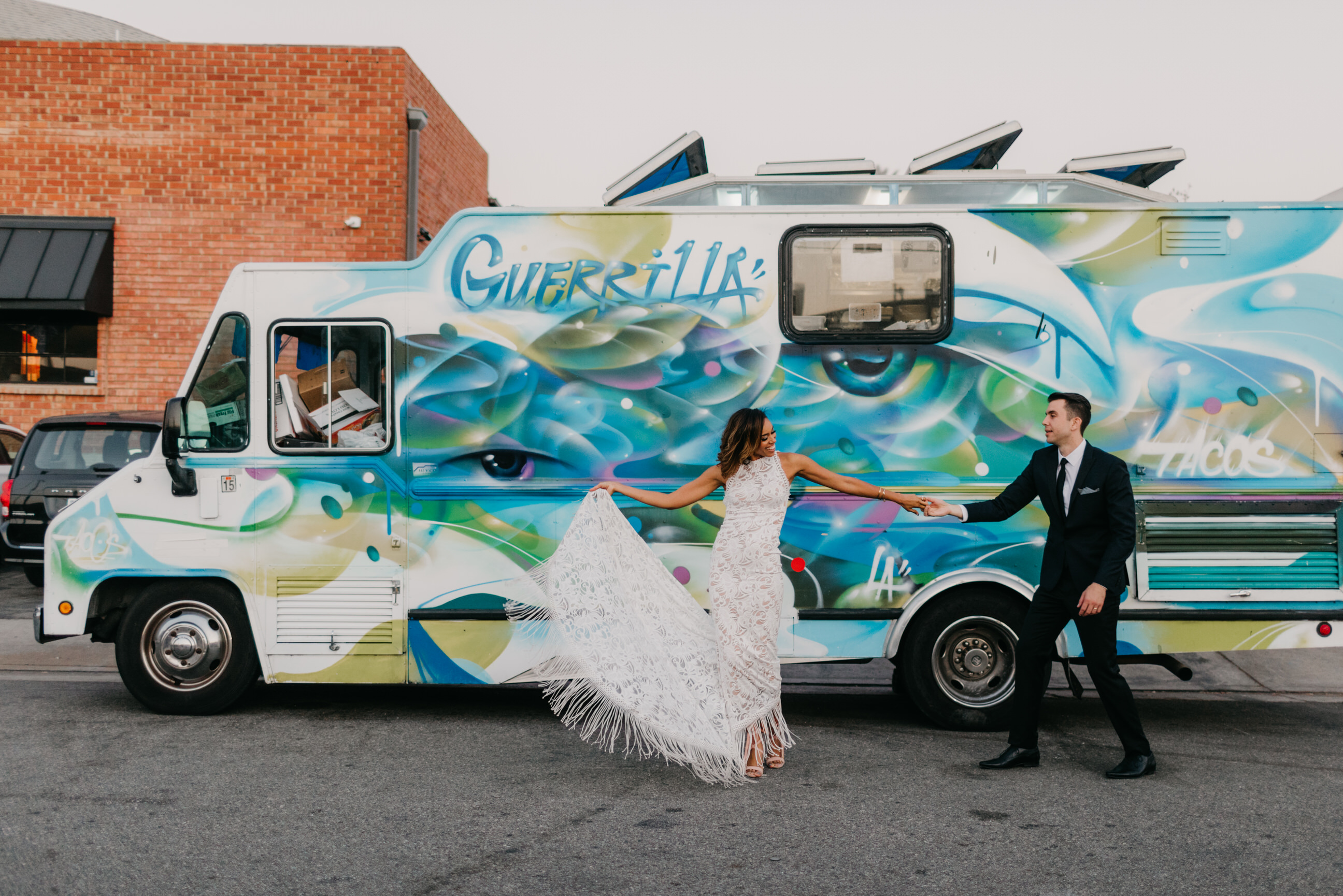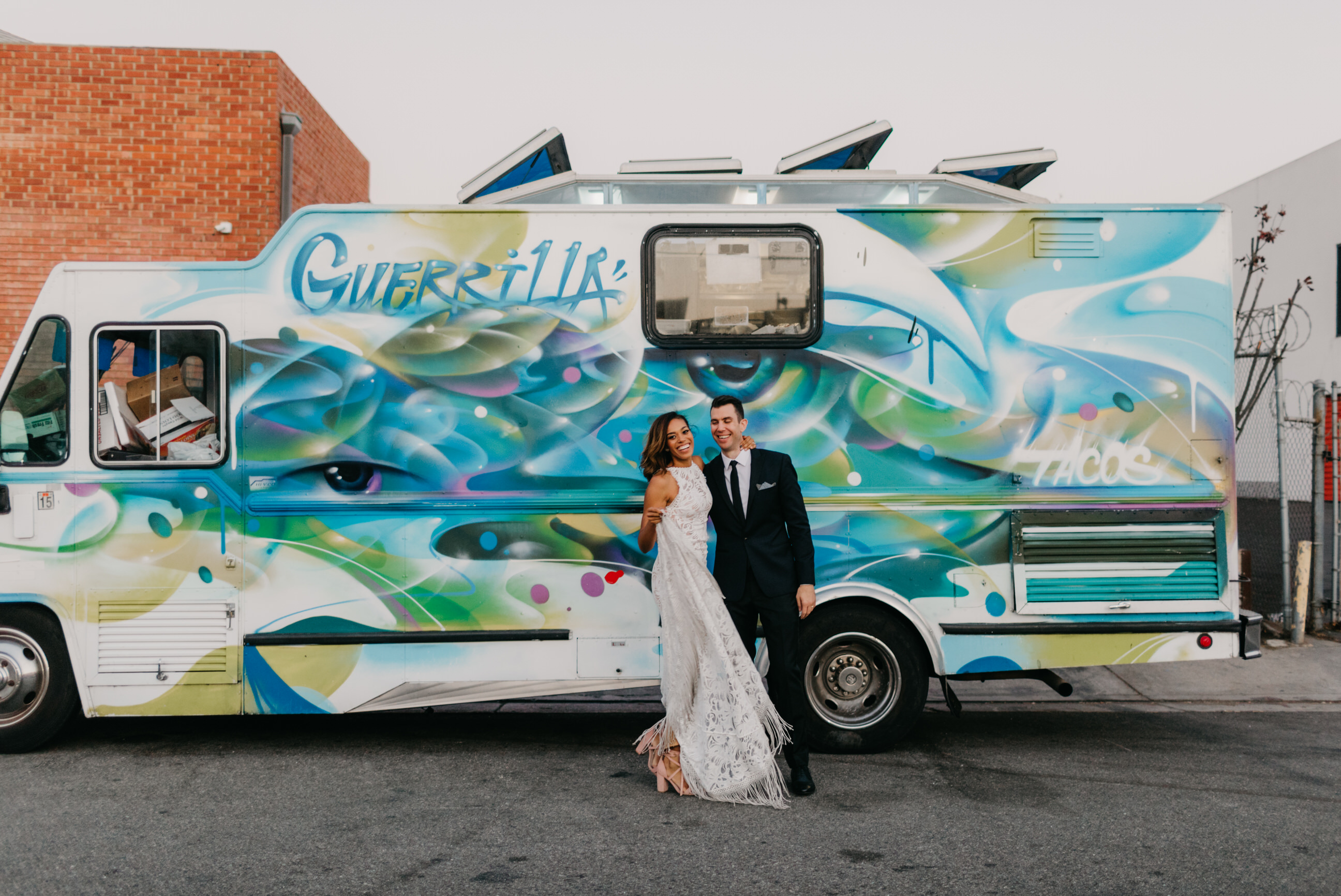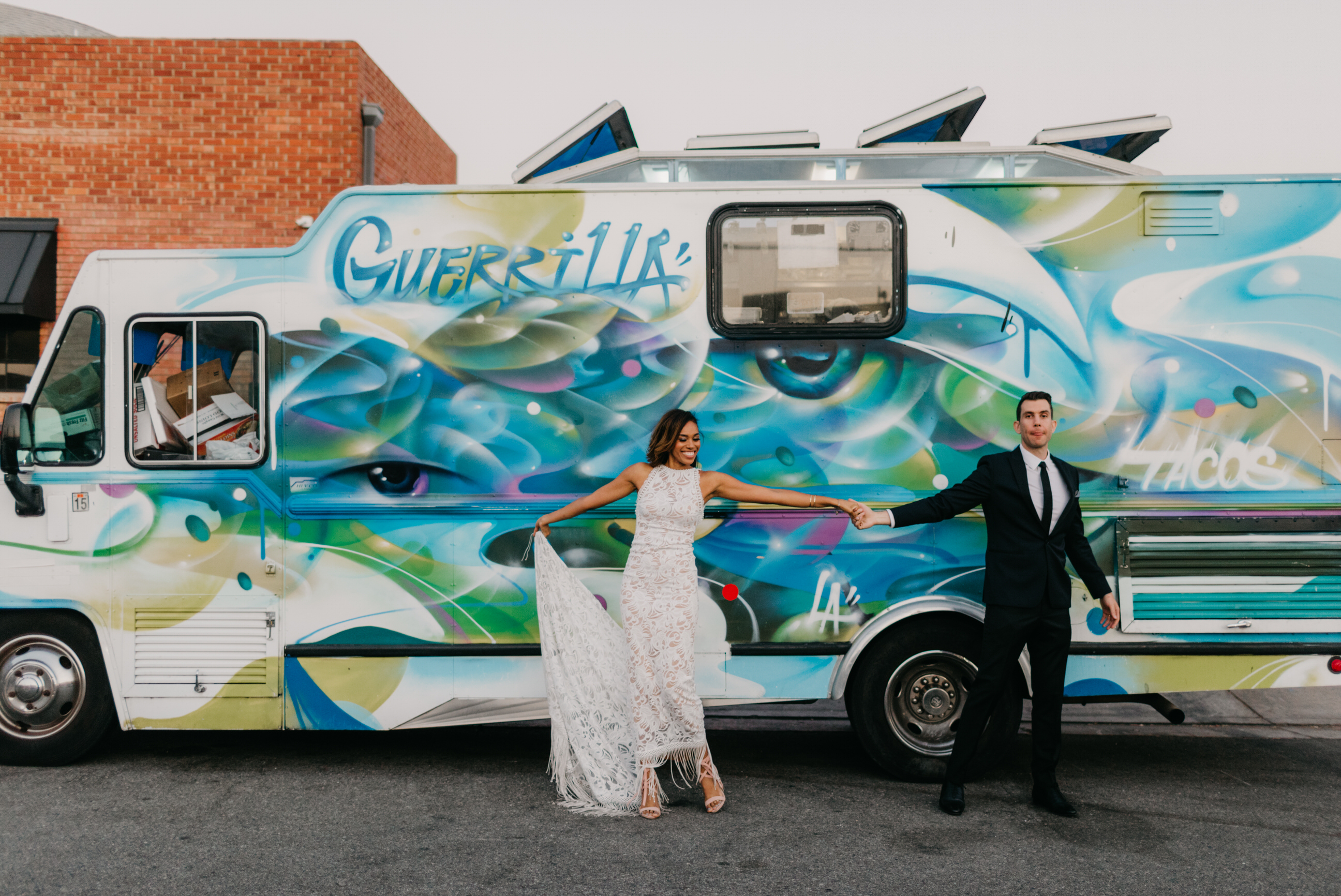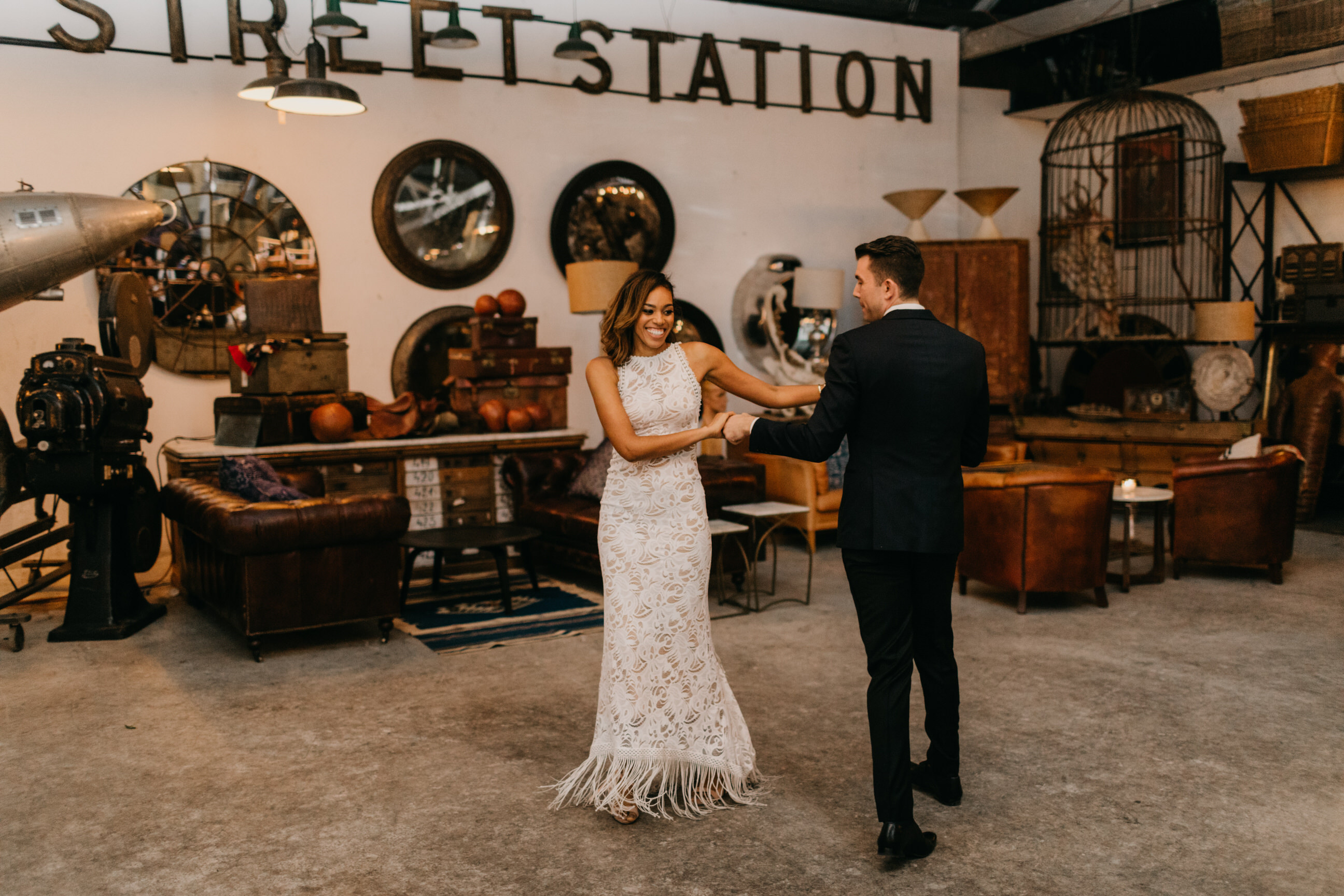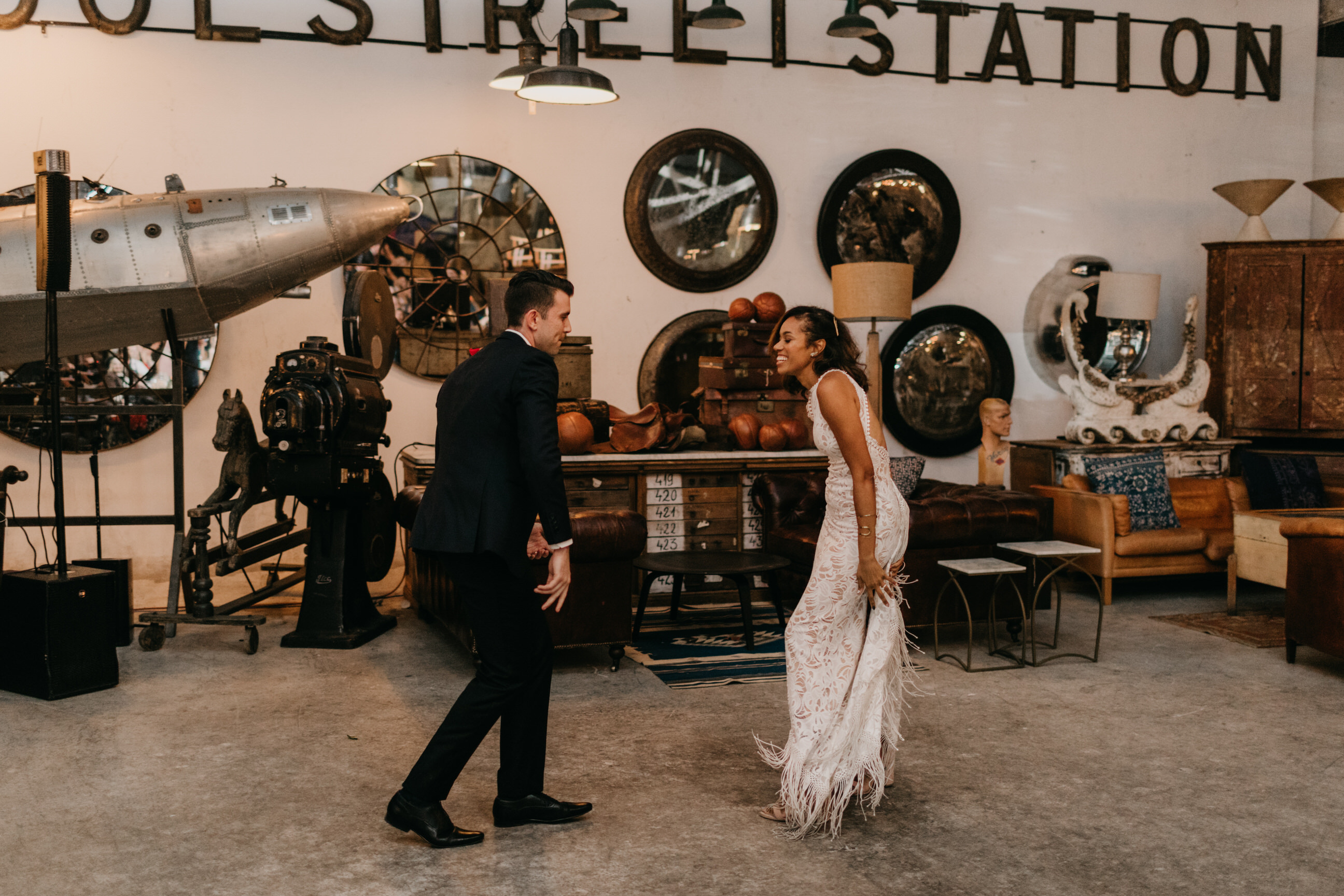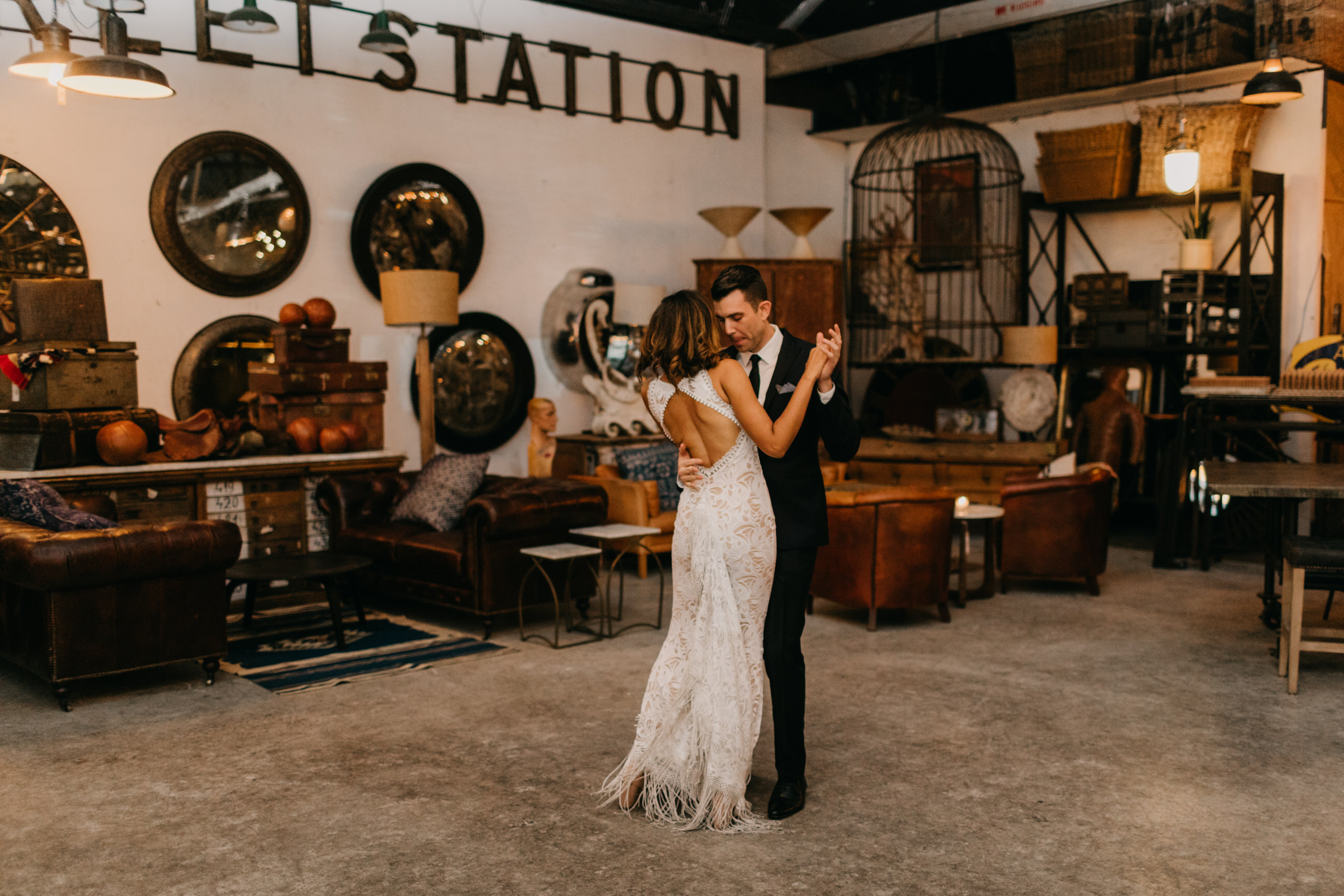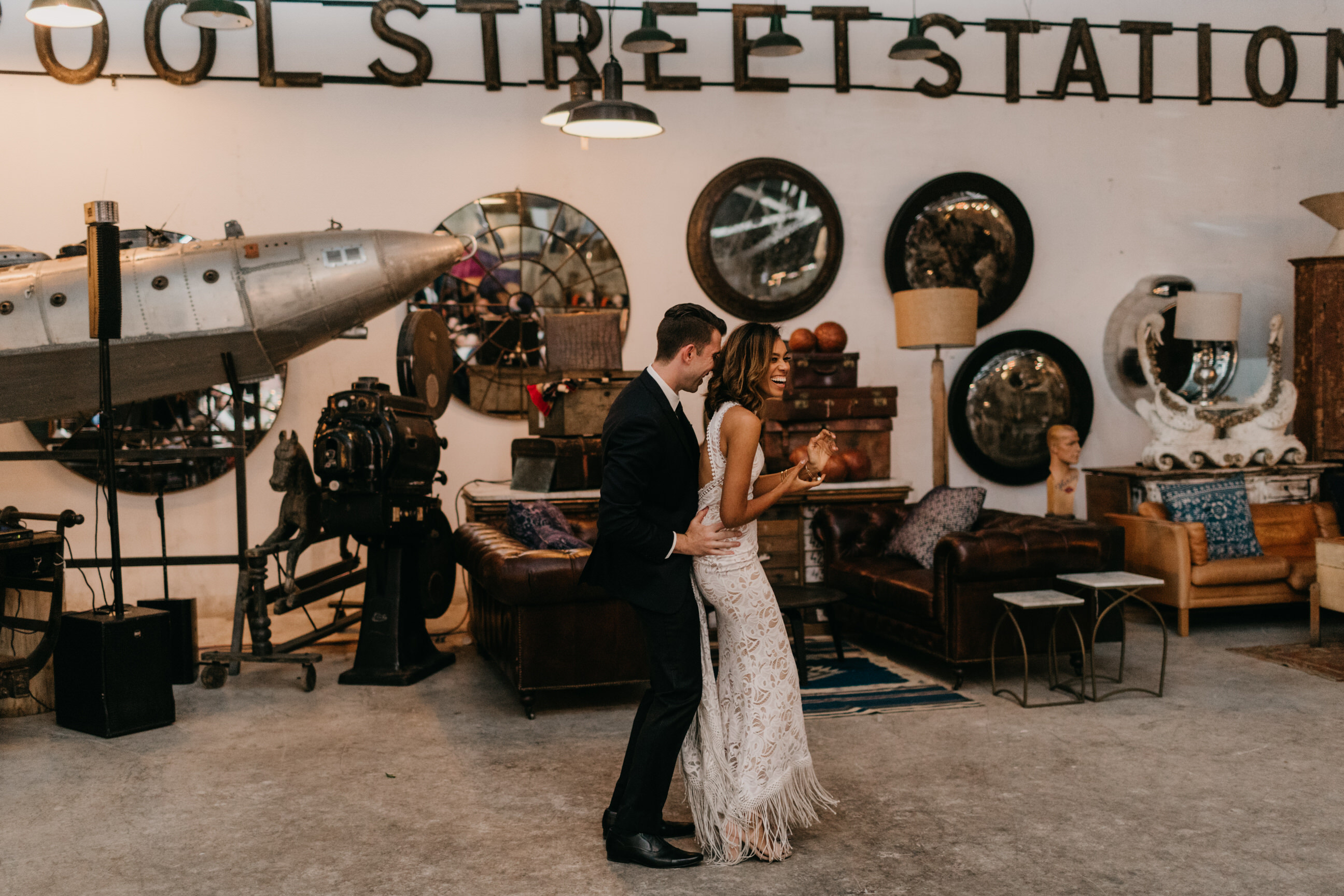 SaveSave